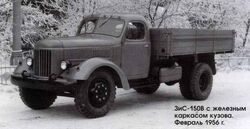 The ZIS-150 was a Soviet truck. In 1947 it replaced the ZiS-5 on assembly line. ZIS-150 together with GAZ-51 was the main Soviet truck of '50s, judging by their quantity. The cabin of ZIS-150 was similar with the cabin of International Harvester KR11 truck. In 1957, the base ZIS-150 model was replaced by ZIL-164, which differed outwardly only by vertical grille bars and bumper. ZiS-150 was also manufactured in Braşov, Romania between 1954-1960 under SR-101 badge at "Steagul Rosu" (Red Flag) and in China under Jiefang CA-10 badge at First Automobile Works. At least one prototype was built in North Korea under the the name "Chollima".
Years of production: 1947 - 1957
Overall production: 774615 units
Specifications
Edit
4x2 4000 kg truck
Engine: 90 hp/2400 rpm, 6-cyl, 5555 cc
Bore/Stroke: 101.6/114.3 mm
Length: 6,720 mm (264.6 in), width: 2,385 mm (93.9 in), height: 2,180 mm (85.8 in)
Wheelbase: 4,000 mm (157.5 in), rear axis clearance: 265 mm (10.4 in)
Front wheel track: 1,700 mm (66.9 in)
Rear track: 1,740 mm (68.5 in)
Turning radius on front outer wheel: 8.0 m (26 ft)
Compression ratio: 6.0
Clutch: twin disk, dry
Gearbox: 5 speeds
Weight (without load): 3,900 kg (8,598 lb)
Maximal speed (loaded, highway): 65 km/h (40 mph)
Tyres: 9,00x20 inches
Fuel consumption: 29 L/100 km (9.7 mpg-imp/8.1 mpg-US)

Community content is available under
CC-BY-SA
unless otherwise noted.