Yanmar Co., Ltd. is a Japanese company involved in the manufacture and sales of engines, agricultural machinery, motorcycles, dirt bikes and ATVs, and light ships. Yanmar's headquarters are at 1-32 Chayamachi in the Kita ward of the Japanese city of Osaka. Yanmar is the patron of the J. League soccer team Cerezo Osaka and for the Yanbo Marbo weather forecast program on Japanese television.
Originally, the company planned to trade under the name "Tonbo", meaning "dragonfly", as dragonflies are a symbol of agriculture in Japan. However, this trademark was already registered to a Shizuoka soy sauce maker. Therefore, the name was changed to "Oniyanma" (Anotogaster sieboldii), the largest of all dragonflies in Japan. It is said that in the end, the name was also selected because it sounded similar to the surname of the company's founder, Yamaoka Magokichi. It is likely that the "oni" was dropped because it means "devil" or "demon" in Japanese.
Yanmar is for the most part a corporation specializing in diesel engines, and also makes light fishing boats. In recent years Yanmar has started sales of hulls for ships. Manufacturing tractors, combine harvesters, rice-planting machines, and Heavy Utility Machinery. Yanmar ranks along with Kubota and Iseki & Co. as one of the top brands of agricultural machinery in Japan. Yanmar was the first to put a diesel engine in a rice planting machine with a passenger seat.
Yanmar's flagship product in the construction machinery business is light hydraulic shovels.
In recent years, Yanmar has also manufactured industrial power generators and small- to medium-sized snow removal machines. In typical Yanmar fashion, some of the smaller snow removal machines feature light, air-cooled diesel engines.
In 2007, the Yanmar Model HB horizontal diesel engine (made in 1933) was added to the Mechanical Engineering Heritage of Japan.
Timeline
Edit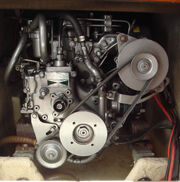 1912 Yamaoka Magokichi sets up business under the name Yamaoka Engine Workshop.
1931 Inauguration of Yamaoka Engine Workshop limited.
1936 Inauguration of Yamaoka Internal Combustion Machines limited.
1940 Yamaoka Internal Combustion Machines amalgamates with Yamaoka Engine Workshop.
1952 Company name changes to Yanmar Diesel limited.
1992 Yamaoka Magokichi sets up business with small tractors.
1992 Company name changes to Yanmar Diesel limited.
2001 Company starts the mass production of the famous Yanmar YMxxxx (four digits) series - one of the world's bestsellers
2002 Company starts the mass production of the YM series - the F and FX series - a new world success in the tractor manufacturing business.
2002 After a world success the company changes to Yanmar limited.
2003, a joint venture was established in Shandong, China with Shandong Shifeng called Shandong Shifeng Yanmar Engine Co.
References
Edit
base article from wikipedia - to be rewriten, and model range added (UK) Much of the content of this article comes from the corresponding Japanese-language Wikipedia article (retrieved April 6, 2006).
External links
Edit
Related Links
Edit
Early Makes - pre 1940s

1940s to 1980s

Modern post 1980s

Independents
North America

Europe

India & Pakistan

Middle East
(Turkey, Iran,
Iraq, Syria etc...)

Far East
(Australasia, China,
Japan, Korea, Thailand,
Vietnam etc...)

South America
(Argentina, Brazil,
Uruguay etc)

Africa

Asia
(Russia, Tajikstan,
Uzbekistan, Ukraine)

Specialist types of tractor

Notable People - associated with the tractor industry

Inventors