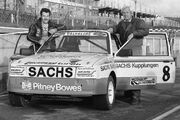 Xtrac Limited, also known as Xtrac Transmission Technology, is a British engineering company founded in 1984 by the former Hewland engineer Mike Endean to make 4WD systems and gearboxes for rallycross and later rally and racing cars. While still working for Hewland Endean, together with Chris Goddard, who had been working on the electronic components essential to the system, in 1983 developed the first ever so-called Xtrac 4WD system for Norwegian rallycross star Martin Schanche.
"Xtrac started making gearboxes in the early 1980s for the then-new Group A rally cars from a lock-up behind a Chinese restaurant in Wokingham." [1]
Today the company is based in Thatcham, Berkshire, England, and is a supplier to many branches of motor sport, including F1, IRL, Grand-Am and rally teams. In 2010 the company supplied the 1044 gearbox, developed in conjunction with Ricardo plc, to three F1 teams: Lotus, Virgin and HRT. This is mated to the Cosworth CA2010 engine.[2]
Gould Racing, based in Newbury, Berkshire, built the one-off Gould Ford Puma for Mike Endean, which features Xtrac four-wheel-drive, and has won the Brighton Speed Trials four times in 2005, 2008, 2009 and 2010.
References
External links