This article needs additional

citations

for

verification

. Please help improve this article by adding citations to

reliable sources

. Unsourced material may be challenged and

removed

. (September 2007)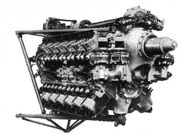 An X engine is a piston engine comprising twinned V-block engines horizontally opposed to each other. Thus, the cylinders are arranged in four banks, driving a common crankshaft. Viewed head-on, this would appear as an X. X engines were often coupled engines derived from existing powerplants.
This configuration is extremely uncommon, primarily due its weight and complexity as compared to a radial engine. It was more compact (per number of cylinders) than a V-engine, however. Shorter crankshafts relative to a inline or V design also appealed to early 20th century engineers like Henry Ford, given the less developed metallurgical technology of the time.[1]
Most examples of X engines are from the World War II era, and were designed for large military aircraft. The majority of these are X-24s based on existing V-12s. The following are examples of this engine type:
Ford, as an X-8 prototype during the 1920s that led the way to the company's eventual

Flathead V-8

.[2][3]
Daimler-Benz

DB 604

, developed for the

Luftwaffe

's

Bomber B

program. Development suspended.
Isotta-Fraschini

Zeta R.C. 24/60

, developed for the

Caproni F6

fighter

, but never fully completed before Italy's surrender in 1943.

Rolls-Royce Vulture

, based on two

Peregrines

and the powerplant of the ill-fated

Avro Manchester

bomber

and the

Hawker Tornado

fighter.

Rolls-Royce Exe

, an

air-cooled

sleeve valve prototype engine.

Napier Cub

, a water-cooled X-16 engine of the 1920s, which powered the prototype

Blackburn Cubaroo

torpedo bomber

.
Honda is said to have experimented with an X-32 engine configuration in the 1960s for their

Formula One

racing efforts, but abandoned the design as being too complex and unreliable.
References