The Shandong Wuzheng Group, or Wuzheng, was founded in 1962 in Wuilan County, Rizhao, Shandong, China. The company manufacturers tractors, machinery and trucks under the Wuzheng or WAW brands, and also builds for other companies. A subsidiary of the company is TaiShan (Shandong), also a manufacturer of tractors who builds some for the Wuzheng division, (Taishan series).
Truck Models
Edit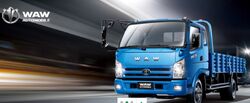 WAW Aochi 1700 van
WAW Aochi 1800 van
WAW Aochi 2000 dump truck
WAW FD1020P11K-1
WAW FD1020R13K Aowei 1500 single-cab
WAW FD1030D13K Aowei 1500 single-cab
WAW FD1030P11K-1
WAW FD1030R13K Aowei 1500 double-cab
WAW FD1030R13K Aowei 1500 single-cab
WAW FD1040D16Q4
Tractor Models
Edit
Harvester Models
Edit
References
Edit
External Links
Edit
Early Makes - pre 1940s

1940s to 1980s

Modern post 1980s

Independents
North America

Europe

India & Pakistan

Middle East
(Turkey, Iran,
Iraq, Syria etc...)

Far East
(Australasia, China,
Japan, Korea, Thailand,
Vietnam etc...)

South America
(Argentina, Brazil,
Uruguay etc)

Africa

Asia
(Russia, Tajikstan,
Uzbekistan, Ukraine)

Specialist types of tractor

Notable People - associated with the tractor industry

Inventors
Community content is available under
CC-BY-SA
unless otherwise noted.