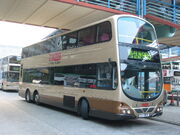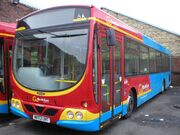 Wrightbus is an independent coachbuilder and pioneer of the low-floor bus. Based in Ballymena, Northern Ireland, it was established in 1946 by Robert Wright and currently run by his son William Wright.
History
Originally called Robert Wright & Son Coachbuilders. In the early years they gained a reputation for re-bodying lorries. In 1978, the company released its first aluminium-structured bus bodywork.
Wright's breakthrough into the mainstream bus bodybuilding sector came in the early/mid 1990s. The Handybus was a midibus body offered on a variety of chassis but was most successful on the emerging Dennis Dart attracting reasonably sized orders from a variety of operators including London Buses, Go Ahead Northern, Ulsterbus and Citybus (Belfast). This was followed by a move into the full size single deck market with the Endeavour body. This attracted orders from Ulsterbus who took 25 on Leyland Tiger chassis and Yorkshire Traction who took 10 on Scania K93 chassis and enabled Wright to develop its highly successful Endurance body which competed with Alexander's Strider and Northern Counties Paladin for orders on Volvo B10B and Scania N113CRB chassis. The Scania option only attracted a one-off order for 15 from GRT Holdings plc for its Midland Bluebird subsidiary. The Volvo option however was extremely successful and attracted large scale orders from Merseyside-based MTL Trust Holdings Ltd who took 120, West Midlands Travel who took 67 - out of a planned order for 250, GM Buses North who took 56, and Blazefield Holdings who took 24 (10 for Sovereign Bus & Coach, 6 for Yorkshire Coastliner, 5 for Keighley & District and 3 for Harrogate & District). Smaller scale orders for the Volvo/Endurance option included 9 for Ireland's Bus Éireann, 6 for Liverpool-based CMT Buses and 4 for Yorkshire-based West Riding. Other Wright products introduced in this period included two Mercedes-Benz-based products. First was the O405 based Cityranger which attracted an order of 20 from GRT Holdings (14 for Grampian Regional Transport and 6 for Midland Bluebird - all are now based at First Manchester) along with a solitary example for Stevensons of Uttoxeter. The other was the Urbanranger - pretty much a re-badged Endurance, on the OH1416 chassis and this was launched around the time bus operators in the UK began switching to low floor chassis. As a consequence the Urbanranger only attracted a handful of orders, the most notable being 4 for Ulster-based Chambers of Moneymore, 3 for Walsall-based Midland Choice and 2 for Hertfordshire-based UniversityBus. However Wright had become well established in the bus bodybuilding sector by then and was more than able to exploit the opportunities the low-floor revolution would offer it from mid-1990s onwards.
Low-floor
In 1993 the UK's first low-floor bus was put into operation in Liverpool by Merseytravel (the PTE) in association with the region's largest bus operator MTL. This was the integral N4016 from German manufacturer Neoplan and although somewhat primitive in comparison to today's low-floor buses this pioneering vehicle made bus operators and manufacturers in the UK sit up and take notice – most notably London Buses and Wright's. The Pathfinder on low floor Dennis Lance SLF and Scania N113CRL chassis was unveiled towards the end of 1993 and was the first low-floor vehicle to be offered. London Buses was a major partner in the Pathfinder's development and took a total of 68 (38 Lance SLFs and 30 Scanias) along with other operators who took smaller batches of this vehicle. Customers for the Lance SLF variant included British Bus Ltd – 13 (5 for London Country North East/Guildford & West Surrey, 4 for County Bus & Coach and 4 for Southend Transport), Badgerline - 6, Go Ahead Northern - 5 and Essex operator Headingham & District - 2. Apart from London Buses, GRT Holdings was the only other customer for the Scania option taking a total of 10 – 2 for Lowland Scottish and 8 for Midland Bluebird. Despite this success the Pathfinder was still generally considered a niche product by most mainstream operators in the UK. Wright however saw its future very much with low floor vehicles and throughout the mid-1990s it introduced further product ranges which made low floor vehicles universal by the end of that decade.
The Axcess-Ultralow was introduced in 1995 and offered on Scania's L113 chassis. At this time it was selling in reasonable numbers to UK bus operators, but unlike other bodybuilders who could only offer the L113 with step-entrance bodies, Wright modified it by removing the middle section of the chassis and thus offered UK bus operators one of the first mainstream low-floor body/chassis combinations. A major customer for the Axcess-Ultralow was FirstGroup taking approximately 240 for what eventually became its First Eastern Counties, First Edinburgh, First Glasgow, First Leicester, First Northampton, First Potteries, First West Yorkshire and First York subsidiaries. Other notable orders came from the Cowie Group plc who took 44 - 34 for North Western's Star Line and Wigan Bus subsidiaries and 10 for Kentish Bus, MTL who took 20 for use by Merseybus in Liverpool, Chester City Transport who took 6, Bullocks of Cheadle who took 6, Nottingham City Transport who took 5 and Travel West Midlands & Bristol Airport who both took 2.
Next up was the Volvo B10L-based Liberator introduced at the end of 1995. Volvo had introduced the B10L to the British/Irish market in 1994 with initial examples bodied as the Ultra at Alexander's (Belfast) plant to a design loosely based upon that from Volvo's Swedish subsidiary Säffle. One drawback of the Volvo B10L/Alexander Ultra combination was an awkward rear engine arrangement which compromised the rear seating in the vehicle. Despite this the low-floor revolution was in full swing and the Ultra attracted moderate orders from operators including Northern Ireland's Translink for its Belfast-based Citybus (later Metro) and Ulsterbus subsidiaries, Travel West Midlands/FirstBus subsidiary Northampton Transport - who both took gas powered examples, Ireland's Bus Átha Cliath (Dublin Bus), Greater Manchester-based Timeline Travel and Stagecoach's, Fife Scottish - who took a solitary example. As it had done with the Scania L113-based Axcess Ultralow, Wright simplified the B10L's engine/component arrangements which gave it a more useful/conventional rear/seating arrangement compared with Alexander's Ultra. In turn this boosted orders for the B10L and the most notable came from the National Express Group who ordered 120 Liberators in 1997 - 30 for Travel Dundee and 80 for Travel West Midlands. Other Liberator orders were on a much smaller scale and included 10 each in 1997 for Liverpool independent CMT Buses, Ireland's Bus Éireann and by then FirstBus owned Strathcylde Buses/Greater Glasgow and GM Buses North took 5 Liberators delivered just after being taken over by FirstBus in 1996.
Next came the Renown body built on the Volvo B10BLE which went onto become the standard bus of the Blazefield Group. However Renown production was stopped when Volvo pulled the plug on the B10BLE, replaced by the Volvo B7L on the new Wright Eclipse (now Wright Eclipse Metro), which due to its vertical rear engine wasn't popular with many operators. However Wright didn't lose custom and many operators including the likes of Ulsterbus simply switched to the incline-engined Scania L94UB, on a similar Wright Solar body. Another bodywork, which resembles the current Solar/Eclipse range is the Meridian, which is bodied on the new MAN A22 full low-floor single-deck chassis.
Present
Perhaps the most distinctive product of Wright is its Gemini double decker first built on the Volvo B7TL chassis in 2001, as the Wright Eclipse Gemini. A similarly styled entered service with Arriva London in August 2001 and is built on the VDL (ex-DAF) DB250 as the Wright Pulsar Gemini. Large operators of Gemini-bodied buses include the National Express Group, Arriva and FirstGroup; with an overseas variant, originally dubbed the Explorer, entering service in 2003 with Hong Kong operator, Kowloon Motor Bus. Wrightbus enjoyed considerable expansion in the 2000s, with the workforce expected to expand to over 1,000.[1][2][3]
In June 2010 Wrightbus announced that it had sealed contract for its new StreetLite bus. [4]
Products
Current
Former
Wright Demonstrators
GCZ 9023

,Volvo B7L 00113,Wright Eclipse.reg 2/2001. sold to Ulsterbus.

YP02 ABN

,Scania L94UB 1841520,Wright Solar.reg 3/2002. sold to First Essex.

YP02 AAN

,Scania L94UA YS4L6X20001841203,Wright Solar Fusion.reg 4/2002.sold to NCT Nottingham.

R460 VOP

,Volvo B10BLE YV3R4A514VA002744,Wright Renown.reg 9/1997.sold to First Somerset & Avon.

IKZ 8515

,Volvo B7TL YV3S2C6151A001114,Wright Gemini.reg 8/2002. bought by Reliance, Sutton-on-the-Forest.

T290 ROF

,Volvo B6BLE YV3R3A910XC010019,Wright Cadet.reg 6/1999. sold to Whitelaws.
References
External links