Willème was a French manufacturer of standard and special purpose trucks founded in the 1930, that ceased production in the 1980's.
Company History
Edit
Willème was founded in 1923[1] by Louis Willeme, after working for Automobiles Grégoire.[2]
Most were made with Deutz AG engines; some with in-house engines; some with AEC.[3] In the 1960s, Willème also sold some rebadged AEC models and supplied some to AEC till Leyland bought AEC. They then built BMC truck models under license and sold them as Willeme-BMC.[4]
Willème went bankrupt in 1970[5] and were taken over by PRP (Perez et Raymond), who continued to produce Willème's TG range of trucks.[6] Eventually, some MOL trucks were based on Willème designs.[7]
Some Willème heavy-haul trucks are still in service.[8][9]
Model Range
Edit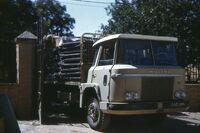 Early models
Edit
The DW12A was used as a tank transporter by the French army.[10]
Post-war trucks: S10, L10, and R15
Edit
10- and 15-ton trucks, with Deutz engines, sold between 1945 and 1953.[5]
610 and 615 series
Edit
Sold 1953-1963.[5]
Willème-PRP
Edit
TG Series
Edit
LD Series
Edit
RD Series
Edit
Operators
Edit
Chinese dam building project
Brame P.
A. Bonifay
Saltos del Sil dam building project (Spain)
Massot (France)
Dessirier H. Zucconi & Cie (France)
Cayon
Garage de L'Autoroute (France)
MK
Scales/Scalex
MKTS
Zakład Transportu Energetyki/Department of Energy Transport (Poland)
Stag
Europe Trans. Manutention
GREP
Preservation
Edit
Dessirier H. Zucconi & Cie. - Willeme TG 200
References / sources
Edit

External links
Edit
Community content is available under
CC-BY-SA
unless otherwise noted.