Ward Body Works (also known as Ward Industries and Ward School Bus Manufacturing, Inc.) was a manufacturer specializing in school buses based in Conway, Arkansas. Ward filed for bankruptcy in 1980, and its successor, AmTran continued the use of the Ward brand on its school buses until 1992.
D. H. "Dave" Ward founded Ward Body Works in Conway, Arkansas in 1933 when he "lowered the roof of a wooden bus for Mr. Carl Brady of the Southside Schools". Southside Schools were located about 15 miles north of Conway.[1]. Later in the 1930s, the company produced its first all-metal body bus as steel replaced wood as the predominant body material in the industry. In the 1960s, Ward School Bus Manufacturing, Inc. was responsible for many notable innovations including use of computers in manufacturing (using IBM 360s), safety advances, and manufacturing process improvements. In the 1970s, Ward opened an assembly facility in Beaver Falls, Pennsylvania, but this plant was closed in 1975. In 1976, Ward built a prototype Type D transit school and commercial bus on an International Harvester chassis with front-wheel drive and tandem rear tag axles; it did not enter production.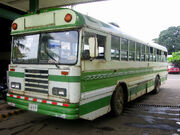 Type A
Vanguard dual rear-wheel cutaway van
Ford E-Series chassis
Chevrolet Van/GMC Vandura chassis
Type B
Coachette on General Motors P30 chassis
Type C
Patriot semi-forward contral conventional
Volunteer conventional on various chassis
Dodge D-300
Chevrolet/GMC B-Series
Ford B-Series
International Harvester Loadstar/S-Series "Schoolmaster"
Navistar International 3700/3800
Type D
President front-engine on various chassis
International Harvester 1853FC
General Motors S-7
Asia-Smith Motors forward-control chassis
Senator front-engine on Navistar International 3900 chassis

References
Edit
Active Manufacturers
Full-Size and Small Buses
Small Buses Only
Defunct Manufacturers (Including date of closure or last school bus manufacture)
Community content is available under
CC-BY-SA
unless otherwise noted.