Wärtsilä is a Finnish corporation which produces and services power sources in the marine and energy markets. The core products of Wärtsilä include large diesel and gas engines. The company employed 17,528 workers in more than 70 countries at the end of 2010, and its headquarters are located in Helsinki.
Marine market
Edit
Wärtsilä powers every third ship, and services every second ship sailing the world's seas.[2]
The company services the merchant, offshore, cruise & ferry, naval, and special vessel markets globally, and the offering includes ship design, main and auxiliary engines, auxiliary power systems, electrical and automation packages, propulsors (such as water jets, thrusters, propellers and nozzles), seals, bearings, gears, rudders, scrubbers, boilers and all related services, such as repair, configuration, upgrading, training, maintenance and environmental services.
The environmental services range from reduction of air emissions, such as NOx, SOx, CO and VOC's, to oily waste water treatment and other water solutions.
Wärtsilä was an important Finnish shipbuilder 1935–1989, building e.g. cruiseferries and a large share of the icebreakers of the world. The shipyards are now owned by STX Europe.
Energy market
Edit
Wärtsilä is the leading provider of power plants in distributed and flexible power generation. [3]
Their product porfolio consists of installations up to 500MWs, running on most fossil fuels, such as diesel, oil, natural gas, fuel-oil, biofuel and liquefied natural gas (LNG). In addition for the reliability of traditional base power generation, the engines have the capability to start and stop quickly and they maintain their effiency in part load, which makes them well suited for peaking power production, smart grids and emergency power systems. They can also utilize the combined cycle and cogeneration to produce steam or hot water for heating, and trigeneration for chilled water, which can be used in e.g. air conditioning.
Wärtsilä also provides products and services for grid stability management, utilization of gas flares, pumping applications (such as pump and compression drives), financial services and project management services for projects concerning power generation.
In 2006, Wärtsilä delivered the Dr. Bird II, a 49.5 MW power barge, to accompany Dr. Bird I (delivered in 1995) in Jamaica. These barges produce in total 123.6 MW and are now owned by Jamaica Energy Partners.[4]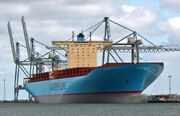 Wärtsilä engines are mainly used for
marine propulsion
and for
electricity generation
. The engines that Wärtsilä produces range from the 4L20, a four-stroke, medium-speed engine producing 720 kW (970 hp), to the
Wärtsilä-Sulzer RT-flex96-C
two-stroke diesel engine series, which is considered the most powerful, yet one of the most compact prime-movers in the world.
[5]
This model has a cylinder bore of 960 mm (37.8 in) and stroke of 2500 mm (98.4 in). The largest version produces up to 84,420 kW (114,800 bhp) in the 14-cylinder configuration. These engines are used to propel large container ships, such as those of the
A. P. Moller-Maersk Group
. The vessels are known as the E-class ships;
Emma Maersk
was the first.
Wärtsilä produces a full line of four-stroke medium-speed engines, many of which are multi-fuel capable (Diesel fuel, heavy fuel oil, vegetable oils, and natural gas), ranging up to the 20V46F, which produces 23,000 kW (31,000 hp) operating at 600 RPM.
Wärtsilä also offers a full line of two-stroke, low-speed engines, ranging from approximately 3860 kW (5,180 hp) up to 130,520 kW (175,030 hp). The two-stroke units are compact, and generate excellent power for their weight. However, on a per-horsepower basis, they also produce substantially more emissions than four-stroke units.
Key figures
Edit
Key figures of Jan-Dec 2010:[1]
Order intake EUR 4,005 million (3,291), +22%
Order book EUR 3,795 million (4,491), -16%
Net sales EUR 4,553 million (5,260), -13%
Operating result EUR 487 million (638), 10.7% of net sales (12.1)
Earnings per share 3.35 euro (4.30)
Cash flow from operating activities EUR 663 million (349)
All numbers are shown excluding non-recurring items and selling profits
2010 : Majority of the propeller production and auxiliary engine production was moved to China
2009 : Wärtsilä joins UN Global Compact, the world's largest corporate responsibility initiative
2008 : Wärtsilä acquires the global ship design group Vik-Sandvik and Conan Wu & Associates Pte Ltd (CWA), a leading naval architecture and ship design company in Singapore.
2007 : Wärtsilä Ship Power was reorganised into five Ship Power customer segments: Merchant, Offshore, Cruise&Ferry, Navy and Special vessels.
2006 : The Ciserv-group was integrated into the Wärtsilä Services organisation. Wärtsilä let go the brand names Ciserv and Sulzer, both will continue as Wärtsilä.
2005 : Wärtsilä acquires DEUTZ-marine large engine service business for the following 5 years exclusive, thereafter non-exclusive open for Deutz.
2003 : Wärtsilä Ltd is caught up in Sweden's largest ever bribery prosecution. Wärtsilä found not guilty in all instances in the so-called Gotland case.
2004 : Wärtsilä's Chinese propeller company started production.
2002 : The Ciserv-group, led by Mr.Pierpaolo Barbone, expanded in Singapore, Denmark and Canada. Wärtsilä acquired John Crane-Lips, which operates within Wärtsilä under the name Wärtsilä Propulsion.
2001 : Wärtsilä sells its holding in Sanitec. Wärtsilä takes ownership of service company Ciserv AB and Sermet Oy.
2000 : Wärtsilä NSD and John Crane-Lips sign an alliance. Metra group is renamed as Wärtsilä Corporation.
1999 : The split of the Cummins-Wärtsilä joint venture.
1997 : In April, Wärtsilä Diesel absorbed the former Swiss-based Sulzer Brothers Ltd. division called New Sulzer Diesel (NSD) to form Wärtsilä NSD. The reference to the name "Sulzer" is until q1-2006 used in the designation of engines Wärtsilä inherited from the absorption of New Sulzer Diesel. Wärtsilä NSD Corporation is created.
1995 : Wärtsilä Diesel and Cummins Engine Company Inc. set up a joint venture.
1991 : Imatra Steel is created when Ovako AB is split up between its owners, Metra and SKF.
1990 : Merged into Lohja Corporation, later renamed Metra Corporation.
1989 : Wärtsilä Diesel acquires SACM and Stork Werkspoor B.V. This company is renamed Stork-Wärtsilä Diesel B.V.
1988 : A company is set up in India and floated on the Bombay Stock Exchange.
1984 : Quoted on the London stock exchange.
1981 : Manufactured hovercraft Larus
1978 : Acquisition of 51% of the NOHAB diesel business, the remaining shares are acquired in 1984.
1938 : Wärtsilä signs a licence agreement and the first diesel engine is built in Turkey in 1942.
1965 : The company is renamed Oy Wärtsilä AB.
1936 : Acquisition of the Onkilahti engineering workshop in Vaasa.
1898 : The sawmill and iron works company is renamed Wärtsilä AB.
1834 : Establishment in the municipality of Tohmajärvi.

References
Edit
External links
Edit
Community content is available under
CC-BY-SA
unless otherwise noted.