Volvo Olympian

A 2-axle Northern Counties Palatine 2 bodied Volvo Olympian.

---

Manufacturer
Volvo Buses
Built at
Irvine, North Ayrshire, Scotland
Replaced
Leyland Olympian
Operator(s)
A number of operators in the UK, Ireland, Hong Kong and Singapore
Specifications
Length
2-axle:
9.6 m, 10.3 m
3-axle:
10.4 m, 11.3 m, 12 m
Width
2.5 m
Floor type
Step entrance
Doors
1 or 2 door
Engine(s)
Volvo TD102KF
Cummins L10
Volvo D10A
Power output
245 hp (Volvo)
215/252 hp (Cummins)
Transmission
Voith DIWA
ZF Ecomat
Options
Various customer options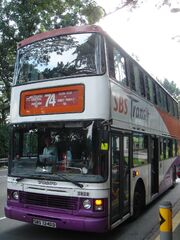 For Volvo's low floor double-decker once known as Volvo Olympian, see Volvo B9TL.
The Volvo Olympian was a rear-engine double decker bus built by Volvo at Irvine, North Ayrshire, Scotland. It was first built in 1992 and entered production in March 1993, replacing the Leyland Olympian.
The design was based on its predecessor Leyland Olympian, but the chassis had been modified that only the chassis design and layout remained, the grade of steel for the chassis members was changed, Volvo's standard electrical system was used as well as standard Volvo steering/"Z cam" braking systems. The early Volvo Olympians were offered with Cummins L10 or Volvo TD102KF engine, coupled to Voith DIWA or ZF Ecomat gearbox. From late 1996 only the Volvo D10A-245 Euro II engine with electronic diesel control was offered.
It was available with Alexander R-type, Northern Counties Palatine and East Lancs E Type/Pyoneer bodywork.
The Volvo Olympian remained as popular as the Leyland Olympian in the United Kingdom and Ireland. Also, a large number of Olympians had been exported to Hong Kong and Singapore; most of them were air-conditioned.
Production of Volvo Olympian ended in 2000 and concluded a run of over 10,000 Leyland/Volvo Olympian chassis. It had two low-floor successors: the 2-axle Volvo B7TL and the 3-axle Volvo Super Olympian.

Community content is available under
CC-BY-SA
unless otherwise noted.