Jurassic World: Dominion Dominates Fandom Wikis - The Loop
Play Sound
The Volkswagen Amarok is a mid-size pickup truck built by Volkswagen Commercial Vehicles (VWCV). The Amarok range consists of single cab and double cab, combined with either rear-wheel drive or 4motion four-wheel drive, and is powered by Turbocharged Direct Injection (TDI) diesel engines. VWCV considers the Toyota Hilux, Nissan Navara and Mitsubishi Triton to be Amarok competitors.
History
In 2005, Volkswagen Commercial Vehicles announced their intent to build a Robust Pick-Up and off road family of vehicles.[1]
In 2007, popular automotive website WorldCarFans.com publishes first photos captured by RoAnSa Carspy Photography of the development mule of the Robust Pick Up concept vehicle wearing Toyota Hilux body upon a Volkswagen developed chassis.[2]
In March 2008, famed automotive spy photographer Hans Lehmann captures the first image of the Robust Pick up wearing a production body which is designed by Walter de'Silva.[3]
In September 2008, Volkswagen Commercial Vehicles releases the Robust Pick Up concept in the disguise as a Search and Rescue (SAR) vehicle, which previews the full design, and is said to be 95% close to the production version.[4]
The Amarok, the first pickup from Volkswagen Commercial Vehicles, was presented to the general public in General Pacheco, Argentina on the 7th of December 2009 with the President of Argentina Cristina Kirchner attending.[5] [6]
Following the Launch in Argentina, the Amarok was a key support vehicle in the 2010 Dakar Rally with 45 vehicles participating. German rocker, founder of the Scorpions, guitarist Rudolf Schenker, is a supporter of the Amarok and himself drove one during the 2010 Dakar Rally.[7]
In November 2010 the Amarok was awarded 4 stars from Euro NCAP under the 2010/2011 standard crash testing procedure.[8]
In February 2011 the Amarok received a 5 stars award from the ANCAP - The Australasian New Car Assessment Program. [9]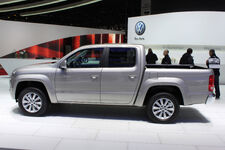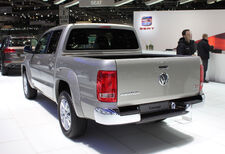 Naming
The name 'Amarok' was developed and researched by branding agency Interbrand on request from Volkswagen.[10]
Revealed to the public on 4 June 2009, "Amarok" means "Wolf" in the Inuit language, and Interbrand also claims it is associated with "he loves stones" in Romanic [sic] languages.[10] (Although recursing that phrase back into Romance languages produces significant differences, e.g. in Spanish "él ama a las rocas".) It also resembles "tomorrow" in Irish.[11] It is also the title of a 1990 record album by musician Mike Oldfield, a 2000 album of the German black metal solo project Nargaroth and the name of an open-source music player (version 1.0 in 2004).
Engines
The Amarok is powered by a range of Turbocharged Direct Injection (TDI) common rail diesel engines, and Fuel Stratified Injection (FSI) petrol engine, with a FlexFuel (ethanol) option for the Brazilian market.[12]
As of 2010, the engine range consists of two 2.0L Turbocharged Direct Injection (TDI) common rail diesel engines which is taken from Golf, Jetta and Tiguan, it has been tuned for more torque but less power; the entry-level version produces 90 kW (122 PS/121 hp) which develops a maximum torque of 340 N·m (250 lb·ft) from 2000 rpm. The top of the line bi-turbo version produces 120 kW (163 PS/161 hp) which develops a maximum torque of 400 N·m (300 lb·ft) from 1500 rpm.
Fuel consumption in a combined cycle format is as low as 7.6 L/100 km (37 mpg-imp/31 mpg-US) on the rear wheel drive variant to 8.1 L/100 km (35 mpg-imp/29 mpg-US) on the 4Motion theoretically giving the Amarok a 1,000 km (620 mi) range before filling up for fuel.
Driveline
The Amarok has three drive concepts: rear wheel drive, Shiftable 4Motion and Permanent 4Motion. The Shiftable all wheel drive system can shift drive between the axles whereas the Permanent full time all wheel drive system distributes power through a Torque Sensing (Torsen) differential with a 40:60 ratio between the front and rear axles.
Production Sites & Figures
The Amarok is currently being produced in the Volkswagen Group plant in General Pacheco, Argentina;[13][14] for South American, Mexico,[15] Russian, South African, Australian and European markets.[4]
It is expected to produce 90,000 Amaroks once production it is at full capacity.[14]
The Hanover site was dropped from possible sites to produce the Amarok due to the Global Financial Crisis and increasing economic costs in Europe in 2009.[14]
In September 2010 it was decided by the Volkswagen Group Board of Management that 40,000 Amarok pickups will be built in Hanover, Germany for the European and small volume markets from the middle of 2012.[16]
Production Figures
Argentina Production Figures
2009 = 193
2010 = 44,525
2011 = 76,965
2012 = 70,302
2013 = 67,037
2014 = 51,684
2015 = 62,950
2016 = 46,631
Equipment Lines
Three equipment lines will be offered on the Amarok; base version, Trendline and Highline.
Base Version
The base version comes equipped with 16-inch steel wheels, height-adjustable front seats, variable folding rear bench seats, locking glove box, cargo platform lighting, antenna integrated within wing mirrors, manual window regulators, manual door locking and manual wing mirror adjustment. The front bumper, wing mirrors and door handles are not painted.
Trendline
The Trendline grade has over the base version electrically operated door locking, electric windows and wing mirror adjustment as well as a radio with a CD player, climate control (Climatic), multi-functional display, cruise control, front fog lights, 16-inch aluminium wheels. Also painted in the body colour are the front bumper, door handles and wing mirrors.
Highline
The Highline grade has over the Trendline part chrome mirror housings, chrome strips on radiator grille and around the fog lights, chrome rear bumper bar 18-inch aluminium wheels, automatic climate control (Climatronic), leatherette/leather fabric on the interior.
Platform variants
Double Cab
The Amarok will first be launched with a double cab variant. The model-line code of the Double Cabin is VWN817.
Single Cab
The Single Cab variant of the Amarok will be released in 2011.
Other Variants
Cab Chassis
In the Australian Publication Transport Today, it was reported that Phil Clark, Volkswagen Commercial Vehicles Director in Australia, was trying to convince his German Bosses to add a Cab Chassis programme to Project RPU.[18]
Spin-offs
Rumoured platform spin-offs include a five to seven seat Nissan Pathfinder and Mitsubishi Challenger rival.[19]
Amarok in the modern media
Volkswagen Commercial Vehicles have created a Twitter page called vwamarok with the item being the new vehicle pretending to be human, and posting its thoughts and also what it has been doing that day.
Volkswagen enthusiasts have also created a Facebook page for fans and future owners to post items relating to the Amarok.
Scorpions' band nucleus, Rudolf Schenker, Klaus Meine and Matthias Jabs are associated since 2009 to the promotion of the Amarok. Rudolf Schenker is the most involved, since his participation in the 2010 Paris-Dakar Rally. Later in 2010, he and the special project division of VW teamed in the design of a unique, custom Amarok, done with the graphics of the Scorpions band and fitted with a 3D, lighted scorpion tail. Rudolf Schenker is featured since November 2010 in numerous blogs and automobile websites with the "Scorpions" Amarok and an equally custom "VW Flying V" guitar built by PGG Guitars in Canada.
Awards
Auto Esporte - Pickup of the Year 2011 (Brazil)[20]
Auto Test - Cruze, One and Amarok, the best of the year according Auto Test (Argentina)[21]
Parabrisas - Pickup of the Year 2011 (Argentina)[22]
MotorTransport - International Pickup Truck of the Year (UK)[23]
OFF ROAD - Pickup of the Year 2011 (Germany) [24]
Magazin Jäger - Goldenen Keiler (Golden Boar) Best Hunting Car (Germany) [25]
ROAD - Russian Automobile Dealers Golden Klaxon - Special Vehicles Class (Russia)
Search and Rescue Pickup concept
Volkswagen revealed their one tonne pickup study at the 2008 IAA Commercial Vehicle Show in September; the SAR Pickup measures 5.18 metres (17 ft) in length and 1.9 metres (6 ft) in width, and the 1.55 metres (5 ft) long cargo bed can carry a Euro sized broad pallet sideways.
SAR Pickup concept also was equipped for Lifeguards with: four mobile CB radios, flashlights, first aid kit with a defibrillator, binoculars, two safety helmets, removable neoprene seats for hard wearing, and a blue light roof module with integrated searchlight.
Possible production features that were on the concept: radio navigation system controlled by a multifunction touch screen, differential locks, cable winch and the rear logo opens the tailgate.[4]
2008 SAR Concept Pickup at Melbourne International Motor Show 2009
References
External links