Valmet 361 D
Model history
Model introduced
1960
Model discontinued
1965
Model status
Discontinued
Engine Specification
Engine make
Sisu-Valmet
Engine model
310D
Fuel type
Diesel
Power hp
46
Power kW
35
Governed rpm
2000
Displacement cu in /(litre)
2685
No. of Cylinders
3
Bore in (mm)
100
Stroke in (mm)
114
Cooling system
Water
Naturally aspirated, Turbo or Supercharged
-
Transmission Details
Transmission type
6+2
Gearbox make
valmet
Drive
2WD
General Data
Linkage Category
Unknown
Lift capacity (lb/kg)
1200kg
Front Linkage
-
P.T.O rpm
540
Tyre Sizes (std/options)
Front
6,5-16
Rear
14,9-13/24"
Tractor Dimensions
Length (inches/metres)
300cm
Height (inches/meters)
138cm
Weight (nominal) lb/kg
1770kg
Turning circle (nominal) inches/meters
5,8m
Wheelbase
190cm
Other info
Factories
Tourulan tehdas, Finland
Plow rating

Unknown

Notes
1960-61 Mark 1 and 1962-65 mark 2
List of Valmet inc. tractors
The Valmet 361 D tractor was built by Valmet in the 1960s.
Model history
For brand history, see Valmet.At the end of 1960 was succeeded by 359 D 361 D: about The appearance was put into the new and design it was in fact ahead of its time. Technical changes were smaller compared to its predecessor. The engine was a revised 310 D, and it was a Bosch fuel injection. The power was 42 hp and 46 DIN hp SAE. Coupling was standard equipment. An option was available in a more wider tires. At the beginning of 1962 was added to the equipment needed differential lock as well as hour meter and padded seat. During the same year was renewed hydraulics. Now there was a position of control, based on työntövarsitunnusteluun Resistance in the control of the blend control.
Pictures and videos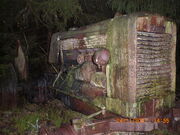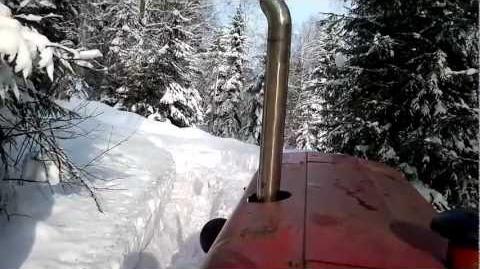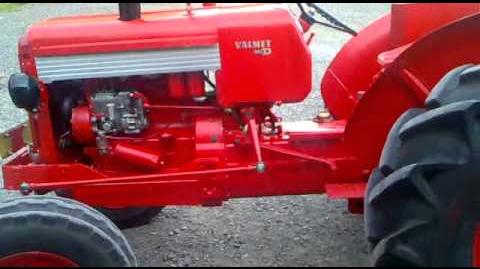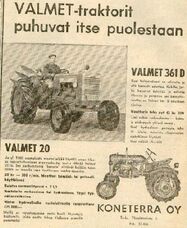 References
Valmet Models

15

 •

15A

 •

20

 •

33D

 •

50

 •

60

 •

60 ID

 •

62

 •

62 ID

 •

65

 •

65 ID

 •

68

 •

68 Cafeeiro

 •

68 Especial

 •

68 ID

 •

68 Viking

 •

78

 •

78 A Industrial

 •

78 Special

 •

78 Viking

 •

80

 •

80/864

 •

85

 •

85 ID

 •

86

 •

88

 •

88 Alcool

 •

88 ID

 •

110

 •

118

 •

118 Alcool

 •

118

 •

118.4 Alcool

 •

118.4

 •

120

 •

128

 •

138

 •

138-4 Turbo

 •

148

 •

148 Turbo

 •

205

 •

245 forklift

 •

305

 •

315

 •

343

 •

355

 •

359 D

 •

360 D

 •

361 D

 •

363 D

 •

365

 •

365 S

 •

H 380

 •

405

 •

415

 •

415M

 •

455

 •

465

 •

465S

 •

480

 •

500

 •

502

 •

504

 •

505

 •

512

 •

542

 •

555

 •

565

 •

600

 •

600-D

 •

602

 •

604

 •

604 Turbo

 •

605

 •

605

 •

612

 •

615M

 •

655

 •

665

 •

665 S

 •

685

 •

700

 •

702

 •

702S

 •

703

 •

705

 •

712

 •

715

 •

740

 •

755

 •

785

 •

800

 •

802

 •

803

 •

805

 •

815

 •

855

 •

855 S

 •

864

 •

865

 •

865 S

 •

880

 •

880 Viking

 •

885

 •

885 S

 •

885 S Premium

 •

885 S

 •

885 TS

 •

900

 •

903

 •

905

 •

910

 •

915

 •

940

 •

942

 •

980

 •

980 Turbo

 •

980 Viking Turbo

 •

985 S

 •

985 Turbo

 •

1001

 •

1100

 •

1102

 •

1102

 •

1102K

 •

1103

 •

1110

 •

1112

 •

1140

 •

1180

 •

1180 S

 •

1203

 •

1280

 •

1380

 •

1380 S

 •

1502

 •

1580

 •

1580 S Turbo

 •

1680 S

 •

1780

 •

1780 R

 •

1880

 •

1880 S

 •

2005

 •

2105

 •

2600

 •

4100

 •

4300 Metta

 •

4400 Metta

 •

4500 Metta

 •

4600 Metta

 •

6000

 •

6100

 •

6200

 •

6300

 •

6350

 •

6400

 •

6600

 •

6600E

 •

6800

 •

6900

 •

8000 backhoe

 •

8000

 •

8050 Mega

 •

8100 Mega

 •

8150 Mega

 •

8200

 •

8300

 •

8400 Mega

 •

8400 E

 •

8450 Mega

 •

8550 Mega

 •

8600

 •

8750

 •

8800

 •

8850

 •

8950

 •

H800 bi-directional

 •

S-series concept

 •

Sincro-O-Matico

 •

Synchro-Valmet

 •

X05 Bi-Turbo

Volvo BM Valmet Tractor Models

Valtra Valmet Models

600

 •

685

 •

685 F

 •

700

 •

785

 •

785 F

 •

800

 •

885 S

 •

885 S Premium

 •

885 TS

 •

900

 •

985

 •

985 S

 •

1180 S

 •

1280

 •

1280 R

 •

1380

 •

1380 S

 •

1580

 •

1680 S

 •

1780

 •

1880 S

 •

3100 C

 •

3100 F

 •

3300 C

 •

3300 F

 •

3400 C

 •

3400 F

 •

3500

 •

3500-4 C

 •

3500 F

 •

3500 vineyard

 •

6200 Mezzo

 •

6250 HiTech

 •

6300 Mezzo

 •

6350 HiTech

 •

6400 HiTech

 •

6400 Mezzo

 •

6550 HiTech

 •

6600 Mezzo

 •

6650 HiTech

 •

6750 EcoPower

 •

6800 Mezzo

 •

6850 HiTech

 •

8050 Mega

 •

8100 Mega

 •

8150 HiTech

 •

8150 Mega

 •

8350 HiTech

 •

8450 HiTech

 •

8450 Mega

 •

8550 HiTech

 •

8550 Mega

 •

8750 HiTech

 •

8950 HiTech

 •

ATS

 •

S-series
Early Makes - pre 1940s

1940s to 1980s

Modern post 1980s

Independents
North America

Europe

India & Pakistan

Middle East
(Turkey, Iran,
Iraq, Syria etc...)

Far East
(Australasia, China,
Japan, Korea, Thailand,
Vietnam etc...)

South America
(Argentina, Brazil,
Uruguay etc)

Africa

Asia
(Russia, Tajikstan,
Uzbekistan, Ukraine)

Specialist types of tractor

Notable People - associated with the tractor industry

Inventors