Obi-Wan Finale - The Loop
Play Sound
Väderstad-Verken AB (Väderstad)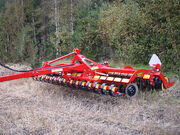 Väderstad-Verken is a farm machinery manufacturer based in Väderstad, in the Swedish community of Mjölby. The company has annual sales of about 158 million €, which is generated by approximately 800 employees.
History
The company's history begins in 1962, the Rune and Siw heavy problems with the heavy ground around Väderstad had. It was customary that towed the floor with a wooden beam. This had to be renewed every year due to wear, so that the Stark's built a steel version with an adjustable angle of attack. The construction of the tool for neighboring farmers began manufacturing agricultural machinery. 1966 transformed it into a kind of train the cultivators to, and simultaneously developed a folding version with a larger width. By 1967 the company moved from the barn into a larger workshop.
In 1972, the current production site was purchased. The company was called from now on Väderstad-Verken. Since the early summer of 1975 was comparatively dry, the best heavy equipment Väderstad now on German soil in Schleswig-Holstein. The railway-Mjölby Väderstad was in the early days of the company's critical to the material and the transport machinery. Because of financial problems the operation was discontinued in 1990.
In 1990, the company unveiled its first drills.[1]
In 2006 Väderstad bought 49% of the Canadian manufacturer SeedHawk who claims to be building the widest drills in the world.
The companies export share is around 85%.[2][3]
Products
The product categories consist of seeding and tillage equipment. When you have sown to grain drills specialized. When tillage offers a variety of Väderstad cultivators and disc harrows.
Model range
add details of product models here
See also
References / sources
Based on translated German wikipedia article
External links
Template:Vaderstad range