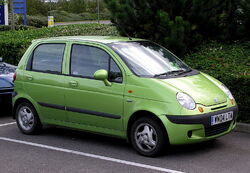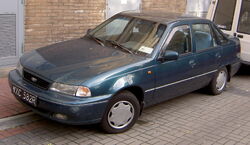 Uz-DaewooAvto (Uzbek: O'z-DeuAvto, Russian: Уз-ДэуАвто) is a joint venture founded in 1992 between the Uzbek state owned UzAvtosanoat and the South Korean GM Daewoo/GM Korea. The company began production of vehicles on 19 July 1996[1] at the new assembly plant located in Asaka.[2]
The company produced vehicles under the brand name Uz-Daewoo[2][3] and is increasingly important in the markets of the CIS area.[4] The initiative to establish the Uzbek automobile industry goes back to the administration of State President Islam Abdugʻaniyevich Karimov.[5]
Models
GM Uzbekistan
Main article: GM Uzbekistan
Following Daewoo's collapse in 2001, and resulting change of ownership, GM Uzbekistan was eventually established in March 2008 as a new replacement joint venture, and the Nexia and Matiz were sold under the Chevrolet badge together with an extended range of GM Korea Chevrolet models produced at the Asaka factory. The joint venture is owned by Uzavtosanoat JSC (75%) and General Motors Corporation (25%).[6] GM Uzbekistan produced 106,334 units during the first half of 2011.[7]
References
External links
Community content is available under
CC-BY-SA
unless otherwise noted.