Utilimaster Corporation is the largest producer of walk-in vans (also known as step vans), Parcel Delivery Vans (PDVs) and truck bodies. It was founded in 1973 in Wakarusa, Indiana, USA. Previously owned by Holiday Rambler and then Harley-Davidson, it was bought by senior management along with an investment group led by Kirkland Messina for $65 million in 1996. Currently ISO 9001 and QS-9000 certified.
On November 19, 2009 Spartan Motors announced it will be acquiring Utilimaster for $45 million in a all cash transaction.[1] Spartan Motors, Inc. designs, engineers and manufactures specialty chassis and vehicles for the recreational vehicle, fire truck, ambulance, emergency-rescue and defense/specialty markets. The company's brand names include Spartan, Crimson Fire, Crimson Fire Aerials, and Road Rescue. The company employs approximately 1,000 workers at facilities in Michigan, Pennsylvania, South Carolina, South Dakota and Texas. Spartan reported sales of $844.4 million in 2008. The Road Rescue division was sold to Allied Specialty Vehicles in 2010 by Spartan.[2]
Union City Body Company, a former competitor from Union City, Indiana, was bought by Utilimaster Corp. for an undisclosed amount on November 16, 2005 from GVW Group.
Utilimaster's customers include FedEx, United States Postal Service, UPS, Canada Post, Purolator, Airborne, Budget, Penske, Ryder TRS, Frito-Lay, Keebler, Krispy Kreme, IBC, Canadian Linen and Uniform Service, Cintas, AmeriPride, Verizon, Apria Health Care, and Home Depot.[3]
In 2011, Isuzu and Utilimaster announced plans for Utilimaster to assemble the Isuzu Reach in their Wakarusa, IN plant. It is a commercial van offering over 35 percent better fuel efficiency.[4]
Products
Edit
Walk-in vans
Edit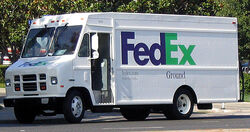 Also known as step vans, are the primary product of Utilimaster Corporation. They are received as bare chassis and the cab, doors, hood, and cargo area is manufactured by Utilimaster. The sliding doors are capable of being locked in the open position to allow for entry and exit without additional time to open and close a sedan door.
The Utilimaster vehicle provides superior delivery efficiencies as a result of the ability for the driver to enter and exit the vehicle with packages in hand (versus entry and exit through a sedan door). The full height cab and cargo area allows drivers to utilize the vehicle as a mobile office. Operators can enter and exit the cargo area with out bending over (cargo van) or leaving the vehicle to enter through the rear (dock truck). In many fleet operations, Utilimaster vans provide a service life in excess of twenty years.
Vehicles can be customized to include a variety of modular interior packages (refrigerated service, mobile maintenance, shelving and bins, laundry, bread or ladder racks).
Truck bodies
Edit
The final truck type that is produced by Utilimaster. These are also finished cabs that are larger vehicles that simply have a box attached to the back before painting. These tend to be large diesel trucks used by Budget and Old Dominion that are capable of hauling more or larger products than the other trucks produced. Access to the cargo area in these trucks is always possible through a rear door and sometimes through a side-access door if available. However, there is rarely, if ever, access available through the cab to the cargo area. These boxes are also generally produced with wood flooring and wood slats on the interior walls.

References
Edit
External links
Edit
Community content is available under
CC-BY-SA
unless otherwise noted.