UAZ-452 / UAZ-3741 («Bukhanka», «Tabletka») is a family of unique off-road vans produced at the Ulyanovsk Automobile Plant.
Serial production of the UAZ-452 started in 1965. The engine is from the GAZ-21.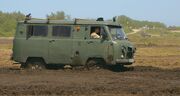 The UAZ-452 is a 4x4 off road development of the 4x2 UAZ-450 van. Because of the external similarities with a loaf of bread, the car became known as Буханка («Bukhanka», "loaf") in Russian. The car is produced in the body (wagon) and the airborne version (tadpole). The body of the car can be equipped with single side doors and folding doors at the rear (door hinges on the specific modifications).
List of current UAZ-452 models[1]
UAZ-2206 - 6 to 11 seat Minibus
UAZ 3303 (UAZ452D)- single cab pickup truck
UAZ 3741 - 850 kg load carrying all metal cargo van
UAZ 3909 - "фермер" (farmer), carries 6 passengers and 450 kg of cargo in an isolated compartment (passenger compartment is separated off from the window).

UAZ-3909i — military ambulance with a red cross on the roof and the bonnet

UAZ 3962 - "sanitarki" ambulance, can accommodate up to 9 people, or the equivalent load.

UAZ 39625 - strict passenger and cargo version of the 3962

UAZ 39094 - Crewcab Pickup truck with a 10 cm metal platform with a wooden floor, which is equipped with a removable frame tent and awning, 3 dropsides. Cargo bed replaceable by utility and special service bodies.
This article brought over from the Russian Wikipedia article.
External links
Edit
Community content is available under
CC-BY-SA
unless otherwise noted.