Trojan Industries as either purchased by, or formed by, Yale Materials Handling Corporation in 1950. Based in Batavia, New York, USA, the company manufactured wheeled loaders under the Trojan brand. Some were labeled as Trojan Yale, such as those built or sold in Argentina, while in Spain, they were marketed as Yale Trojan.
In Argentina, loaders were manufactured under license by Nortorf of Buenos Aires.[1]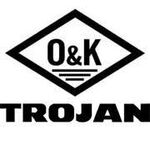 The brand was sold off in 1982 to FAUN of Germany, which gradually merged the two lines together. FAUN wheel loaders were derived from the Frisch, also of Germany. In 1986, O&K took over FAUN and continued building loaders in the Batavia, New York plant as O&K Trojan' branded wheel loaders. The former Yale/Trojan models were eventually phased out, and the plant closed in Batavia in 1992. Current O&K wheel loaders are manufactured in Germany.
Trojan 104
Trojan 114
Trojan 124
Trojan 134
Trojan 164
Trojan 204
Trojan 304
Trojan 404 (1958-1968)
Trojan 1500
Trojan 3000 (1966-)
Trojan 4000 (1966-)
Trojan 7500
Trojan 8000 (1966-) - largest Trojan loader built, two articulating joints, 530 hp (400 kW), GM engine
Trojan LHM-75
Trojan Landfill Special
O&K Trojan 1500Z
O&K Trojan 2500Z
O&K Trojan 3500Z
References
Edit
Giant Earthmovers : An Illustrated History, Haddock, Keith, pgs 48-50
External Links
Edit
Community content is available under
CC-BY-SA
unless otherwise noted.