Transporter Industry International GmbH is a conglomerate of companies providing heavy load transportation including Scheuerle, Nicolas and KAMAG Transporttechnik GmbH & Company (based in Ulm, Germany). The companies' products provide transportation for extremely heavy, and in some cases, sensitive loads in the steel, shipyard, construction, and aerospace industries as well as airport ground support. The company is affiliated with the Specialized Carriers and Rigging Association and Cargo Equipment Experts.[1]
NASA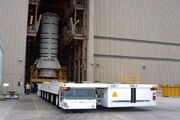 NASA has been a customer of Kamag vehicles since 1979. [2] Kamag has provided vehicles to move rockets, boosters, and satellite payloads. The Solid Rocket Motor (SRM) Transporter moves the Space Shuttle SRM segments between refurbishment and storage facilities on the Cape Canaveral the Vehicle Assembly Building. It has a capacity of 414,096 pounds (187,831 kg), is equipped with 48 tires and has a turning radius of 40 feet (12 m). Two Payload Canister Transporters are used to move payload canisters between space shuttle payload processing facilities, the vertical processing facility (where the canister is moved to a vertical position, and the launch pad. The PCTs are capable of maneuvering at between 5 miles per hour (8.0 km/h) when empty and a more careful 0.014 miles per hour (0.023 km/h) when fully loaded and features a 340 horsepower turbocharged engine for outdoor operation and 45-kilowatt, 480 VAC electric motors for operation in indoor cleanrooms. [3][4]
See also
Marion - Builders of the

Mobile Launch Platform

used for the Saturn V and Space shuttle programs at Kennedy space centre.
References