This List is the main Index page of ALL Tractor manufacturers of the world on Tractor Wiki And aims to list EVERY Manufacturer. From here pages can be added for each individual Make or Brand name.
Please add any missing companies and expand the Histories and the lists of models and known examples in preservation. Help build the database/ encyclopaedia as this is an Open Project 'Wiki' to document ALL Makes and Models.
For Construction Plant see

For Farm machinery manufacturers See Agricultural Machinery
England (U.K.)
Edit
Foreign companies with Manufacturing plants in UK are included.
Note: Initial article/info from Wikipedia entries were available was used, these are then being expanded to include more model info and details of preserved examples, predominantly relating to the UK, but other areas can be added as a sub section for clarity.
UK Tractor Manufactures/Brands:
Early - Steam powered tractors
Edit
Main article: List of Steam Machinery Manufacturers
Early UK Built Tractors - Internal Combustion engines
Edit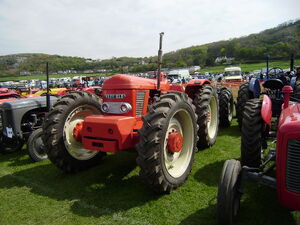 Post War / Modern UK Built Tractors - Internal Combustion engines
Edit
Specialist Models and 4-wd Converters
Edit
A load of firms built specialist versions of the major manufactures models for niche markets and applications. Some of these were sold through the main dealers as manufacturer approved versions. Some have been badged as the main manufacturers brand.
For tractor details by individual Models see Tractors by model number - Category
UK Engine Manufacturers
Edit
Main article: List of Engine Manufacturers
Note:For companies whose main product line is not engines please disambiguate by adding (engines) to the title to separate from main company article.
America (USA)
Edit
Major American manufacturers
Edit
Smaller American Manufacturers pre 1940s (Defunct)
Edit
Smaller American Manufacturers post 1940s (Defunct)
Edit
Incomplete list
Argentina
Edit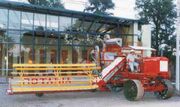 Australia
Edit
Azerbaijan
Edit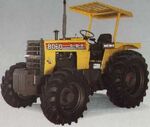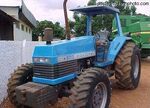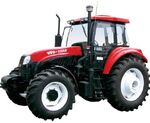 See note: Chinese tractors
Czechoslovakia/Czech Republic/Slovak Republic
Edit
Tatrac (East Germany)
Terrion (by Kirovets)
Unimog - 4x4 truck with some agricultural capability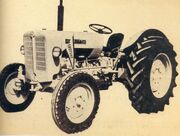 Dutra
HSCS (Hofherr, Schrantz, Clayton & Shuttleworth)
JUMZ
LGW
Mavag
North Korea
Edit
Pakistan
Edit
Dzik - a little one axle tractors build in Poland
Escort of India - bought Pol-Mot factory, build Escort and Farmtrac tractors
Farm-Mot - John Deere clone
Leda - rebadged LTZ
Pol-mot - Pol-Mot Foton, Farm-Mot, Escort and Farmtrac
DSSh/SSh (Harkovsky Plant of Self-powered Tractor Chassis)
KBZ (Kryukovskiy ventilator plant)
KhTZ (Kharkov Tractor Plant)
Kirovets/Kirov
KMZ (Kurganmashzavod)
Kolomenec (Kolomna Machine-building Works)
LTZ (Lipetsk Tractor Plant)
MoAZ (Mogilev Motor Vehicle Plant)
MVM (Metrovagonmash Plant)
SHTZ (Stalingrad Tractor Works)
Titran (Tikhvinskiy Tractor Plant)
UVZ (URALVAGONZAVOD)
VT (VgTZ; Volgograd Tractor Plant)
VTZ (Vladimir Tractor Plant)
ZTM (Omsk Tractor Plant)
Slovenia
Edit
South Africa
Edit
South Korea
Edit
Switzerland
Edit
FBW (Franz Brozincevic & Cie. Wetzikon.)
SLM - Schweizerische Lokomotiv- und Maschinenfabrik
Yugoslavia (country split up)
Edit
Rest of World
Edit
See also
Edit
Help wanted The Date that they 1st and last built tractors also adding and formatting into a table
References / sources
Edit
Wikipedia, List of tractor manufactures. (initial list)
Books
Magazines
Community content is available under
CC-BY-SA
unless otherwise noted.