This List is the main Index page of ALL Tractor manufacturers of the world on Tractor Wiki And aims to list EVERY Manufacturer. From here pages can be added for each individual Make or Brand name.
Please add any missing companies and expand the Histories and the lists of models and known examples in preservation. Help build the database/ encyclopaedia as this is an Open Project 'Wiki' to document ALL Makes and Models.
For Construction Plant see

For Farm machinery manufacturers See Agricultural Machinery
England (U.K.)
Foreign companies with Manufacturing plants in UK are included.
Note: Initial article/info from Wikipedia entries were available was used, these are then being expanded to include more model info and details of preserved examples, predominantly relating to the UK, but other areas can be added as a sub section for clarity.
UK Tractor Manufactures/Brands:
Early - Steam powered tractors
Main article: List of Steam Machinery Manufacturers
Early UK Built Tractors - Internal Combustion engines
Post War / Modern UK Built Tractors - Internal Combustion engines
Specialist Models and 4-wd Converters
A load of firms built specialist versions of the major manufactures models for niche markets and applications. Some of these were sold through the main dealers as manufacturer approved versions. Some have been badged as the main manufacturers brand.
All Wheel Drive - 4-wd conversions.

John Allen

of Oxford built

Land Drainers

based on Ford skid units + Rollers + Cultivators
Barth built

Land Drainers

based on Ford tractors.
Bettinson - A Tricycle conversion for row crop work
Bray - Bray Centaur + 4WD conversions + bulldozer gear
Doe Main dealer who built several special versions from Ford tractors notably the Doe Tripple-D/

DOE - Dual Drive

EVA of Belgium built 4-wd & other Ford based models
Farm Tractor Drives - 4-wd conversions for Ford and Massey Ferguson
Four Wheel Traction Ltd - 4-wd conversion kits

Gates of Baldock

High clearance kits for Fordson Dexta's
Highlander Forestry machines

Intermec Farm Machines

of Wiltshire, Horticulture crawler conversion based on Ford units.
J J Thomas - Builder of 6-cylinder version of the Ford 5000
Kent Ford Dealers (KFD) - Orchard specials
Mailam Italian - tracked conversions of Ford tractors

M.T Agricultural

- Artic. dumpers & artic. side discharge gravel carts based on Ford tractors.
Muir-Hill - 4WD models based on Ford skid units
Northrop tractor - (Built by Chaseside)
Reekie - Narrow/orchard conversions of Ferguson and Massey Ferguson

RIMAS

- Ford conversions built in Denmark
Shawnee Poole Articulated dumpers based on Ford tractor

Shire Tractors

built by

Perry's

of potters bar.

Stormont Engineering

- Orchard conversions, sold under the Kent Ford Dealers (KFD) badge
For tractor details by individual Models see Tractors by model number - Category
UK Engine Manufacturers
Main article: List of Engine Manufacturers
Note:For companies whose main product line is not engines please disambiguate by adding (engines) to the title to separate from main company article.
David Brown (engines)

GM Engines also called (GM Diesels)

John Deere (engines)

Mercedes Benz (engines)

Volvo (engines)
America (USA)
Major American manufacturers
Smaller American Manufacturers pre 1940s (Defunct)
Smaller American Manufacturers post 1940s (Defunct)
Adams Husker

(USA)

Adams Sidehill

(USA)

Adams-Farnham

(USA)

Agrimotor

(USA)

Backus

(USA)

Badley

(USA)

Baird

(USA)

Bantam

(USA)
Incomplete list
Argentina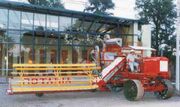 Australia
Austria
Agil

Austro

Drexler

Geiger

Kirchner

Krasser

Reform

Perl

Rath

Steyr - part of CNH Global
WACO

Waibel
Azerbaijan
Belgium
Allaeys

manufactured crop-sprayers, no tractors!
Claeys (Zedelgem)

Doyen

(Vilvoorde)

Favache

(Vilvoorde)

Galman

(Deurle/Gent)

Motte

(Brugelette)

Ravell

(Herent)

Sanglier

= Favache brand

Spinnekop

= Favache brand

Stotz

-De Lille (Maldegem)

TractEurop

(?)
Brazil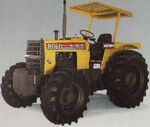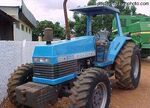 Canada
China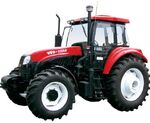 See note: Chinese tractors
Benniu

Benye - purchased by John Deere

Carrian

Changchun

Changfa

Chuanfeng

Chuanlong

DaDiHong

Dior

FengShou

Fuwo

Gensco

Guangyuan

HaiShan

Haofeng

Harbin Tractor

Henan Lishen

Hongli

Hortrac

Huanghai Jinma - purchased by Mahindra Tractors

Huanhai

Huaxia

Huiyou

Jemar

JiangSu (tractor)

Jia Ning

Jichi

Jinfu

Jinling

John Deere Tiantuo

Juling

Kaitai

Kalida

Kama

Kuaifa

Laotuo

LFKeDi

Linhai

Liulin

Longfeng

Longjiang

Luhewang

Lutong

Luwei

Mejor

NewYoke

Rogone

Ruyu

Sahm

SH - Deutz Fahr

Shandong Changlin

Shandong Juli

Shanghai New Holland - joint with New Holland (CNH)

Shenniu

Shijihong

Shijixing

Shuangli

Sinoway

Taihong

Taishan Guotai

Tianjin

Tianjin Deere

- joint with John Deere

Tianjin Tieniu

Tieniu

TianTong

WeiFang

Weifang Taishan

Weizhong

World

XiangYangHong

XinBaiJin

Xinnuo

YiDaneng

Zhengzhou

ZhongLian

Zhongtuo

Zhongzhou
Croatia
Astra-Progres

Ecotrac

Hittner

- formerly

Tomo Vinković

and TTB

Prima

Tomo Vinković

(MT8)
Torpedo - (licensed Deutz-Fahr)

TTB
Czechoslovakia/Czech Republic/Slovak Republic
Farmár

Laurin

Klement

Svoboda
France
Germany
Aulendorf

Battenburg

(Hans Battenberg Landmachinen-bau)
Benz, Daimler, Benz-Sendling, Unimog and Mercedes-Benz

Karl Blank & Söhne KG

Bungartz and Bungartz & Peschke
Büssing (Heinrich Bussing)

Delma

Deutz see also Deutz-Allis, Deutz-Fahr, Fahr & SAME Deutz-Fahr

Dinos Automobilwerke AG

Doppstadt

Dũrkopp-Werke AG

Eicher see also Eicher Motors India

Ensinger

Famulus

Feldmeister

Gehrer

HAKO

Hermann-Lanz

renamed as Hela

Holder GmbH

Horsch

Ingelheim

(Maschinenfabrik Ingelheim)

Irüs

JDS

John Deere-Lanz formed after John Deere took over Lanz in 1956.

Kälble

Kaebler

Kämper

Kemna

Klockner Humboldt-Deutz

(KHD)

Kögel

Komnick

Köppl

KPK

Krieger

Krümpel

Kulmus

Linke-Hofmann-Busch

(LHB)

Linde

now Forklift and Hydraulics manufacturer
MAN - now Trucks and industrial engines

Maulwurf

Maurer

MBA

Miag

Michelstadt

Mulag

MWM - also engine builder

Neckarsulm

(

NSU

)

Niko

Nordtrak

O&K (Orenstein and Koppel)

Peschke

Podeus

Pöhl
Primus

Rathgeber

/

Rathgerber-FAMO

Reckers

Ritscher

Rodach

Röhr

RMW

Ruhrstahl

Sauerburger

Schanzlin

Scheuch

SHW

Stock(

R. Stock & Co. AG

)

Tatrac

(East Germany)

Terrion

(by Kirovets)

Titus

Tünnissen

Unimog - 4x4 truck with some agricultural capability

URUS

VEB Brandenburg

VEB Schonebeck

VEB Weimar

VeWeMa

Wesseler

WF Trac

- Werner Gmbh, based on MB Trac

Wurr

ZT

- East Germany
Greece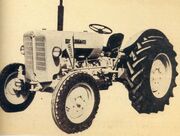 Hungary
Csepel

Dutra

Hofherr-Schrantz

HSCS (Hofherr, Schrantz, Clayton & Shuttleworth)
JUMZ
LGW
Mavag
ALFA (India)

Amul

Bharat Trac

Brahma-Steyr - Steyr tractors under license
Captain Tractors - Captain Tractors Ltd.
Crossword Agro Industries - build Atmak, Captain and Nissan brand tractors
Escorts Group - Farmtrac tractors designed by FORD, Ursus and Poland tractors. (Powertrac)

Farmcart

by Landmarshal Farm Machinery
Force Motors - build Balwan and Tempo Ox tractors

Gujarat Tractor Corporation

Ltd (Baroda). was considering making Leyland-designed tractors.(now M&M)
Hindustan tractors brand was built by GTCL, (Baroda)
HMT (Hindustan Machine Tool Co.)

Jagdish

Kirloskar - former mfg of Deutz-Fahr licensed tractors
L&T - John Deere - former joint venture between John Deere and Larsen & Toubro Limited. Deere & Co. bought out L&T's share

Lovson

Mahindra (Mahindra & Mahindra)
Marshal - MARS Farm Equip. Ltd

New Holland (India)

- owned by Fiat of Italy

Royal (India)

Same Greaves - former joint venture between SAME and Greaves

Sardar

Shaktimaan

Sonalika International - had link with Renault engine from HMT-Zetor in Sonalika tractors but also close to Swaraj-PTL tractors before M&M purchase with assistance of

Commonwealth Devevelopment Corp.

(CDC)

Stallion (India)

Tata - Indian truck company TELCO with Mercedes-Benz collaboration now in to cars owning

Jaguar Land-Rover

. (Considered going in to Farm tractors over ten years ago but decided that they would not)
Tempo Ox - owned by Force Motors - (tractor designed with German collaboration)
Trantor tractor prototypes built as examples of suitability of ACMA automotive component suppliers

Trishul

United Auto Tractors - linked to Leyland Tractors.

VAIBHAV

Vanraj

VST Tillers - build Mitsubishi-Shakti, Eurotrac-VST, Shakti & Eurotrac brand tractors - best known for

Walking tractors

.

Zimidara
Iran
Italy
Japan
North Korea
Pakistan
Poland
Dzik

- a little one axle tractors build in Poland

ElPol

Escort of India - bought Pol-Mot factory, build Escort and Farmtrac tractors

Farmer

Farm-Mot - John Deere clone

Leda

- rebadged LTZ
Pol-mot - Pol-Mot Foton, Farm-Mot, Escort and Farmtrac

Slazak

Ursus
Romania
Russia
Altai

DSSh

/SSh (Harkovsky Plant of Self-powered Tractor Chassis)

Fordzon-Putilovec

Gomselmash

KBZ

(Kryukovskiy ventilator plant)

KhTZ

(Kharkov Tractor Plant)

Kiroman

Kirovets/Kirov

KIY

KMZ

(Kurganmashzavod)

Kolomenec

(Kolomna Machine-building Works)

LTZ

(Lipetsk Tractor Plant)

Masha

MoAZ

(Mogilev Motor Vehicle Plant)

MTM

MVM

(Metrovagonmash Plant)

ORTZ

Polesie

Progress-ZST

SHTZ

(Stalingrad Tractor Works)

Slavich

Titran

(Tikhvinskiy Tractor Plant)

TMK

Tolpar

UVZ (URALVAGONZAVOD)

VT

(VgTZ; Volgograd Tractor Plant)
VTZ (Vladimir Tractor Plant)

Zaporozhec

ZTM

(Omsk Tractor Plant)
Slovenia
South Africa
South Korea
Spain
Centurion

Ebro

Favias

Lander

Lanz Iberica

Pascuali

Piva

Rapid (Spain)

SACA

- licensed built International Harvesters

Sole

Taissa

TESA

- Tractores Espanoles, S.A.

TUR

- imported Ursus
Sweden
Switzerland
Aecherli

Alpina

Bucher

Eckert

Eichenberger

FBW (Franz Brozincevic & Cie. Wetzikon.)

Franz

Grunder

Köpfli

Kunz

Kupferschnio

Mafag

Merk Pullax

Merz

Motrac

Murianer

Rigitrac

Simar

SLM

- Schweizerische Lokomotiv- und Maschinenfabrik

Wiesel
Turkey
Yugoslavia (country split up)
Rest of World
See also
Help wanted The Date that they 1st and last built tractors also adding and formatting into a table
References / sources
Wikipedia, List of tractor manufactures. (initial list)
Books
Classic Tractors of the World, By Nick Baldwin, Voyageur press 1998

Farm Tractors by Michael Williams

Tractors & Farm Machinery by John Carrol

Tractors of Europe by Andrew Morland & Peter Henshaw
Magazines
Links