Trac-Za Zanello tractors were built in Villa Maria, Argentina. The tractors were formerly part of the Zanello S.A. tractor line-up which the current company purchased from Zanello. Industries Villa Maria S.A. company was founded in 2002 with the purchase of the Q-Trac series of Zanello tractors, and the tractors were renamed Trac-Za. The company was headed by Luis and Carlos Zanello, both formerly of Zanello and defunt in about 2004. In addition to the 4WD tractors, they also manufactured conventional tractors. In 2005, it was replaced by Zanello (ZG Trac).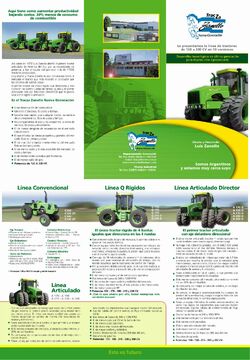 In 2004, Trac-Za showed interest in a joint-venture with the "Concern Tractor Plants" of Russia, which is a partnership of the 10-largest equipment builders in Russia, including: Lipetsk (LTZ), Promtraktor, Vladimir (VTZ), Onega, Moldavian, Ryazansky Combine Plant, and other manufacturers.
In 2010, the brothers Luis and Carlos Zanello emerged as founders and owners of the "new" Zanello Maquinaria company, which advertised as being "100% Zanello". In 2012, this company appears to have become Zanello (CMZ).
Model range
Edit
References
Edit
External links
Edit
Early Makes - pre 1940s

1940s to 1980s

Modern post 1980s

Independents
North America

Europe

India & Pakistan

Middle East
(Turkey, Iran,
Iraq, Syria etc...)

Far East
(Australasia, China,
Japan, Korea, Thailand,
Vietnam etc...)

South America
(Argentina, Brazil,
Uruguay etc)

Africa

Asia
(Russia, Tajikstan,
Uzbekistan, Ukraine)

Specialist types of tractor

Notable People - associated with the tractor industry

Inventors