We're Getting Mutants in the MCU - The Loop
Play Sound
The Toyota Tundra is a full-size pickup truck introduced by Toyota in the year 2000. It was widely considered to be the first full-size import-brand truck built with an American look and feel and a refined V8 engine. The Tundra was eventually nominated for the North American Truck of the Year award and was Motor Trend' magazine's Truck of the Year in 2000 and 2008. Currently the Tundra is assembled in San Antonio, Texas where production was consolidated in 2008.
The first generation Tundra had many similarities with the older Toyota T100 and the compact Toyota Tacoma. The biggest of those similarities was the shared use of a 3.4-liter V6 engine which was the top of the line engine in both the Tacoma and T100. The V6 engine would serve as the base engine for the Tundra, while a second powerplant, a first for a Toyota truck, a V8 engine sized at 4.7-liters was added to the lineup.
First generation (2000–2006)
First generation
[[File:|frameless|upright=1.25|alt=]]
Production
1999–2006
Model year(s)
2000–2006
Body style(s)
2-door Regular cab
4-door Access cab
4-door Double cab
Engine(s)

3.4 L 5VZ-FE V6
190 horsepower (2000-2004)
4.0 L 1GR-FE V6
236 horsepower (2005-2006)
4.7 L 2UZ-FE V8
245 horsepower (2000-2004)


282 horsepower (2005)
271 horsepower (2006)
Transmission(s)
5-speed manual (2000-2004)
4-speed A340 automatic (2000-2004)
6-speed manual (2005-2006)
5-speed automatic (2005-2006)
Wheelbase
128.3 in (3259 mm)
Double Cab: 140.5 in (3569 mm)
Length
2000-04: 217.5 in (5525 mm)
Double Cab: 230.1 in (5845 mm)
2005-06: 218.3 in (5545 mm)
Width
75.2 in (1910 mm)
Double Cab & Limited: 79.3 in (2014 mm)
Limited Double Cab: 79.7 in (2024 mm)
Height
SR5 V8 4WD: 71.1 in (1806 mm)
2000-04 SR5 Access Cab 4WD: 71.5 in (1816 mm)
SR5 Stepside Access Cab 4WD: 71.3 in (1811 mm)
Limited 4WD: 71.7 in (1821 mm)
2WD: 70.5 in (1791 mm)
SR5 Access Cab 2WD: 70.7 in (1796 mm)
Limited 2WD: 70.9 in (1801 mm)
Double Cab 4WD: 74.4 in (1890 mm)
Double Cab Limited 4WD: 75.0 in (1905 mm)
Double Cab Limited 2WD: 74.6 in (1895 mm)
Double Cab 2WD: 74.0 in (1880 mm)
Curb weight
3935–4215 lb (1785–1912 kg)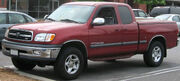 Publicly introduced in May 1999 as a 2000 model, the Tundra prototypes and "show trucks" were initially known as T150s. However, Ford and automotive pundits felt that this name was too close to the market-leader Ford F-150, and following a lawsuit by Ford, the production truck was renamed the Tundra (Toyota claimed they never truly intended to use the T150 name in actual production). Toyota then countersued Ford regarding the name of their then-released Lincoln LS sedan, arguing it was too close to that of the Lexus LS.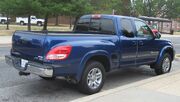 The Tundra was slightly larger than the T100, but still suffered the perception of being too small and carlike to pose a serious threat to the domestic pickup trucks. With a production capacity of 120,000, sales were double the rate of the T100. At the time the Tundra also had the largest initial vehicle sales for Toyota in its history. It garnered impressive honors, including Motor Trend's Truck of the Year award for 2000 and Best Full- Size Truck from Consumer Reports. Built in a new Toyota plant in Princeton, Indiana, with 65 percent domestic content, the Tundra showed that Toyota was serious about closing the gap on the "Big Three" in all major segments.
Engine choices available in the Tundra were a 24V 3.4-liter V6 engine that produced 190 horsepower (140 kW) and 220 lb·ft (298 N·m) of torque and an LEV certified 32 valve 4.7-liter "i-Force" V8 engine that produced 245 horsepower (183 kW) and 315 lb·ft (427 N·m) of torque. A Toyota Racing Development (TRD) supercharger was already available for the 3.4-liter V6 (2000-2003 models) that bumped horsepower to the 260 horsepower (190 kW) range and 260 lb·ft (350 N·m) of torque. TRD introduced a second supercharger for the V8 (2000-2003 models) engine late into its second year of production that pushed the V8 numbers to the mid 300 horsepower (220 kW) range and torque to the 400 lb·ft (540 N·m) range. Although the V6 supercharger is still widely available, the V8 supercharger is rarer and harder to find because TRD stopped its production once Toyota released the updated VVT-i equipped 4.7-liter engine.
The grille was updated for 2003 and the Double Cab version was added to the lineup in 2004. The Double Cab model was a true crew cab with four normal doors, with interior and exterior details copied from the Toyota Sequoia. Its bed is nearly 5 inches (130 mm) longer than the competing Nissan Titan or Ford F-150. It is also 13 inches (330 mm) longer and 3 inches (76 mm) taller than the Regular and Access cab versions. A new engine was introduced in 2005: a 4.0-liter V6 rated at 236 horsepower (176 kW) and 266 ft·lbf (361 N·m) of torque, and the existing 4.7-liter V8 was updated with Toyota's VVT-i variable valve timing technology and was rated at 282 horsepower (210 kW) and 325 ft·lbf (441 N·m) of torque while the 2006 versions were rerated at 271 horsepower (202 kW) and 313 ft·lbf (424 N·m) of torque . The 5-speed manual gave way to a 6-speed manual, and a 5-speed automatic replaced the 4-speed. With a towing capacity of just 6,900 lb (on the Double Cabs) and a 7,100 pounds towing capacity on the Access Cabs and Regular Cabs with a V8 engine, it still did not have enough muscle to compete with the heavy-duty offerings of the Big Three and Nissan. Domestic truck aficionados still derided it as a "7/8 scale" pickup.
In 2006 the Darrell Waltrip Edition was sold honoring the NASCAR star and his participation in the NASCAR Truck Series. Only 2000 V8 powered Double Cab models were produced. The package included special badging and unique 18" wheels.
The IIHS rated the Tundra "Good" overall in their frontal offset crash test.[1] It was the first full-size pickup awarded a "Good" score, it's then competitors from Ford and Dodge were rated "Poor" and in the case of GM's entry "Marginal".[2]
Safety recalls
During late 2009 Toyota issued a recall on 2000-2003 model year Tundras regarding rust problems of a rear crossmember. This recall involved 110,000 vehicles and followed a similar action for the Tacoma. Following the Tacoma voluntary recall Tundra owners began complaining of rust issues prompting the NHTSA to begin investigation. Within days Toyota recalled the Tundra. If no rust is detected an anti-corrosion compound will be applied, if rust is detected the crossmember will be replaced.[3] While Toyota originally limited the recall to 20 cold-weather states, problems were already evident elsewhere. In March 2010, the recall was expanded throughout the country.[4] Toyota has offered to buy back affected vehicles at 1.5 times the most generous Kelley Blue Book value if they show significant frame rust.
Second generation (2007–present)
Second generation
[[File:|frameless|upright=1.25|alt=]]
Production
2007–present
Model year(s)
2007–present
Body style(s)
2-door Regular cab
4-door

Double Cab


4-door

Crewmax

Engine(s)

4.0 L 1GR-FE V6 (VVT-i)
236 horsepower
4.7 L 2UZ-FE V8 (VVT-i)
276 horsepower
4.6 L 1UR-FE V8 (VVT-i)
310 horsepower


5.7 L

3UR-FE

V8 (

Dual VVT-i

)
381 horsepower
Transmission(s)
5-speed automatic
6-speed automatic (

AB60E/F

)
6-speed automatic (A760E/F)
Wheelbase
Regular Cab: 126.8 (3220 mm)
Crew Cab: 145.7 (3700 mm)
Double Cab: 164.6 (4180 mm)
Length
Regular Cab: 209.8 in (5329 mm)
Crew Cab: 228.7 in (5809 mm)
2007-09 Double Cab: 246.7 in (6266 mm)
2010- Double Cab: 247.6 in (6289 mm)
Width
79.9 in (2029 mm)
Height
Regular Cab 4WD: 76.2 in (1935 mm)
Regular Cab LB 4WD & Double Cab 4WD: 76.4 in (1941 mm)
CrewMax 4WD: 76.0 in (1930 mm)
Regular & Double Cab 2WD: 75.8 in (1925 mm)
CrewMax 2WD: 75.6 in (1920 mm)
A larger Tundra was introduced at the 2006 Chicago Auto Show. It had lifted cues of its smaller brother the Toyota Tacoma along with some cues from the Toyota FTX concept truck. One unique styling element used fenders that bulged to resemble a biceps muscle. The truck had many enhancements, such as a towing capacity of up to 10,000+ lb, a payload capacity of over 2,000 lb (910 kg), a new 5.7-liter 3UR-FE V8 engine mated to a new 6-speed automatic transmission. The second generation Tundra has 3 engines available. The new 5.7-liter V8 that produces 381 horsepower (284 kW) and 401 pound-feet (544 N·m) of torque, and the carry over 4.7-liter 2UZ-FE V8 rated at 276 horsepower (206 kW) and 313 pound-feet (424 N·m) of torque, as well as the previous 4.0-liter 1GR-FE V6 rated at 236 horsepower (176 kW) and 266 pound-feet (361 N·m) of torque.
When the new Tundra first came out in February 2007 it was available in 31 configurations, which consisted of 3 bed lengths, 3 cab configurations, 4 wheel-bases, and 2 transmissions The new Double Cab replaces the previous generations Access Cab, and the all new Crew Max replaces the previous generations Double Cab, it is also built to compete with the Dodge Ram Mega Cab. The Double Cab is available with a 6.5-foot (2.0 m) bed, regular bed, or an 8-foot (2.4 m) long bed, while the Crew Max is only available with a 5.5-foot (1.7 m) short bed. The Tundra also features a new 6-speed automatic transmission which can lockup the torque converter in 5th and 6th gears with a manual shift mode which is standard with the 5.7-liter, and gives it a 0-60 time of 6.3 seconds, and a quarter mile time of 14.7 seconds.
Toyota made the new Tundra useful for many construction workers, by including extra large door handles, deck rail system, integrated tow hitch, and headrests that can fit a worker with his hard hat on. The Tundra also includes as standard: an electronic automatic limited slip differential (Auto LSD), Vehicle Stability Control, traction control, electronic brakeforce distribution, brake assist, anti-lock brakes and tailgate assist. However, its high starting MSRP of $22,390 makes it more expensive than the Chevy Silverado Work Truck (MSRP $17,860) and the base Ford F-150 (MSRP $17,345).
Some other changes Toyota included in the new Tundra are optional tow mirrors, a 26.4 US gal (100 L/22 imp gal) fuel tank, available 22-inch (560 mm) alloy wheels, backup camera, Bluetooth, large center console (big enough to fit a 15-inch (380 mm) laptop), extra-large disc brakes and calipers, and the aforementioned 6-speed sequential automatic transmission.
All 5.7-liter Tundras come equipped with a tow package which includes engine oil and transmission coolers, integrated trailer hitch, 4.30:1 axle ratio, and large braking hardware for increased fade resistance.
Assembly
The second generation Tundra is assembled at two different United States locations, the original Princeton, Indiana plant supplemented by a newly built San Antonio, Texas plant. Combined, the two plants give Toyota a maximum capacity of produce 300,000 Tundra units annually or 100,000 units from the Indiana plant and another 200,000 units from the Texas plant. When designing the Texas plant, Toyota arranged for 21 key Tundra suppliers to set up factories on the same site to avoid logistical issues, however those suppliers are more vulnerable to a market downturn. Toyota also included a $9 million dollar health care facility to serve workers and their dependents.[5]
In the spring of 2008 Toyota moved all Tundra production to the Texas plant. All Tundra engines and transmissions are built in the United States. As sales fell in 2008, production of Tundra at San Antonio stopped for three months.[6]
Engines
2007–2009 model year
4.0 L V6

GR engine

236 hp (176 kW) and 266 lb·ft (361 N·m) (

California Air Resources Board

(CARB) LEV II certified)
4.7 L V8

UZ engine

276 hp (206 kW) and 313 lb·ft (424 N·m) (CARB ULEV II certified)
5.7 L V8

UR engine

381 hp (284 kW) and 401 lb·ft (544 N·m) (CARB ULEV II certified)
2010 model year
4.0 L V6 GR engine 236 hp (176 kW) and 266 lb·ft (361 N·m) (CARB LEV II certified)
4.6 L V8 UR engine 310 hp (231 kW) and 327 lb·ft (443 N·m) (CARB ULEV II certified)
5.7 L V8 UR engine 381 hp (284 kW) and 401 lb·ft (544 N·m) (CARB ULEV II certified)
Model year changes
The 2008 model added 13 variations bringing the total to 44 model variants. The 2008 models feature additional standard features at a lower price, also include a new "Tundra Grade" trim which is slotted below the SR5 trim, and geared toward trades people and the price conscious consumer.[7]
Toyota made E85 fuel capability standard to 2009 Tundra's equipped with the

5.7-liter

V8 in select regions. Toyota also updated the TRD Sport package and added a TRD Rock Warrior package. Prices increased 0.4% over the previous 2008 model year.[8]
The 2010 Tundra receives visual updates to the grille and tail lamps. A premium Platinum trim level is added. And a new 4.6-liter V8 paired with a 6-speed automatic replaces the previous 4.7-liter

2UZ-FE

V8 engine. For added safety a driver and front passenger

knee airbags

becomes standard and NHTSA frontal crash test scores improved to five stars.[9] The 2010 Tundra began arriving at dealers in late April 2009.
Safety
The Tundra comes equipped with dual front airbags, front row side torso airbags, and rollover sensing side curtain airbags for both the front and rear rows. Vehicle Stability Control, traction control, anti-lock brakes, brake assist, and electronic brakeforce distribution are also standard.[10] For the 2010 model year, a driver and front passenger knee airbag becomes standard.
Toyota's Tundra was the first full-size pickup to have earned the Insurance Institute for Highway Safety's Top Safety Pick accolade, followed by the redesigned 2009 Ford F-150.[11] In tests conducted by the IIHS, the Tundra received an overall "Good" score in the frontal offset crash test,[12] the highest possible rating in the side impact crash test,[13] and the maximum score for rear crash protection.[14]
In NHTSA tests, the 2007-2009 Tundra was given a four out of five-star (
) frontal crash test rating for both the driver and front passenger.[15] However the 2010 model received an improved five star rating (
).[16] A four-star rating is given to vehicles when an 11% to 20% chance of serious injury exists, while a five-star rating is given when there is 10% or lower chance of serious injury.[17] No structural changes were made to the 2010 Tundra.[18]
The primary difference between IIHS and NHTSA frontal crash testing, is the IIHS conducts an offset test where a smaller portion of the vehicle's structure absorbs the energy of the crash.[19] This type of crash test is more demanding on the vehicle's structure, while the full frontal crash test is more demanding on the vehicle's restraint systems.[19] Both IIHS and NHTSA frontal impact tests can only be compared among vehicles of similar weights.[19]
Because the Tundra's Vehicle Stability Control system is disabled when the vehicle's 4x4 system is engaged Consumer Reports has questioned the Tundra's Top Safety Pick award. Toyota's response is the Tundra does not feature a center differential which would become a weak point in the drivetrain.[20] However the stability control system remains operational at times when the truck is in 4x2 mode though many drivers will select the 4x4 mode in slippery conditions. As of the 2010 model year this has been corrected. Electronic stability control functions in 4x4hi and is disengaged in 4x4lo. This is verified by the updated owners manual, visor instructions, and road tests in snow and ice in 4x4hi. When under steer or over steer occurs in 4x4hi a beeping noise is emitted, and the dash indicator lights up yellow indicating that VSC is activated, braking individual wheels to match driver input at the steering wheel.
TRD supercharger
Toyota began selling a bolt-on TRD supercharger kit for the 5.7-liter V8 Tundra during June 2008. Power output is increased to 504 hp (376 kW) and 550 pound-feet (750 N·m) of torque. When the installation is carried out by a Toyota dealership the existing warranty remains intact.[21] This kit features Eaton's TVS Roots-type supercharger which utilizes twin four-lobe rotors, a design shared with the newly introduced Toyota TRD Aurion, Chevrolet Corvette ZR1 and Cadillac CTS-V.[22] MSRP for the kit is set at $5,875.[23]
Edmunds tested a TRD supercharged Tundra which completed the 1/4 mile in 13.3 sec @ 103.8 mph (167.0 km/h).[24] Edmunds previously tested a naturally aspired 5.7-liter V8 Tundra which posted a 14.8 sec @ 93.7 mph (150.8 km/h) time.[25] Motor Trend's test of the supercharged Tundra resulted in a 1/4 mile of 13.0 sec @ 106.3 mph (171.1 km/h). This Tundra needed 4.4 seconds to run from 0-60 mph.[26]
Special editions
In June 2008 Toyota introduced the Ivan "Ironman" Stewart Signature Series Tundra. Three different packages are offered, one of which includes the TRD Supercharger.[27][28]
Stewart has won the Baja 500 seventeen times driving Toyota vehicles.[29]
Awards and comparison tests
Awards
CanadianDriver

crowns the Tundra as Truck King, selecting it as the best 1/2-ton pickup with an engine displacing greater than 5.0-liters, and again as best 1/2-ton with an engine displacing less than 5.0-liters.[30]
Trailer Boats awards the Tundra with its 2007 Tow Vehicle of the Year award after completing nearly two weeks of testing.[31]
Truckin' Magazine awards the Tundra Crew Max with its 2008 Truck of the Year award.[32]
Motor Trend

declared the Tundra its 2008 Truck of the Year.[33] Other competitors tested were the Chevrolet Silverado HD, GMC Sierra HD, and Ford F-250, F-350 and F-450.[34] While the Chevrolet Silverado, Motor Trend's 2007 TOTY was not in the competition, it was defeated by the Tundra in an earlier three round comparison as noted below. However, Motor Trend ranked the Silverado and Sierra ahead in a later comparison test.
Media comparison testing
May 2009: A

Motor Trend

comparison test with the

Ford F150

Supercrew resulted in a defeat.[35]
April 2009: An

Edmunds.com

test of 4x4 trucks resulted in a 2nd place finish for the Tundra.[36]
2007: Motor Trend and Truck Trend magazines rate the Tundra ahead of its GM competitor in a three round battle. Parts of this comparison took place before the Tundra was officially on sale to the public. All sections were published in both magazines.
Introduction[39] Round 1: Head-to-Head[40] Round 2: Down and Dirty[41] Final Round - Up, Over, and Out:[42]
2007: Peterson's 4-wheel & Off Road magazine gave the Tundra a 2nd place finish in their 2008 4x4 of the Year competition. First place went to the Toyota Landcruiser [43]
August 2007: Consumer Reports rates the Tundra as the 2nd best full-size pickup behind the Chevy Avalanche.[44] However the Avalanche is classified as an SUT or SUV with a truck bed. The Avalanche's rear suspension features coil springs unlike traditional leaf-springs.[45]
April 2007:

Car and Driver

placed the Tundra 3rd in a 5-truck roundup.[46]
March 2007:

Popular Mechanics

ranks the Tundra 2nd in a full-size pickup comparison.[47]
January 2007: Edmunds.com places the Tundra 1st in their 1/2-ton comparison test.[48]
Recalls
In May 2007, a Toyota spokesperson stated 20 camshaft failures occurred in Toyota's all-new 5.7 L 3UR-FE V-8 engine. Toyota said the failures were the result of a flaw in the camshaft casting process, and the supplier of the camshafts has since fixed the error. In the event of a camshaft failure Toyota will either replace the engine and extend the warranty or repurchase the truck from the owner. Toyota originally intended to begin selling the 5.7-liter equipped Tundra during the northern hemisphere summer of 2007 but decided to rush the engine into production in order to match the February 2007 launch date. This decision was the result of product planners and dealers desire for the larger V8's availability at the initial sale.[49]
On December 13, 2007, Toyota Motor Corp recalled 15,600 4x4 2007 model-year Tundras in the United States because a rear propeller shaft joint may fail. "There is a possibility that a joint in the rear propeller shaft may have been improperly heat treated, resulting in insufficient hardness," Toyota said. Adding, "This may cause a section of the rear propeller shaft to separate at the joint." There has been one reported case of abnormal noises in the affected vehicles. No accidents have been connected to the recall. Tundra owners will be notified beginning in late-December 2007 and are requested to contact their local Toyota dealer for inspection. If the hardness is not correct the dealer will then replace the rear propeller shaft. [50]
In Consumer Reports' 2007 survey, the 4x4 Tundra had a below-average reliability rating due mainly to problems with the four-wheel-drive system. However, as of November 10, 2008, Consumer Reports' 2008 survey showed that Toyota in general has apparently solved the problems. In April 2010 the Tundra had an average reliability rating and the 4x4 Tundra would have earned Consumer Reports recommendation, but they have suspended the recommendation pending the resolution of recall issues with of the 2007-2010 Tundra, along with several other Toyota vehicles.[51]
At the 2007 Tokyo Auto Show a Toyota exec stated the Tundra's quality woes brought "shame" to the company. In July 2006, the then Toyota CEO Watanabe bowed in apology for Toyota's decline in quality, however he also promised the company was taking major steps to fix these problems.
The 2007-2010 Tundra was recalled as part of the 2009–10 Toyota vehicle recalls for its accelerator pedal.
Diesel Tundra
During September 2007 Toyota Motor Corporation announced plans to add a diesel variant of the Tundra.[52] This was again confirmed in January at the 2008 North American International Auto Show. There Toyota President Watanabe stated, "I am happy to confirm that a new clean-diesel V8 engine will be offered in both the Tundra and the Sequoia in the near future."[53] But later in 2008 at the State Fair of Texas a Toyota official stated the Tundra diesel is on hold due to poorer than expected sales.[54]
Motor Trend and Car and Driver, have earlier reported Toyota will produce a heavy-duty version of the Tundra designed to compete in the 3/4-ton class.
At the 2007 SEMA auto show, Toyota showcased its Tundra Diesel Dually Project Truck. This heavy-duty Tundra Diesel is based on a heavily modified Tundra Crew Max chassis. It features 8.0L Hino diesel engine, Eaton manual transmission, along with an extensive list of other modifications.[55] High-resolution images are available in autoblog's gallery.[56]
During late-2006 Toyota purchased a stake of Isuzu from General Motors.[57] The Duramax V8 engine design currently powers GM's 3/4 ton and 1-ton pickups, but GM's 1/2 ton diesel will be completely designed and built solely by General Motors.
The Australian and European version of the Toyota Land Cruiser features a 4.5L diesel which a future Tundra Diesel could be based on.
Hybrid Tundra
Toyota President Katsuaki Watanabe has stated that he would like to develop a hybrid electric version of the Tundra. However, Toyota faces several technical challenges that it must overcome before it could bring such a vehicle to market.
According to the Japanese newspaper Nihon Keizai Shimbun, Toyota is considering developing a gasoline electric hybrid Tundra, for sale in North America around 2010.[58]
Toyota may also introduce a diesel electric hybrid system for the Tundra. In Japan, the Toyota Dyna and Hino Dutro light trucks produced by the Toyota Motor use diesel electric hybrid systems. The Hino Ranger a medium to heavy duty cab-over truck could also provide hybrid technology for the next generation Tundra.
At the 2008 North American International Auto Show, Toyota USA President Jim Lentz stated "different models require different types of fuel saving technology...there may be a few [models] where hybrid technology doesn't make sense". He further went on to say that the Tundra and the new Sequoia will not be offered with a hybrid engine in the near future, instead those vehicles would feature "clean, fuel efficient diesel engines.[59] For now, it seems, the Tundra Hybrid has been sent back to the drawing board or cancelled entirely.
Sales figures
The Toyota Tundra has sold at or just under its production capacity since 2000. The Indiana factory can produce 130,000 Tundras a year. The Tundra has been on the market for more than half a decade, and has captured 17 percent of the full-size half-ton market. In the year 2000 Toyota sold 107,798 Tundras, which was a huge step forward from the Toyota T100 pickup which sold roughly around 50,000 units. By 2005 Toyota Motor Corporation managed to sell 126,529[60] Tundras. The best selling Ford F-150 sold 756,980 units that same year. With the added capacity of the San Antonio plant, Toyota planned to sell around 200,000 Tundras for 2007. Toyota missed its sales target for 2007, selling just under 200,000 vehicles.[61]
Currently 70-80 percent of the Tundra sales are coming from the 5.7-liter, and 46 percent are coming from the Crew Max. The Double Cabs are also doing well, but the Standard Cabs are selling much slower than expected.
Gaining market share, Tundra sales for the month of July were 23,150, out pacing the GMC Sierra for that same month, although its sales were significantly less than the Sierra's corporate twin, the Chevrolet Silverado. For all of 2007, Sierra sales were over 12,000 more than Tundra, Silverado sales were more than 422,000 over Tundra and the F150 was once again the sales leader.[61]
Toyota Tundra monthly sales (U.S.A.)
Jan
Feb
Mar
Apr
May
Jun
Jul
Aug
Sep
Oct
Nov
Dec
Total
2003
11,485
2004
7,829
7,441
8,671
8,672
9,663
8,901
12,098
10,379
8,973
9,448
8,689
11,720
112,484
2005
8,715
11,063
12,950
10,932
10,557
10,212
11,149
8,255
7,253
8,919
10,892
15,632
126,529
2006
9,459
10,566
11,800
8,837
7,974
8,822
10,285
11,173
12,609
10,046
10,469
12,468
124,508
2007
6,321
9,669
13,196
14,200
17,727
21,727
23,150
18,919
19,571
17,868
14,988
19,782
196,555
2008
12,073
14,400
14,311
13,350
12,144
10,238
11,596
17,401
7,696
6,425
6,607
9,191
137,249
2009
79,385
2010
93,309
Sales figures
| Calendar year | Total sales (U.S.) |
| --- | --- |
| 2000 | 100,445[62] |
| 2001 | 108,863 |
| 2002 | 99,333[63] |
| 2003 | 101,316 |
| 2004 | 112,484 |
| 2005 | 126,529 |
| 2006 | 124,508 |
| 2007 | 196,555 |
| 2008 | 137,249 |
| 2009 | 79,385 |
| 2010 | 93,309 |
NASCAR
In 2004, the Tundra joined the NASCAR Craftsman Truck Series and got its first win at Michigan International Speedway on July 31 that year. In 2006, the Tundra got Toyota's first manufacturer championship winning 12 of the 25 races. The model also got the driver and owner championship with Todd Bodine and Germain Racing.
References
External links