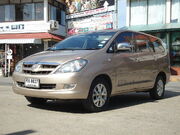 Toyota Kirloskar Motor Private Limited is joint venture between Toyota Motor Corporation and the Kirloskar Group, for the manufacture and sales of Toyota cars in India.[1]. It currently is the 7th largest car maker in India after Maruti Suzuki, Hyundai, Tata, Mahindra, Chevrolet, and Ford.
The company Toyota Kirloskar Motor Private Limited (TKMPL) according to its mission statement aims to play a major role in the development of the automotive industry and the creation of employment opportunities, not only through its dealer network, but also through ancillary industries with a business philosophy of "Putting Customer First".[1]
History
Toyota Motor Corporation entered India in 1997 in a joint venture with the Kirloskar Group.[2]
Manufacturing Facilities
TKMPL's current plant at Bidadi, Karnataka is spread across 432 acres and has a capacity of 80,000 vehicles per annum[3].
TKMPL's second manufacturing plant on the outskirts of Bangalore, Karnataka has a capacity of 70,000 vehicles per annum. Both plants have a combined capacity of 150,000 vehicles per annum.
On 16 March 2011, it announced that it was increasing production to 210,000 vehicles per annum[4] due to increase in demand for its models especially the Etios and Fortuner.
Models
Manufactured Locally
Toyota Corolla (Launched 2003)
Toyota Innova (Launched 2004)

Toyota Etios

(Launched 2010)
Imported
Toyota Camry (Launched 2002)
Toyota Land Cruiser Prado (Launched 2004)
Toyota Fortuner* (Launched 2009)
Toyota Land Cruiser (Launched 2009)

Toyota Prius

(Launched 2010)
* Toyota Fortuner is imported from Toyota Motor Thailand Company Limited as CKD
Discontinued
Sales and Service Network
As of April 2011, it has more than 150 dealerships in 96 cities across 22 states and 3 union territories of India[5].
Sales Performance
TKMPL sold 74,759 vehicles in India in the year 2010 registering a growth rate of 38% compared to 2009 sales.[6]
See also
External links
References
Marques
Current vehicles
Past vehicles

2000GT

 •

AA

 •

Allex

 •

Altezza

 •

Aristo

 •

Brevis

 •

Caldina

 •

Cami

 •

Camry Solara

 •

Carina

 •

Carina ED

 •

Celica

 •

Celsior

 •

Chaser

 •

Classic

 •

Corona

 •

Corona EXiV

 •

Corolla Ceres

 •

Corolla Spacio/Verso

 •

Corsa

 •

Cressida

 •

Cresta

 •

Curren

 •

Cynos

 •

FA/DA

 •

Duet

 •

Echo

 •

FJ40

 •

Fun Cargo

 •

Gaia

 •

Granvia

 •

Grand Hiace

 •

Ipsum

 •

Kijang

 •

Lexcen

 •

Mark II

 •

Mark II Blit

 •

Mark II Qualis

 •

MasterAce

 •

Mega Cruiser

 •

MR2

 •

MR-S

 •

Nadia

 •

Opa

 •

Origin

 •

Paseo

 •

Picnic

 •

Platz

 •

Progrès

 •

Pronard

 •

Publica

 •

Regius

 •

Revo

 •

Scepter

 •

Sports 800

 •

SA

 •

Sera

 •

Soarer

 •

Sprinter

 •

Sprinter Marino

 •

Starlet

 •

Stout

 •

Supra

 •

T100

 •

Tamaraw

 •

Tercel

 •

Tiara

 •

Van

 •

Verossa

 •

Vienta

 •

Vios

 •

Vista

 •

Voltz

 •

WiLL

 •

Windom

Concept vehicles

1957 Sports

 •

4500GT

 •

A-BAT

 •

Alessandro Volta

 •

Auris HSD Full Hybrid Concept

 •

Avalon

 •

AXV-II

 •

Toyota AXV-III

 •

AXV-IV

 •

CAL-1

 •

Camry TS-01

 •

Celica Cruising Deck

 •

Celica XYR

 •

Century GT45

 •

Corona 1500S Convertible

 •

Corona 1900S Sporty Sedan

 •

Corona Sports Coupe

 •

Crown Convertible

 •

CS&S

 •

CX-80

 •

DMT

 •

Dream Car

 •

Dream Car Model

 •

eCom

 •

Electronics Car

 •

ES3

 •

EX-I

 •

EX-II

 •

EX-III

 •

EX-7

 •

EX-11

 •

F101

 •

F1/Ultimate Celica

 •

F3R

 •

FCHV

 •

Fine-N

 •

Fine-S

 •

Fine-X

 •

FSC

 •

FT-86

 •

FT-CH

 •

FT-EV

 •

FT-HS

 •

FT-SX

 •

FTX

 •

FX-1

 •

FXV

 •

FXV-II

 •

FXS

 •

GTV

 •

HC-CV

 •

Hybrid X

 •

i-foot

 •

i-real

 •

i-swing

 •

i-unit

 •

Marinetta

 •

Marinetta 10

 •

Motor Triathlon Race Car

 •

MP-1

 •

NLSV

 •

PM

 •

Pod

 •

Prius c Concept

 •

Prius Custom Plus Concept

 •

Project Go

 •

Publica Sports

 •

RiN

 •

RSC

 •

RV-1

 •

RV-2

 •

RV-5

 •

Sport

 •

Sportivo Coupe

 •

Sports 800 Gas Turbine Hybrid

 •

Sports X

 •

Street Affair

 •

SV-1

 •

SV-2

 •

SV-3

 •

TAC3

 •

VM180 Zagato

 •

Winglet

 •

X

 •

X-Runner

Future vehicles

Prius v

 •

Prius+

 •

Prius Plug-in hybrid