The Sandman Will Keep You Awake - The Loop
Play Sound
A tourist trolley, also called a road trolley, is a rubber-tired bus (usually diesel fueled, sometimes compressed natural gas), which is made to resemble an old-style streetcar or tram.
The name refers to the American English usage of the word trolley to mean an electric streetcar. As these vehicles are not actually trolleys, and to avoid confusion with trolley buses, the American Public Transportation Association (APTA) refers to them as "trolley-replica buses".[1]
Use
Tourist trolleys are used by both municipal and private operators. Municipal operators may mix tourist trolleys in with the regular service bus fleet to add more visitor interest or attract attention to new routes. In many cities tourist trolleys are used as circulators. A circulator operates a simplified route limited to popular destinations on a fixed schedule with a reduced or free fare.[1] Tourist trolleys are also run by private operators to carry tourists to popular destinations.
In San Francisco, tourist trolleys mimic the city's famous cable cars.
Operators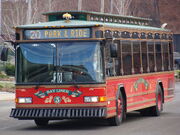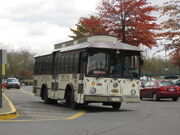 Notable operators of tourist trolleys:
Capital Metropolitan Transit Authority – 'Dillo Routes in downtown Austin, Texas
Erie Metropolitan Transit Authority – Bayliner Route in downtown Erie, Pennsylvania
Gray Line Worldwide
Kingston Citibus in Kingston, New York
Port of Los Angeles – Port of LA Waterfront Red Cars' Blue and Green lines
Montgomery Area Transit Service – Lightning Route Trolleys in Montgomery, Alabama
Pace – circulator in the Chicago area
Red Rose Transit Authority – circulator in downtown Lancaster, Pennsylvania
Rhode Island Public Transit Authority – Providence LINK in downtown Providence, Rhode Island
VIA Metropolitan Transit – VIA Streetcar in San Antonio, Texas
Ollie the Trolley in Scottsdale, AZ circulator in Downtown Scottsdale
Riverside Transit Agency – shuttle service in downtown Riverside, CA, Temecula, CA and around UC Riverside
Manufacturers
See also
Heritage streetcar

Duck tour

, the use of an amphibious vehicle for sightseeing purposes

Trackless train

, a kind of road train for tourists, often with a look of

steam locomotive

References