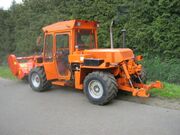 The term Tool carrier is used by a number of industries to describe similar but different machines. It is basically a versatile machine that can be equipped with multiple 'tools' to do different jobs. This usualy involves some sort of Quick Hitch or sub frame to which they attach.
Often these machines can operate in either direction and have attachment points at both ends.
Tool tractors are designed for mi mounted attachments often for working in row crops were the good visibility offered to the operator is a advantage & increases productivity over using a conventional tractor.
Some small wheeled loaders are also marketed as universal tool carriers with many attachments available for them to do a wide variety of jobs.
Manufacturers
Edit
a number of makes offer them in their product range. Also a number of manufacturers make machines targeted a certain market sectors such a highway verge maintenance.
Tractors
Specialist machinery
References/sources
Edit