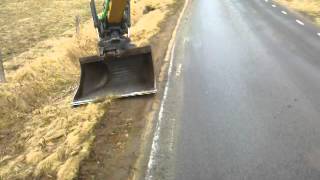 A tiltrotator (known under a number of trade names, particularly Rototilt) is an hydraulic attachment/tool used on most excavators, and backhoes between 3-30 tons in the Nordic countries (Sweden, Finland, and Norway).
Description
Edit
The Rototilt was invented in Sweden in the early 1980s by Noreco.
A tiltrotator is mounted on the excavator such that the excavator bucket can be rotated through 360 degrees and tilted +/- 40 degrees, in order to increase the flexibility and precision of the excavator. A tiltrotator can best be described as a wrist between the arm of the excavator and the bucket (or whatever other tool is fitted to the excavator tool). With its integral quick attach and rotary swivel, Rototilts also use extra hydraulic functions to power and manipulate other worktools such as a breaker, grapple or an auger, which can be attached to the quickcoupler on the tiltrotator, for simplified attachment mounting, dramatically increasing the machine's utilization on the jobsite.
The concept has recently gained popularity in other countries such as Holland, Germany, UK, Canada and since 2002, are now being distributed in the United States.
There are only two major manufacturers of the Rototilt concept today (although similar products are sold by various competitors);
Indexator, (founded in 1973 by Alan Jonsson) who purchased Noreco in 1992, hired the Norgren brothers, and registered the brandname Rototilt.
Engcon,(founded in 1993 by also ex-Noreco employee, Stig Engstrom) who started manufacturing their own product using only "tiltrotator" to avoid trademark infringments.
Other companies manufacturing their version of Rototilt on a smaller scale include ABL, Steelwrist, Sandco, and SMP, under various product names as tiltrotator, swingrotator, swingotilt, etc., although it's still commonplace to call all versions a Rototilt.
Other manufacturers are also offering a simpler plain rotating or tilting quick hitch system, for more basic operations such as sorting materials with a grab or bank grading and digging a vertical trench on a cross slope (bankside).
Manufacturers
Edit
UK Distributors
Edit
Engcon and Steelwrist both have UK distribution deals.
References / sources
Edit
External links
Edit
Community content is available under
CC-BY-SA
unless otherwise noted.