Jurassic World: Dominion Dominates Fandom Wikis - The Loop
Play Sound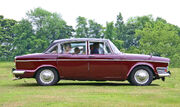 Thrupp & Maberly was a British coachbuilding company based in London, England.
Origin
This business was created by a merger in 1858 of the carriage builders Joseph Thrupp, who had established his business in George Street (near Portman Square) in 1760, and George Maberly.
As far back as the 1880s Thrupp & Maberly began its move from making horse-drawn carriages to making car bodies watching developments in electric cars, fitting Immisch motors in carriages to order and in 1896 supplying an electric car to the Queen of Spain. By the spring of 1897 Thrupp & Maberley held the British licence for the Duryea Motor Wagon. More commissions followed and the business grew, leading to large numbers of bodies for staff cars being made during World War I.
Rootes Group
After the war Thrupp & Maberly produced a range of bespoke bodies for up-market British and European marques. In 1924, they moved to new premises at 108 Cricklewood Lane, Cricklewood, London, but kept a showroom in North Audley Street in the West End of London, which in 1925 was bought by the remarkable salesmen the Rootes brothers.
The Rootes brothers interests were then in distribution and repair and not manufacture. Thrupp & Maberly remained a prestige coachbuilder, concentrating on luxury bodies for Rolls-Royce, Daimler and Bentley automobiles. In 1929, they built the body for Sir Henry Segrave's land speed record car, the Golden Arrow.
The Rootes brothers bought the Humber car company, and with it Hillman in 1928, and from 1932 some bodies were made for the top of the range Humber models.
Additional premises were obtained in 1936 in the old Darracq works in Warple Way, Acton, London, adjacent to a company called British Light Steel Pressings, with whom they merged in 1939. During World War II, they again built staff cars on Humber chassis.
Humbers and Hillmans
When peacetime production resumed after the end of World War II, the Acton works was disposed of and as the market for luxury coachbuilt vehicles was in major decline, they concentrated on special bodies for Rootes Group vehicles, including making all the open-top models. They built the bodywork for the Humber Imperial that was shown at the 1951 London Motor Show.[1] By the mid-1960s, this work was declining also, and the Cricklewood factory closed in 1967.
See also
References
A-Z of British Coachbuilders. Nick Walker. Bay View Books 1997. ISBN 1-870979-93-1
Coachbuilding in London. Robert Vickers. London's Industrial Archaeology, No. 5, March 1994
External links
Template:Rootes group