Jurassic World: Dominion Dominates Fandom Wikis - The Loop
Play Sound
It has been suggested that this article or section be merged with [[::Threshing machines|Threshing machines]]. (

Discuss

)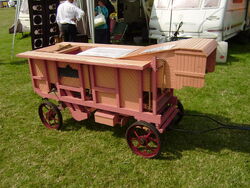 The thrashing machine, or, in modern spelling, threshing machine (or simply thresher), was a machine first invented by Scottish mechanical engineer Andrew Meikle for use in agriculture. It was invented (c.1784) for the separation of grain from stalks and husks. For thousands of years, grain was separated by hand with flails, and was very laborious and time consuming. Mechanization of this process took much of the drudgery out of farm labour.
The early machines being horse powered, then steam powered by Steam traction engines or Portable engines (stationary engines). Towed from farm to farm by teams of horses or a traction engine.
The modern Machine that replaced it was the Combine Harvester, which combined the work of the Binder and Threshing machine in one self propelled machine in the 20th century, and has developed such the the 21st century machine can do the work of several teams of the old horse draw machines working for a week in one day.
Manufacturers
Preserved Examples
Several examples are in preservation, and can be seen working at summer Steam fairs and Vintage machinery exhibitions in the UK.
See also
reference
Wikipedia