Jurassic World: Dominion Dominates Fandom Wikis - The Loop
Play Sound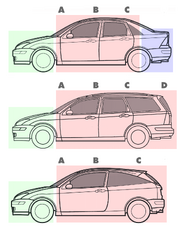 Three-box design is a broad automotive styling term describing a coupé, sedan, notchback or hatchback where—when viewed in profile—principal volumes are articulated into three separate compartments or boxes: engine, passenger and cargo.[1]
Three-box designs are highly variable. The Renault Dauphine is a three-box that carries its engine in the rear and its cargo up front. The styling of the Škoda Octavia integrates a hatchback with the articulation of a three-box. This style was later used by its larger Škoda Superb, which marketed as the TwinDoor, within the liftgate operable as a trunk lid or as a full hatchback. As with the third generation European Ford Escort (also a hatchback), the third box may be vestigial. And three-box styling need not be boxy: Car Design News calls the fluid and rounded Fiat Linea a three-box design[2]—and most examples of the markedly bulbous styling of the ponton genre are three-box designs.
One-box design
One-box, also called a monospace, mono-box or monovolume configuration,[3] is a design that pulls the base of a vehicle's A-pillars forward,[3][4] softening any distinction between separate volumes and enclosing the entire interior of a vehicle in a single form—as with the Renault Espace, 1992 Renault Twingo I, Tata Nano and Japanese microvans amongst others.
Two-box design
Two-box designs articulate a volume for engine and a volume that combines passenger and cargo volumes, e.g., station wagons or (three or five-door) hatchbacks, and minivans like the Chrysler minivan.[4][5]
See also
Ponton styling

Coke bottle styling
American English

British English

Euro Car Segment

[6]
Euro NCAP 1997 - 2009

Euro NCAP

[7]
Examples
Microcar
Microcar, Bubble car
A-segment mini cars
Supermini
Passenger car
Isetta,

Smart Fortwo

Subcompact car
City car

Fiat 500

,

Daewoo Matiz

, Peugeot 107,

Toyota iQ

Supermini
B-segment small cars
Ford Fiesta,

Volkswagen Polo

,

Ford Figo

, Opel Corsa,

Peugeot 207

Compact car
Small family car
C-segment medium cars
Small family car

Ford Focus

,

Opel Astra

,

Toyota Auris

,

Volkswagen Golf

,

Chevrolet Cruze

Mid-size car
Large family car
D-segment large cars
Large family car
Ford Mondeo,

Opel Insignia

,

Volkswagen Passat

,

Chevrolet Malibu

,

IKCO Samand

Entry-level luxury car
Compact executive car

Alfa Romeo 159

,

BMW 3 Series

,

Lexus IS

,

Volvo S60

,

Audi A4

,

Cadillac CTS

Full-size car
Executive car
E-segment executive cars
Executive car
Ford Crown Victoria, Holden Commodore,

Toyota Crown

,

Chrysler 300C

,

Chevrolet Impala

Mid-size luxury car

Lexus GS

,

BMW 5 Series

, Jaguar XF,

Lincoln LS

,

Audi A6

,

Volvo S80

,

Cadillac CTS

Full-size luxury car
Luxury car
F-segment luxury cars
 -

Audi A8

,

Maserati Quattroporte

,

Lincoln Town Car

,

Mercedes S-Class

,

Cadillac DTS

Sports car
Sports car

S-segment sport coupes

 -

Chevrolet Corvette

,

Porsche 911

,

Ferrari 458 Italia

,

Nissan Z-car

,

Lamborghini Gallardo

Grand tourer
Grand tourer
 -

Jaguar XK

,

Ferrari 612 Scaglietti

,

Maserati GranTurismo

Supercar
Supercar
 -

Bugatti Veyron

,

Ferrari Enzo

,

Pagani Zonda

Convertible
Convertible
 -

BMW 6 Series

,

Mercedes CLK

,

Volvo C70

,

Volkswagen Eos

,

Chevrolet Camaro

Roadster
Roadster
Roadster sports
Roadster

Audi TT

,

Honda S2000

,

Lotus Elise

,

Mazda MX-5

,

Porsche Boxster

,
 -
Leisure activity vehicle
M-segment multi purpose cars
Small MPV
MPV
Ford Tourneo Connect, Peugeot Partner, Škoda Roomster
 -
Mini MPV
Opel Meriva,

Fiat Idea

,

Citroen C3 Picasso

Compact minivan
Compact MPV, Midi MPV
Mazda5, Opel Zafira, Ford C-Max, Volkswagen Touran, Peugeot 5008
Minivan
Large MPV
Large MPV

Chrysler Town and Country

, Ford Galaxy, Honda Odyssey, Peugeot 807
Mini SUV
Mini 4x4
J-segment sport utility cars (including off-road vehicles)
Small Off-Road 4x4
Off-roader
Daihatsu Terios, Mitsubishi Pajero iO, Suzuki Jimny, Jeep Wrangler
Compact SUV
Compact 4x4
BMW X3, Ford Escape, Honda CR-V, Toyota RAV4,

Chevy Equinox

, Jeep Liberty
 -
Coupé SUV
 -
Isuzu VehiCROSS, SsangYong Actyon, BMW X6
Mid-size SUV
Large 4x4
Large Off-Road 4x4
Ford Explorer, Jeep Grand Cherokee, Volkswagen Touareg, Chevrolet Tahoe
Full-size SUV
Cadillac Escalade EXT, Chevrolet Suburban, Range Rover, Toyota Land Cruiser, Jeep Commander
Mini pickup truck
Pick-up
 -
Pick-up
Pickup
Chevrolet Montana, Fiat Strada,

Volkswagen Saveiro

Mid-size pickup truck
Chevrolet Colorado, Ford Ranger, Mitsubishi Triton/L200, Nissan Navara
Full-size pickup truck
Dodge Ram, Ford F-150, GMC Sierra, Nissan Titan, Toyota Tundra
Full-size Heavy Duty pickup truck
Chevrolet Silverado , Ford Super Duty
References