We're Getting Mutants in the MCU - The Loop
Play Sound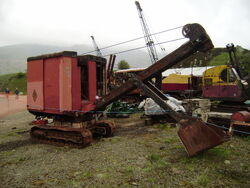 Thomas Smith & Sons (Rodley) Ltd was formed in 1918, The firm originating in the Village of Rodley, Leeds in Yorkshire. The Firm were a builder of Steam Cranes for Railways and Quaries, before going on to build Diesel engined excavators and cranes, and eventually Lorry mounted Latice jib cranes.
History
The Company started in 1820 when a firm of millwrights was started by Jeremiah Balmforth, David Smith, and Jeremiah Booth in the village of Rodley. The company progressed to making Stone cutting machinery & winches. By 1840 most of the equipment being made was cranes. These being of various capacities from 1/2 ton to 10 ton, hand operated machines. They built there first steam crane in 1860. By 1861 David Smiths Son Thomas had taken control. The company was run as a partnership with his sons till he died in 1902, with the sons incorporating the company in 1918, as Thomas Smith & sons (Rodley) Ltd.
Early Developments
1887 Built their first ever excavator, of a steam crane fited with a shovel attachment.
1894 Built their first ever Electric crane.
1887-1893 Contract to supply 5 & 10 ton Steamcranes to Manchester ship canal builders called  "Thomas A Walker"
1900 Build a trencher machine designed by Jubb from Manchester. Built on a 3 Ton Steam crane.
1978 taken over by the NEI group who owned a number of related engineering and construction machinery businesses, before the 1980s recession forced the closure or disposal of a number of them.
The company built a several truck mounted cranes based on Cranecarriers from Atkinson, AWD.,Foden and Leyland.
Model Range
Smith 1/3 yd. (1930)
Smith 1/2 Yd.
Smith 1/4 Yd. (1934)
Smith Tree-Twelve. (1935)
Smith Four-Fourteen. (1935)
Smith Five-Twenty. (1935)
Smith Two-ten (1935)
Smith Seven
Smith No.8 (eight)
Smith No.10 (super-ten)(1946)
Smith No.12 (19?
Smith No.14 (1960)
Smith No.21 (1946)
Smith No.26 (1960)
Smith no.28 (1970)
Smith No.40 (1968)

Smith E4000 Excavator
Smith C4046 crane
Smith C4050 crane
Smith Eurocrane 25C

Smith Eurocrane 35C
Preservation
A few examples of Smiths cranes and excavators are in preservation including;
A

Smith No. 8

(photo above) at the Vintage Excavator Trust museum in Cumbria.
A

Smith T10 ME

of

Buckley Crane Hire

-

VUG 175

on Atkinson chassis.(photo above)
A

Smith 14

crane parked at Andrew Beaulahs yard.
Smith steam crane sn 9087/1917 ? as WD2528 at the

Berlin Tecnical Museum

Smith steam crane sn 9511/1920 ? 10T Capacity on 4+4 Wheel bogies

Mexico City Museum

Please add any other examples in preservation to this list
Template:PML Smith Rodley(link for future PML table)

Photo Gallery about THOMAS SMITH OF RODLEY Original Machinery Range 
From the Wikipedia pages UPDATES 

THOMAS SMITH & SONS LIMITED Early History
The history of the firm goes back to 1820 and a firm established by Thomas Smith's father David Smith in partnership with Jeremiah Balmforth and based in the nearby area of Calverley. Like several companies operating around Leeds at the time their business was supplying the machinery that would be used in the increasingly mechanised mills of the time. From 1840 hand operated cranes were added to their range of products and these would start a line of business that would be lucrative for all the partners and their descendants for many years. The company were joined by Jeremiah Booth in 1833, he left in 1847 and established his own 'Union Foundry' on Town Street, Rodley. That company also went on to produce large numbers of cranes and was passed on to Jeremiah Booth's son Joseph Booth in 1855, the name Joseph Booth & Bros was adopted.[1]
In the 1850s the original partnership was also passed on to the next generation. Jeremiah Balmforth died in 1858 and his son William Balmforth replaced him, the following year David Smith was succeeded by his son Thomas. Around 1860 they started to produce steam powered cranes capable of handling much larger loads. In 1861 there was a fall out between Balmforth and Smith, Thomas Smith bought out the company and took over its running. William Balmforth set up a new firm the 'Peel Ings Foundry' and remained in the crane manufacturing business. As well as steam cranes they also produced a small number of vertical boilered locomotives.[2] The Peel Ings Foundry didn't enjoy the same kind of success as the works of Thomas Smith and Joseph Booth though. It went bankrupt in 1916 and was bought by bridge maker Samuel Butler & Co but they closed down the works and began production of steam cranes for a time in their own works.
Thomas Smith brought his sons into his firm and they took over when he died in 1902. The company were incorporated as Thomas Smith & Sons in 1918.[3] 
Products[edit]
One of the company's most popular products were fairly small steam powered cranes. Based on a tall central pivot and with the jib counterbalanced by the boiler these are commonly known as 'Leeds Type' cranes, they were either rail mounted where they were required to move around a site or ground mounted for the likes of quays. Joseph Booth also produced very similar cranes and with high demand at the time there were a few firms nearby that, though specialising in other products such as bridges and structural metal work, produced relatively small numbers of steam cranes. John Butler & Co, Samual Butler & Co (mentioned earlier), Isles and Whitaker Brothers are other local firms to have been involved in steam crane production.[4] The cranes were used in countless docks, railway yards, quarries and construction sites both at home and overseas. Some of the largest construction projects to use Smith cranes were the Manchester Ship Canal, the Aswan Low Dam, and the Sudan Barrage.[5] As early as 1897 Thomas Smith were producing electrical powered cranes and in later years the internal combustion engine would replace the steam engine as the power source in their cranes. The cranes were adapted to become excavators with buckets replacing the usual crane hook, the company also provided magnets for use in sites handling metals. Caterpillar track fitted versions were offered and these became more numerous in later years as the railway industry lost its dominance.[6]
Mergers[edit]
The company was taken over by Thomas Ward shortly before World War II, In 1978 they were taken over by Northern Engineering Industries. NEI had taken over many big manufacturing companies which already included Cowans Sheldon, Clyde Crane, Wellman Cranes and Smith's next door neighbours Joseph Booth. They all became part of the Crane and Bridge division of Clarke Chapman. This was taken over by Rolls Royce plc in 1989 and by Langley Holdings in 2001.
The Clarke Chapman group still operate in Leeds but under the Wellman Booth name, though they are now situated in smaller premises at Yeadon[7] where the design and administration work is carried out, the engineering work taking place in Gateshead. Though Booth's works was demolished and redeveloped with housing, the former Thomas Smith works survives in other industrial use.
References[edit]
External links[edit]
See also
References / sources
Cranes - An Illustrated History of

, pub by Ian Allan
External links