(from wikipedia article, revision and update to fit tractor wiki, redefine links, add machine model lists)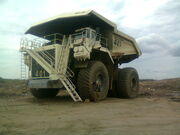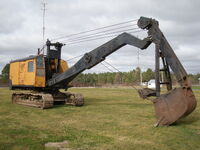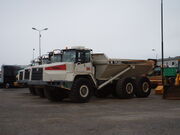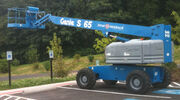 Terex Corporation is a diversified global manufacturer of a broad range of heavy equipment for a variety of industries, including construction, infrastructure, quarrying, recycling, surface mining, shipping, transportation, refining, utility and maintenance. The company's major business segments include aerial work platforms, construction, cranes, materials processing & mining, and roadbuilding and utility products. Terex has more than 18,000 employees known as team members and operates 50 manufacturing facilities in North America, South America, Europe, Asia and Australia. Terex sells its products in more than 170 countries.
Early History
Edit
Terex grew out of the forced divestment of General Motors of some construction plant lines in some areas as part of the American Governments anti-monopoly drive in the 1960s (The Clayton Act) after General Motors grew so large they controlled a large proportion of the US manufacturing
Terex was formed from part of GM's Euclid division, with most of the original Euclid lines and name being sold to the White Motor Company in 1968. The name Terex was first adopted as a brand in 1968 to replace Euclid. The construction division was renamed as the "Terex" division of GM in July 1970. The division introduced a range of new dump trucks and carried on building some former Euclid lines in the UK at their Glasgow factory (as the divestment ruling did not apply to UK and some other overseas markets). GM then decided to divest them selves of the Terex division to concentrate on Cars in the 1980s, selling Terex to the IBH Group of Germany in 1981, retaining a 13.6% stake (increased to 17.9% by May 1982). The IBH Group went Bankrupt in 1983 after a German bank collapsed and Terex-USA filed for Chapter 11 protection in the USA. GM bought back the UK operation as Terex Equipment limited. By 1986 the US Terex operation had emerged from Chapter 11 protection and was sold to Northwest Engineering of Wisconsin. They then bought the UK Terex operation from GM in June 1987. Some of the US plants were not part of the deal with GM. Northwest then renamed itself as Terex Corporation in May 1988. Thus the modern Terex company was born.
Main article: Euclid
Growth Through Acquisition
Edit
Terex Corporation has grown considerably over the past few years, mainly through a combination of acquisitions designed to expand the company's product offering, improve geographic coverage and deliver value for its customers. More than half its total annual sales now come from outside the United States. Terex had net sales of approximately $7.6 billion in 2006, making it the world's third largest construction equipment manufacturer, behind only Caterpillar of America and Komatsu of Japan. The company's 11-year compounded annual sales growth rate is 28 percent.
After the close of trading on December 19, 2006, Terex replaced Navistar International in the S&P 500 Index.[2] The Company is currently listed at 314 on the Fortune 500 annual listing of companies, a 41-place advance in one year.
As part of its growth plan, Terex is focusing on building a franchise under the Terex brand name, which means that the company is migrating the historic brand names for many of its products to the Terex brand. In some cases, The Terex name will be used in conjunction with the historic brand name. Recent acquisitions have made Terex companies leaders in a variety of industries. Some notable examples include: the German crane company Demag in Zweibrücken, now known as Terex-Demag; Genie Industries (aerial work platforms); Schaeff and Fuchs (compact equipment); Advance Mixer (concrete mixing); Noble CE (Terex Mexico, high capacity surface mining trucks and components). In late 2003, Terex purchased a controlling interest in Tatra,[3] which it subsequently sold in 2006.
Divestment / Disposals
Edit
Terex during 2008 as part of its integration of the various and diverse range of brands started to look at divesting some of the ancillary product lines as part of it global review of operations.
Load King
Edit
Autumn 2009 saw the disposal of the Terex Load King division to Manitex International, Inc. in the USA.
Boom truck and rough terrain forklift manufacturer Manitex agreed to pay US$3.1 million for the Dakota-based manufacturer of specialized trailers from the Genie Industries subsidiary of Terex Corporation. Load King average annual revenue is about $23 million according to Manitex. Manitex manufacture Manitex Boom Trucks, SkyCrane Aerial Platforms and Sign Cranes and USTC Trolley Boom Products, as well as TrailerMate truck mount forklifts.[4][5]
Mining Division
Edit
Winter 2009 saw the announcement that the mining division was to be sold to Bucyrus for $1.3 billion to allow a reduction in debt and acquisitions in other niche products associated with its industrial business. The brands and product lines sold to Bucyrus were seen as a better fit to the global network of specialist mining machinery. Brands divested include O&K, Unit rig, Reeddrill, Superior Highwall, Hypac, and Highco.[6]
Generators & Power Buggy
Edit
In January 2010 they announced that the Aerial Work Platforms division had sold off two of its non-AWP product lines: its generator line, which was sold to Cummins Power Generation, and the Terex Power Buggy range was sold to Indy Equipment, an equipment dealer in Independence, Ohio, USA. In both cases the sale price was undisclosed.[7]
The Generator lines had previously been branded and sold under the Cummins Power brand and used Cummins engines, but were assembled by Terex in its facility.
Backhoe loaders
Edit
Terex began divesting of its backhoe loaders in 2016 with the sale of its UK-based Terex Coventry Ltd, the former Fermec and MF Industrial factory, to France-based Mecalac.[8] In 2017, the remaining Indian subsidiary Terex Equipment Private Limited (TEPL) (Terex Vectra), to France-base Manitou, a manufacturer of skid-steers & backhoes under the Gehl and Mustang brands, as well as tele-handlers.[9]
Worldwide brands
Edit
Through the integration of some of the most respected companies in the industry, the Terex family of brands provides a diverse and comprehensive product line backed by years of innovation, technical expertise, and sound quality.[10]
Ohio connection
Edit
Terex was formerly a division of General Motors, the General Motors Euclid Division. The plant was established in Hudson, Ohio (on land then part of Hudson Township) in 1957. A bypass connecting Ohio State Route 303 to Ohio State Route 91 was built and named Terex Road. The plant closed in the late 1980s. Today, the building is used for office and warehouse space. Jo-Ann Stores is headquartered there. It owns most of the building and is its largest tenant.[11] A Regal Cinemas, built in 1994, is located on the southwest corner of the property.
In the 1970s, Terex produced the world's largest truck, the Terex Titan. The single prototype produced served until 1990.
Post-GM, much of Terex' "street legal" product use various configurations of Ford truck chassis.
Culture of continuous improvement
Edit
As a company whose brand is evolving with the organization, Terex is committed to growth through continuous improvement in all aspects of its business. In 2005, the company introduced its blueprint for growth called the Terex Business System (TBS).[12] TBS is built on four pillars that are key elements of its operating culture: customer focus, planning and deployment, operational excellence across the value chain, and new product and service development. In turn, excellence in these areas is built on a foundation of commitment to leadership, superb human resource practices, and customer-driven business processes whose center piece is continuous improvement.
In his chairman's message opening the company's 2006 annual report, Ronald DeFeo wrote: "We continue to view Terex as a young company, with significantly more potential in front of us than past success behind us. There is no doubt that Terex is maturing. We are building the operating capability and strength of our franchise, We are doing this with great leadership and a global footprint. And we are still in the early days of this evolution."[13]
Brand Unification
Edit
Over the last few years Terex has started to unify its image
Terex Historic Brands
Edit
Bid-Well| Terex Demag| Terex Pegson| Genie| Terex Finlay| Terex Peiner| Loegering| Terex Franna| Terex PPM| Powerscreen| Terex Fuchs| Terex Reedrill| Terex American| Terex Halco| Terex Roadbuilding| Terex Bendini| Terex Hydra Platforms| Terex SHM| Terex Canica| Terex Jaques| Terex Simplicity| Terex Cedarapids| Terex Load King| Terex Unit Rig| Terex Comedil| Terex O&K |

Terex Distribution Centers Terex Minerals Processing

Historic Terex Brands Terex Advance| Terex American Truck Company| Terex Amida| Terex ASV| Terex Atlas| Terex Bartell| Terex Benford| Terex Cifali| Terex CMI| Terex Fermec| Terex Johnson-Ross| Terex Morrison| Terex Muller| Terex Schaeff| Terex Telelect| Terex | Standard Havens|
Terex name in conjunction with these historic brand names:
Advance, -
American, - America, Cranes
American Truck Company, - Trucks
Amida, -
ATC, -
Atlas, - Germany, Materials handlers, Excavators, wheeled excavators
Bartell, -
Bendini, -
Benford - UK, Dumpers,
Bid-Well, -
Canica, -
Cedarapids, -
CMI, CMI-Cifali, CMI Johnson-Ross, -
Comedil, - Italy, Tower Cranes
ELJay, -
Fermec, - UK, Excavators & Mini diggers (ex Massey Ferguson Construction range)
Finlay, - Paving machines
Franna, -
Fuchs, - Germany, Materials handling / specialist excavators
Genie, - Elevating work platforms
Hi-Ranger, -
Jaques, -
Load King, -
Morrison, -
O&K, - Germany Mining excavator range. (CNH Global has acquired the smaller machine lines)
Pegson, - UK Crushers
Peiner, -
Powerscreen, - Northern Ireland, Screening plant
PPM, - Mobile Cranes
Reedrill, -
Schaeff, - Germany, Mini Excavators & compact loaders
Simplicity, -
Standard Havens, -
Tatra - Czech trucks
Tatra-Vectra - Indian trucks joint venture
Telelect, -
TerexLift -
Terex Vectra - Indian backhoes and skid-steer loader joint venture
Unit Rig. - USA, mine hauler and dump trucks
Factories
Edit
The Company had a major restructuring of production units world wide in 2001. Shutting several plants in the US and Europe. In the UK, the operations of Matbro (telehandlers) in Tetbury and the Benford (dump trucks) in Warwick are being moved to the Fermec (backhoe loaders) factory in Manchester. Terex Aerial's factory in Cork, Ireland is also being closed.[14]
The company has 48 plants world wide in 2006 with more under construction in China, and India.
UK -

Motherwell, Scotland original Euclid factory that became Terex on break up of GM's Earthmovers division. Sold to Volvo Construction Equipment in 2017 with the ADT and Dump truck prduct lines.
Coventry, England - Replacement for former Massey Ferguson / Fermec plant in Manchester. Coventry compact equipment plant sold to Mecalac of France in 2017 with the Compact equipment divisions Backhoe, Dumpaer and Skidsteer lines.
Manchester, England - Former Fermec plant now UK parts centre
Europe:
USA - Euclid
Aisa
Model Range
Edit
Main article: List of Terex Models
Access machinery
Edit
Dumpers & Dump Trucks
Edit
Excavators
Edit
Terex has sold the mining excavator product lines to Bucyrus in late 2009.
Forklifts
Edit
New line of machines for 2006 to fill out the line up fitted with ZF Ergopower Transmission
Materials handlers
Edit
Motor Scrapers
Edit
Former Euclid products manufactured in Scotland became Terex branded models.
Screens & Crushers
Edit
see Powerscreen for historic details and current models
Skid steer
Edit
Most were formerly produced under the ASV name
Tower Cranes
Edit
see Comdil article for historic models and current products.
Wheeled Loaders
Edit
See Schaeff and Atlas for historic models
SED - Annual UK plant show for construction industry held at Corby (formerly Milton Keynes)
Hillhead - UK Bi annual Quarry industry show held at Buxton
BURMA - European Plant show
CONEX - American plant exposition in Las Vegas
References
Edit
External links
Edit
The Terex Group

this list is under construction
Please add any ommisins

Divisions
Main Brands
Other Brands
Former Brands
Joint Ventures
(Partner + % share)
Acquisitions
(Subsidary Brands)

Divestments
(Subsidary Brands)

Terex UK

Factories at Glasgow (to Volvo) and Coventry (to

Mecalec

) (Dumptrucks and Backhoes + site dumpers + small plant) Not the Quarry machinery lines made in Northern Ireland.
Community content is available under
CC-BY-SA
unless otherwise noted.