Obi-Wan Finale - The Loop
Play Sound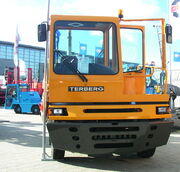 Terberg Benschop B.V. was founded in 1869 by Johannes Bernardus Terberg in Benschop, The Netherlands. The company was originally called W.G. Terberg & Zn and started rebuilding ex-U.S. Army trucks. The company now builds specialist container and trailer handling yard trucks and Tugs.
From the 1960s they built there own trucks using parts from DAF, Mercedes-Benz Trucks and Volvo Truck. The company specialised in building multi-axle chassis for the Dutch home market which had some strange weight limits and allowed 50 to GVW trucks on 5 axles. a lot of units were built as all-wheel drive (8 x 8) or (10 x 4) for tipper and Mixer units used on the many Dutch land reclamation projects in the 1970s and 1980s.
A number of these trucks were brought into the UK for use in an open cast site fitted with bulk coal bodies in stead of using standard on highway trucks or the heavier dump trucks more often used on sites. These custom built trucks provided a payload advantage with faster cycle times moving bulky coal to the processing disposal point from the pit bottom.
In the 1990s, the company tied up with Volvo Truck to provide parts backup as a lot of the models were based on Volvo kit.
In the 2000s, the company specialised in building off-road distribution depot and dock-side tugs and Ro-Ro container carriers.
Products
Custom tipper units
Pip carriers
Ro-Ro tractors
Aircraft tugs
Demountable body carriers
Container carriers
Multi trailer unit shunter's
Municipal vehicle - dust carts & roadsweepers
Road rail shunter's
On highway / off-highway trucks from 6 x4 to 10 x8 configurations
Subsidiaries / offices
UK - Halifax
Germany - Hamburg
Malaysia
UAE - Dubai
See also
References / sources
The World Encyclopedia of Trucks

by Peter J. Davis
More info
External links