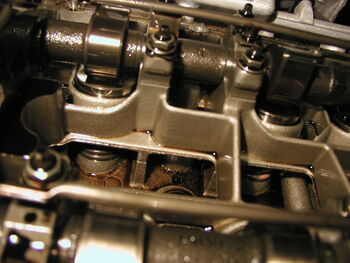 A tappet is the noise made by a worn cam follower, however the term is widely used to represent the cam follower itself. In mechanical engineering it is a projection which imparts a linear motion to some other component within an assembly. Properly speaking, a tappet is the only part of a rocker arm that makes contact with an intake or exhaust valve stem above the cylinder head of an internal combustion engine. As the cam rotates, it creates both a sideways and a downward force on the tappet. Without a tappet (and with the cam acting directly on the valve), the sideways force would cause the valve stem to bend. With a tappet, the sideways force is transferred to the cylinder head so only the downward force acts on the valve stem.
Tappets/lifters are engineered to last the lifetime of the engine when the engine is properly maintained, including proper oil and filter changes. Though they are reliable, they have their drawbacks; valve clearances periodically require adjustment as the contact surfaces of both tappet and valve stem wear.
On most modern overhead cam engines, the camshaft is directly over the valves, as pictured. In some other overhead cam engines, a rocker arm pivots on a fixed shaft while one projection of the rocker-arm rides on a cam of the rotating camshaft. In both cases, this creates an oscillating linear motion, opening the valve. The closing of the valve is typically accomplished by a compression spring placed between the valve collet (or retainer) and the cylinder head above the combustion chamber. In overhead valve engines, the camshaft is located near the crankshaft and motion of the cam lobes is followed by cam followers (similar to tappets) and transferred up to the cylinder head and the rocker arm assembly by means of long pushrods.
Traditionally, the nominal distance (clearance) between the tappet surface and the valve's contact surface was maintained by means of an adjustment screw on the rocker arm. Today, this is typically accomplished by introducing shims into the space between the cam follower (tappet) and cam to create the necessary clearance, or by hydraulic adjusters.
In the future, as engines move to variable valve timing systems, the use of tappets may cease entirely .