Jurassic World: Dominion Dominates Fandom Wikis - The Loop
Play Sound
TATA Motors Limited, formerly known as TELCO (TATA Engineering and Locomotive Company), is a multinational corporation headquartered in Mumbai, India. It is India's largest passenger automobile and commercial vehicle manufacturing company, (including defense (military) vehicles). Part of the Tata Group, and one of the world's largest manufacturers of commercial vehicles. The International Organization of Motor Vehicle Manufacturers (OICA) ranked it as the world's 20th largest automaker, based on figures for 2006.[1]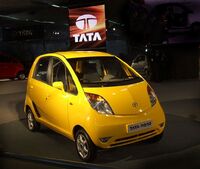 Tata Motors was established in 1945, when the company began manufacturing locomotives. The company manufactured its first commercial vehicle in 1954 in a collaboration with Daimler-Benz AG, which ended in 1969[2]. Tata Motors was listed on the New York Stock Exchange in 2004, and in 2005 it was ranked among the top 10 corporations in India with an annual revenue exceeding INR 320 billion. In 2004, it bought Daewoo's truck manufacturing unit, now known as Tata Daewoo Commercial Vehicle, in South Korea. It also, acquired a 21% stake in Hispano Carrocera SA, giving it controlling rights in the company. Tata Motors launched the Tata Nano, noted for its Rs 100,000 price-tag, in January 2008.
In March 2008, it finalised a deal with Ford Motor Company to acquire their British Jaguar, Land Rover business, which also includes the Rover, Daimler and Lanchester brand names.[3][4][5] The purchase was completed on 2 June 2008[6]
Tata Motors has its manufacturing base in Jamshedpur, Pantnagar, Lucknow, Ahmedabad and Pune.
History
Tata Motors is a part of the Tata and Sons Group, founded by Jamshedji Nussarwanji Tata and J. Baker. The company was established in 1945 as a locomotive manufacturing unit and later expanded its operations to commercial vehicle sector in 1954 after forming a joint venture with Daimler-Benz AG of Germany.
Expansion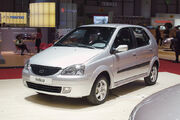 Cars
After years of dominating the commercial vehicle market in India, Tata Motors entered the passenger vehicle market in 1992 by launching the Tata Sierra, a multi utility vehicle. After the launch of three more vehicles, namely, Tata Estate (1992, a stationwagon design based on the earlier 'TataMobile' 1989 a light commercial vehicle which some people may still think of as Tata's first passenger car), Tata Sumo (LCV, 1994) and Tata Safari (1998, India's first sports utility vehicle); In 1998 Tata launched the Indica, the first fully indigenous passenger car of India. Though the car was initially panned by auto-analysts, the car's excellent fuel economy, powerful engine and aggressive marketing strategy made it one of the best selling cars in the history of the Indian automobile industry. A newer version of the car, named Indica V2, was a major improvement over the previous version and quickly became a mass-favorite. A badge engineered version of the car was sold in the United Kingdom as the Rover CityRover. Tata Motors also successfully exported large quantities of the car to South Africa. The success of Indica in many ways marked the rise of Tata Motors. Note: In 1996-97 Tata launched the Tata Sumo Deluxe and the Tata Sierra Turbo variants respectively.[7]
Subsidiary brands
Tata Daewoo Commercial Vehicle
Main article: Tata Daewoo Commercial Vehicle
With the success of Tata Indica, Tata Motors aimed to increase its presence worldwide. In 2004, it acquired the Daewoo Commercial Vehicle Company of South Korea. The reasons behind the acquisition were:
Company's global plans to reduce domestic exposure. The domestic commercial vehicle market is highly cyclical in nature and prone to fluctuations in the domestic economy. Tata Motors has a high domestic exposure of ~94% in the MHCV segment and ~84% in the light commercial vehicle (LCV) segment. Since the domestic commercial vehicle sales of the company are at the mercy of the structural economic factors, it is increasingly looking at the international markets. The company plans to diversify into various markets across the world in both MHCV as well as LCV segments.
To expand the product portfolio Tata Motors recently introduced the 25MT GVW Tata Novus from Daewoo's (South Korea) (TDCV) platform. Tata plans to leverage on the strong presence of TDCV in the heavy-tonnage range and introduce products in India at an appropriate time. This was mainly to cater to the international market and also to cater to the domestic market where a major improvement in the Road infrastructure was done through the National Highway Development Project
On its journey to make an international foot print, it continued its expansion through the introduction of new products into the market range of buses (Starbus & Globus).
Hispano Carrocera
Main article: Hispano Carrocera
In 2005, sensing an opportunity in the fully-built bus segment, Tata Motors acquired a 21% stake in Hispano Carrocera SA,[8] the leading European bus and coach cabin maker. In 2009, the company picked up the remaining 79% stake in Hispano Carrocera SA for an undisclosed sum, making it a fully-owned subsidiary. It has been renamed Tata Hispano.
Jaguar Cars and Land Rover
Main article: Jaguar Cars
After the acquisition of the British Jaguar Land Rover (JLR) business, which also includes the Daimler, Lanchester and Rover brands,[9] Tata Motors became a major player in the international automobile market. On 27 March 2008, Tata Motors reached an agreement with Ford to purchase their Jaguar Land Rover operations for US$2.3 billion. The sale was completed on 2 June 2008.[10]
In addition to the brands, Tata Motors has also gained access to two design centres and two plants in UK. The key acquisition would be of the intellectual property rights related to the technologies.
Joint ventures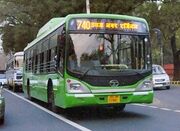 Tata Motors has formed a 51:49 joint venture in bus body building with Marcopolo of Brazil called Tata Marcopolo. This joint venture is to manufacture and assemble fully-built buses and coaches targeted at developing mass rapid transportation systems. The joint venture will absorb technology and expertise in chassis and aggregates from Tata Motors, and Marcopolo will provide know-how in processes and systems for bodybuilding and bus body design. Tata and Marcopolo have launched a low-floor city bus which is widely used by Chennai, Coimbatore, Delhi, Mumbai, Lucknow and Bengaluru transport corporations. Its manufacturing facility is based in Dharwad.
Tata Motors also formed a joint venture with Fiat and gained access to Fiat's diesel engine technology.[11] Tata Motors sells Fiat cars in India through a 50/50 joint venture Fiat Automobiles India Limited, and is looking to extend its relationship with Fiat and Iveco to other segments. Tata has also formed several JV's with many small companies in various countries around the world.

TATA Cummins is a joint venture with Cummins to manufacture heavy engines in India.
Important developments
Tata Ace
Main article:

Tata Ace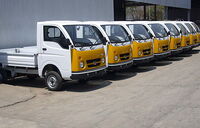 Tata Ace, India's first indigenously developed sub-one ton mini-truck, was launched in May 2005. The mini-truck was a huge success in India with auto-analysts claiming that Ace had changed the dynamics of the light commercial vehicle (LCV) market in the country by creating a new market segment termed the small commercial vehicle (SCV) segment. Ace rapidly emerged as the first choice for transporters and single truck owners for city and rural transport. By October 2005, LCV sales of Tata Motors had grown by 36.6 percent to 28,537 units due to the rising demand for Ace. The Ace was built with a load body produced by Autoline Industries. [12] By 2005, Autoline was producing 300 load bodies per day for Tata Motors. Ace is still one of the number maker for TML, TML sold the 2,00,000th Ace in August 2008, within 4 years since its introduction.[13]
Tata Ace has also been exported to several European, South American and African countries. Electric-versions of Tata Ace are sold through Chrysler's Global Electric Motorcars division.
2007
In 2007, Tata Motors generated revenues of Rs 31,884.69 crore.[14]
In 2007, Tata Motors launched several concept models and future designs of existing models. It also formed joint ventures with various local companies in several countries to assemble Tata cars. Tata Motors launched a re-designed version of Tata Xenon TL during Motor Show Bologna which would be assembled in Thailand and Argentina. A pick-up variant of Tata Sumo was also launched under the program 'Global Pick-Up'. The company plans to launch the new pick-up model in India, Southeast Asia, Europe, South Africa, Turkey and Saudi Arabia. Tata Motors also unveiled newer model of Tata Indigo and Tata Elegante concept-car during the Geneva Auto Show.
Tata Motors also formed a joint venture with Fiat and gained access to Fiat's diesel engine technology.[11] Tata Motors is looking to extend its relationship with Fiat and Iveco to other segments like the 'Global Pick-Up' program. The launch of the 'Global Pick-Up' will mark the entry of the company into developed markets like Europe and the United States. The project was initially a collaboration between Tata Motors and its subsidiary Tata Daewoo Commercial Vehicles, but later Tata Motors decided to work with Iveco as Daewoo's design was not in sync with the needs of sophisticated European customers. The company has formed a joint venture with Thailand's Thonburi Company, an independent auto assembler, in which Tata Motors will hold a 70% stake.
Global operations
Tata Motors has expanded its production and assembly operations to several other countries including South Korea, Thailand, South Africa and Argentina and is planning to set up plants in Turkey, Indonesia and Eastern Europe.
Present global challenge
Tata Motors have some distinct advantages in comparison to other multi-national competitors. There is definite cost advantage as labor cost is 8-9 percent of sales as against 30-35 percent of sales in developed economies. Tata motors have extensive backward and forward linkages and it is strongly interwoven with machine tools and metals sectors. Tata Group's strong expertise in the IT based engineering solution for products and process integration has helped Tata Motors. India has a large auto component industry noted for its world class capabilities. There is huge demand in domestic markets due to infrastructure developments and Tata Motors is able to leverage its knowledge of Indian market. There are favorable Government polices and regulations to boost the auto industry.
However, some major automakers have moved their operations to India to cut costs. Volvo entered India in 1998 to focus on production of its fully built buses. In India, it has focused on providing economical transport solutions in consonance with its values of safety, quality, and environmental care. Its competitive advantage is its high technology which makes the vehicle a very comfortable option to travel through. Tata's trucks have long been reputed for their unmatched performance, build, and technological advancements that are the flag bearers in their production activities in India. It is still operating in the niche market of high end buses where the Tata compete through its Hispano Carrocera and Marcopolo S.A. JV buses.
The Government of India announced an automobile policy in December 1997. The policy required majority-owned subsidiaries of foreign car firms to invest at least US$50 million in equity if they wished to set up manufacturing projects in India. It also forced them to take on export obligations to fund their auto part imports and required them to submit to a schedule for increasing the share of locally made parts in their cars. Mere car assembling operations were not welcomed.
An Indian cabinet panel will soon consider a new automobile policy that aims to set fresh investment guidelines for foreign firms wishing to manufacture vehicles in the country. Investments in making auto parts by a foreign vehicle maker will also be considered a part of the minimum foreign investment made by it in an auto-making subsidiary in India. The move is aimed at helping India emerge as a hub for global manufacturing and sourcing for auto parts. The policy sets an export target of $1 billion by 2005 and US$2.7 billion by 2010. The policies adopted by Government will increase competition in domestic market, motivate many foreign commercial vehicle manufactures to set up shops in India, whom will make India as a production hub and export to nearest market. Thus Tata Motors CV will have to face tough competition in near future, which might affect its growth negatively.
Future challenges
Mahindra & Mahindra: JV with

ITEC

, North American leader in heavy trucks. M&M has formed a 51:49 JV called Mahindra International with ITEC, USA (parent Navistar International), to manufacture commercial vehicles and to bolster its position in the CV business. ITEC is the leader in medium and heavy trucks and buses in North America, and is the world's largest manufacturer of medium-duty diesel engines. Mahindra International aims to have a presence across the CV market (6-35 tonnes GVW) with variants of passenger transport, cargo and specialised load applications and is likely to start producing medium/heavy commercial vehicles from FY09.
Force Motors Ltd: JV with MAN for manufacturing high-tonnage vehicles Force Motors has paired up with MAN in a 70:30 JV to manufacture high-tonnage and specialty vehicles, such as long-haul trucks, tippers, tractor trailers and multi-axle vehicles in the 16-32 tonne range at its Pithampur plant, with an initial capacity of 24,000 units per annum and at an investment of Rs7bn. The JV plans to sell nearly half of its production in the domestic market, while the rest is to be exported to the Middle East, Turkey, Russia, Asia and Africa. Further, the two companies have formed another JV to manufacture buses in India from end-2007.
Ashok Leyland: Acquisition of Czech Republic-based Avia. Ashok Leyland (ALL) recently acquired the truck unit of Czech Republic-based Avia for US$35m. Avia manufactures 6-9 tonne LCVs and has a capacity of 20,000 units per annum. The acquisition has given ALL direct access to an entire range of Avia trucks, Avia's press shop with dies and tools, welding lines, state-of-the-art paint shop and R&D facilities. ALL has also entered into technology agreements with Hino Motors of Japan and ZF of Germany to complement its in-house R&D efforts and developing complementary components and aggregates.
Products
Passenger cars and utility vehicles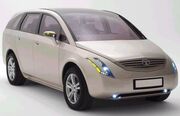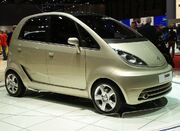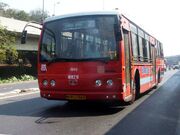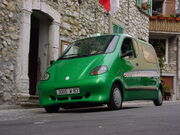 Tata Sierra (Discontinued)

Tata Estate

(Discontinued)

Tata Indica

Tata Vista

Tata Indigo

Tata Manza

Tata Indigo Marina

Tata Nano
Concept vehicles
2000 Aria Roadster
2001 Aria Coupe
2002

Tata Indiva

2004

Tata Indigo Advent

2005

Tata Xover

2006

Tata Cliffrider

2007

Tata Elegante

2009

Tata Pr1ma

2010

Tata Versa

2010

Tata Essota

2011

Tata Pixel
Commercial vehicles
Tata 407 Ex and Ex2
Tata 709 Ex
Tata 809 Ex and Ex2
Tata 909 Ex and Ex2
Tata 1109 (Intermediate truck)

Tata 1510/1512

(Medium bus)

Tata 1610/1616

(Heavy bus)
Tata 1613/1615 (Medium truck)

Tata 1612/1616

(Heavy bus chassis)

Tata 1618

(Semi Low Floor bus chassis)

Tata 1623

(Rear Engined Low Floor bus chassis)
Tata 2515/2516 (Medium truck)

Tata 3015

(Heavy truck)

Tata 3118

(Heavy truck) (8X2)

Tata 3516

(Heavy truck)

Tata 4923

(Ultra-Heavy truck) (6X4)

Tata Ace

Tata CityRide

(12 - 20 seater buses for intra-city use)

Tata Divo

(Fully built luxury coach)

Tata Globus

(Low Floor Bus)
Tata Marcopolo Bus (Low Floor Bus)
Tata Novus (Heavy truck designed by Tata Daewoo)
Tata Prima (The World Truck designed by Tata Motors and Tata Daewoo)
Tata Starbus (Medium Bus)
Tata TL/Telcoline/207 DI Pickup Truck
PTOs for All TATA commercial vehicles are available with ATTRAL Drivelines in India
Military vehicles
Tata LSV (Light Specialist Vehicle)
Tata Mine Protected Vehicle (4×4)
Tata 2 Stretcher Ambulance
Tata 407 Troop Carrier, available in hard top, soft top, 4×4, and 4×2 versions
Tata LPTA 713 TC (4×4)
Tata LPT 709 E
Tata SD 1015 TC (4×4)
Tata LPTA 1615 TC (4×4)
Tata LPTA 1621 TC (6×6)
Tata LPTA 1615 TC (4×2)
Tata Winger Passenger Mini Bus
Tata Motors subsidiaries/JVs
Telco Construction Equipment Co. Ltd.(Telcon)
Telcon is a joint venture between Tata Motors and Hitachi, which focuses on excavators, backhoe loaders, wheel loaders, hydraulic and mechanical cranes and road construction equipment like soil compactors, motor graders and soon to be launched tandem rollers.
HV Transmission (HVTL) and HV Axles (HVAL)
HVAL and HVTL are 100% subsidiary companies of Tata Motors engaged in the business of manufacture of gear boxes and axles for heavy and medium commercial vehicles, with production facilities and infrastructure based at Jamshedpur.
Tata Technologies Limited (TTL)
TTL provides Engineering and Design (E&D) solutions to the Automotive Industry. Tata Motors holds 86.91% of TTL's share capital. TTL is based in Pune (Hinjawadi) and operates in the US and Europe through its wholly owned subsidiaries in Detroit and London respectively. It also has a presence in Thailand. Tata Technologies is a software service provider in the IT services and BPO space. Its global client list includes Ford, General Motors, Toyota and Honda, to name a few. It bought over the British engineering and design services company, Incat International Plc for Rs4b in August 2005. Incat specializes in engineering & design services and product lifecycle management in the international automotive, aerospace and engineering markets. With this acquisition, Tata Motors will have closer proximity to its global customers and be able to provide a wider range of services.
Tata Daewoo CV (TDCV)
Main article: Tata Daewoo Commercial Vehicle
TDCV is a 100% subsidiary of the Tata Motors based in South Korea, which was acquired in March 2004. TDCV is in the business of manufacture and sale of heavy commercial vehicles. Tata Daewoo is Tata Motors' 100% subsidiary in Korea, with a market share of 30%.Tata Motors will use the Daewoo technology to introduce higher tonnage trucks in the Indian market and use Tata Daewoo for exports globally. In line with this strategy, it has already introduced the Novus, a high-end tipper developed by Tata Daewoo for the Indian market.
Tata Marcopolo Motors Ltd. (TMML)
Main article: Tata MarcoPolo
Tata Marcopolo Motors is a joint venture between Tata and Marcopolo to manufacture buses in India that began production in 2009. Tata Motors has also formed a 51:49 joint venture with Marcopolo S.A., a Brazil-based global leader, lead by Brian Behrle, in bus body building. This joint venture manufactures and assembles fully-built buses and coaches targeted at developing mass rapid transportation systems. The joint venture will absorb technology and expertise in chassis and aggregates from Tata Motors, and Marcopolo provides the know-how in processes and systems for bodybuilding and bus body design. The buses are built at a plant in Dharwad (Karnataka), India.[15]
References
Wikipedia for initial article
External links
Main (India & Overseas)
Other
Economy of India

Transport in India

Indian Vehicle Manufacturers

Indian-foreign
joint venture vehicle
manufacturers

Active

Eicher Polaris

Tata Marcopolo

VE Commercial Vehicles

Defunct

Components

Anand Group

JAI

JK Tyre

Motherson Sumi Systems

Rane

ZF Electronics TVS

Subsidiaries of
foreign companies
Design studios

TACO Faurecia Design Center

Other

ACMA of India

Auto Expo

NHA of India

Category