The Suzuki Mighty Boy was a small ute produced by Suzuki, a member of the Japanese Kei car family.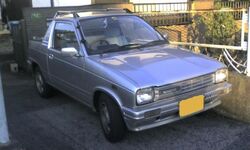 Based on the principles and regulations of the Japanese keijidōsha class of vehicles, the Mighty Boy is a Coupé utility variation of the 2nd generation, 2-door fastback Suzuki Cervo. Released in February 1983, it was equipped with an 543 cc SOHC 3 cylinder transverse-mounted engine (F5A), however unlike its cousin the Cervo, no turbo was available.
Driving the front wheels through a 4-speed manual or optional 2-speed automatic gearbox, the F5A motor delivered 28 PS (21 kW) JIS [1] of power at the flywheel. Model designation for the Suzuki MightyBoy is "SS40T".
1st generation Mighty Boys were fitted with 10" wheels, and sported a horizontally finned grille, identical to the Cervo. While the Cervo used rectangular headlights, the Mighty Boy, as befitting the cheapest automobile available in Japan, cheaper round sealed-beam units. A feature unique to the Mighty Boy was the seats, which although still similar to those featured in the Cervo CS/G, featured a customised embossed "Mighty Boy" logo.
2nd generation Mighty Boys received minor cosmetic upgrades, including a restyled front grille and mirrors. In addition, the range was extended to two variants:
PS-A - This 'base' model carried over the 10" wheels from the 1st generation Mighty Boy and was available with a 4-speed manual transmission only.
PS-L and PS-QL - This model was equipped with bucket seats, larger 12" wheels, chrome roof/tie-down rails, and a tachometer. In contrast to the base model, a choice of 2-speed automatic or 5-speed manual gearbox was offered, and rectangular headlights were fitted.
The only export markets for the Suzuki Mighty Boy were Australia and Cyprus between 1985-1988. Imported through Suzuki/Ateco, Australia received a hybrid of the Japanese PS-A and PS/QL 2nd generation Mighty Boy that included chrome roof rails, bucket seats and 12" wheels, however did not include such items as a tachometer or 5-speed manual gearbox.
About 2,800 were imported, but only 300-400 now exist, and the price of Mighty Boys has increased dramatically recently due to their rarity.
Model designation: SS40T
Engine model: F5A
Bore x Stroke (mm): 62x60
Capacity: 543 cc
Power output: 28 hp (21 kW) Japanese Industrial Standards (JIS) @ 6000 rpm Compression ratio: 8.5:1
↑ 19 kW (26 PS) was claimed in Australia.
Community content is available under
CC-BY-SA
unless otherwise noted.