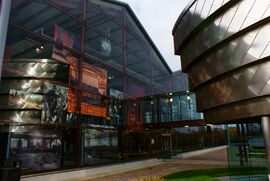 Summerlee Heritage Park is an award-winning industrial museum in Coatbridge, North Lanarkshire, Greater Glasgow, Scotland. It was built on the site of the old Summerlee Ironworks and incorporated the main workshop of the former Hydrocon Cranes factory.
History
THe site was originally an Ironworks.
Hydrocon Cranes, were set up in the old Iron works in 19 ? and built early Hydraulic cranes on truck chassis from the Scottish Albion Motors company. Hydrocaon were taken over in the 197?s and the factory closed down.
Summerlee Industrial Museum was created in the old works in ? after the Hydrocon company had closed down. It was opened to show the industrial heritage of the are and featured Industrial related displays with exhibits relating to the old Iron works and the local coal industry, as well as local transport related themes and exhibits.

It temporarily closed in 2006, but reopened on 26 September 2008 following a £10m refurbishment (pictured right). The Museum was originaly called the Summerlee Industrial Museum but after the refurbishment was rebranded as a Heritage Park.
The former main hall of the museum was redesigned by North Lanarkshire Council's in-house Design Team and now includes a stainless steel café pod and futuristic viewing pavilion. The museum aims to show Lanarkshire's contribution to engineering, and incorporates interactive displays and a children's "Discovery Zone".
Exhibits
The museum also incorporates several railway steam locomotives, preserved carriages from a 1960s era Glasgow Class 311 and has a short working tram line.
See also
References / sources
based on a wikipedia stub article
External links

List of

Museums

featuring Tractors, Construction Plant & Industrial Machinery, Steam Engine, Commercial vehicles, Buses, Engines or Automotive related exhibits.

United Kingdom
(Public bodies)
United Kingdom
(Privately run)
European
America
Australia
Other International

add links here

Proposed museums

add proposed museums here

Defunct Museums
Coordinates: 55°51′59″N 4°01′51″W / 55.86639°N 4.03083°W / 55.86639; -4.03083