Subaru
Type
Division of Fuji Heavy Industries
Founded
FHI established July 7, 1953
first Subaru car introduced 1954
Founder(s)
Kenji Kita
Chikuhei Nakajima formerly Nakajima Aircraft Company
Headquarters
Original Office
Ōta, Gunma, Japan
International Offices
Cherry Hill, New Jersey, USA
Mississauga, Ontario, Canada
Industry
Automobile manufacturing
Products
Subaru Cars, & assembly under contract of Toyota cars
Website
Subaru Global
Subaru (スバル?) is the automobile brand name of Japanese transportation conglomerate Fuji Heavy Industries Group (FHI) with approximately 1,970 dealers in 100 countries worldwide.
Subaru is internationally known for their use of boxer engines in most of their vehicles. The company decided to use all wheel drive in most international markets as standard equipment in 1996. They also offer many turbocharged versions of their passenger cars, such as the Impreza WRX which is well-known in motorsports, such as rally racing. Other turbocharged models from Subaru include the Baja, Forester XT, Outback XT, Impreza WRX STI and Legacy GT Spec.B.
Fuji Heavy Industries, the parent company of Subaru, is currently in a partnership with Toyota Motor Corporation, which owns 16.5% of FHI.[1] The company is named after the star cluster Pleiades, which in Greek mythology is known as the Seven Sisters, and in Japanese mythology the name is "Subaru", which roughly translated into English means, "to govern", "unite," or "gather together". The company logo is influenced by the star cluster. The large star in the logo represents Fuji Heavy Industries, and the five smaller stars represent the current five companies that are united under the FHI group.[2]
FHI started out as The Aircraft Research Laboratory in 1917 headed by Chikuhei Nakajima. In 1932, the company was reorganized as Nakajima Aircraft Company, Ltd and soon became the primary manufacturer of aircraft for Japan during World War II. At the end of the Second World War Nakajima Aircraft was again reorganized, this time as Fuji Sangyo Co, Ltd. In 1946, the company created the Fuji Rabbit motor scooter with spare aircraft parts from the war.[3] In 1950, Fuji Sangyo was divided into 12 smaller corporations according to the Japanese Government's 1950 Corporate Credit Rearrangement Act, anti-zaibats legislation, but between 1953-1955, four of these corporations and a newly formed corporation Fuji Kogyo, a scooter manufacturer; coachbuilders Fuji Jidosha; engine manufacturers Omiya Fuji Kogyo; chassis builders Utsunomiya Sharyo and the Tokyo Fuji Dangyo trading company decided to merge together to form the company known today as Fuji Heavy Industries.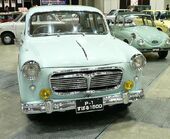 Kenji Kita, the CEO of
Fuji Heavy Industries
at the time, wanted the new company to be involved in
car
manufacturing and soon began plans for building a car with the development code-name P-1. Mr. Kita canvassed the Company for suggestions about naming the P1, but none of the proposals were appealing enough. In the end, he gave the car a Japanese name that had been his personal favourite from childhood: Subaru. The first Subaru car was named the
Subaru 1500
.
[4]
Only twenty P1s were manufactured due to multiple supply issues. From 1954 to 2008, the company designed and manufactured dozens of vehicles including the 1500 (1954), the tiny air-cooled
360
(1958), the
Sambar
(1961), the
1000
(which saw the introduction of the Subaru boxer engine in 1965), the
R-2
(1969), the
Rex
and the
Leone
(1971), the
BRAT
(1978),
Alcyone
(1985), the
Legacy
(1989), the
Impreza
(1993), the
Forester
(1997), the
Tribeca
(2005), and the
Exiga
(2008).
On October 5, 2005 Toyota Motor Corporation purchased 8.7% of FHI shares from General Motors who had owned 20.1% of FHI[5] since 1999. GM later divested its remaining 11.4% stake, selling its shares on the open market to sever all ties with FHI. FHI previously stated that there might have been 27 million shares (3.4%) acquired before the start of trading by an unknown party on October 6, 2005, and speculation suggested that a bank or perhaps another automaker was involved. After the purchase, Toyota announced a contract with Subaru on March 13, 2006 to use the underutilized Subaru manufacturing facility in Lafayette, Indiana, and Toyota announced plans to hire up to 1,000 workers and set aside an assembly line for the Camry model, beginning in spring 2007.
Before GM's ownership, Nissan had acquired a 20% stake in 1968 during a period of government-ordered merging of the Japanese auto industry in order to improve competitiveness under the administration of Prime Minister Eisaku Sato. Nissan would utilize FHI's bus manufacturing capability and expertise for their Nissan Diesel line of buses. In turn, many Subaru vehicles, even today, use parts from the Nissan manufacturing keiretsu. The Subaru automatic transmission, known as the 4EAT, is also used in the first generation Nissan Pathfinder. Speculation has suggested that it was Subaru that introduced Renault to Nissan, when Renault asked for assistance in all-wheel drive (AWD) technology, and when FHI might have suggested that Renault discuss their plans with Nissan, the discussions may have been a contributing factor to the currently successful Renault-Nissan alliance. Upon Nissan's acquisition by Renault, its 20% stake was sold to General Motors.
During the brief General Motors period, a "badge engineered" Impreza was sold in the United States as the Saab 9-2X. A SUV (Subaru Tribeca / SAAB 9-6X) was also planned[6][7] but the SAAB version did not proceed.[8]
Subaru in the United States
Edit
Founded in 1968, Subaru of America, Inc. (SOA) is the exclusive United States marketer of Subaru products manufactured by Fuji Heavy Industries of Japan with headquarters in Cherry Hill, New Jersey. The company markets and distributes Subaru Symmetrical All-Wheel Drive vehicles, parts and accessories through a network of nearly 600 dealers throughout the United States. Subaru products manufactured at the Subaru of Indiana Automotive Inc. in Lafayette is the only U.S. automobile production plant to be designated a backyard wildlife Habitat by the National Wildlife Federation and having achieved a zero- landfill production designation.
Subaru of America, Inc. moved to its current Cherry Hill, New Jersey, facility in 1986. The $18 million, 115,000 square-foot, seven-story structure serves as the company's national headquarters housing approximately 300 people in Finance, IT, Marketing, Sales and Product Planning.
With the 2010 Subaru Outback winning the American automotive magazine Motor Trend's Sport Utility of the Year award for a consecutive second year, the 2009 Subaru Forester won the previous year, Subaru is currently the only company to have done so.[9]
Subaru in Canada
Edit
In 1976, Canadians got their first exposure to Subaru's All-Wheel Drive when Subaru Auto Canada Limited (SACL) began offering the Subaru Leone. In 1989, the privately owned SACL was purchased by the Toronto-based Subaru Canada, Inc., who, under the guidance of parent company Fuji Heavy Industries, began an expansion process that would eventually see over 100 Subaru Dealerships in operation across the country.
Subaru Canada, Inc. is a wholly owned subsidiary of Fuji Heavy Industries of Japan. Headquartered in Mississauga, Ontario, the company markets and distributes Subaru vehicles, parts and accessories through a network of 88 authorized dealers throughout Canada.
Marketing efforts
Edit
In 1965, Malcolm Bricklin started selling franchises for motor scooters that included the Fuji Rabbit and the tiny Subaru 360. Bricklin made a deal with Subaru to introduce those cars to the United States. Malcolm and his partner, Harvey Lamm, formed Subaru of America, Inc. to sell Subaru franchises. It marked the beginning of the Japanese influx.
In the 1970s, the company decided to expand its model range from small kei class vehicles like the Rex and Sambar and begin to develop larger, mainstream passenger cars like the Leone, and when Subaru continued in their efforts, and introduced the Legacy in 1989, it was a sales success and a new direction for the company. Subaru decided to offer more products due to the Plaza Accord agreement of 1985 which made the value of the yen stronger in exchange rates to the dollar, which had an effect on Subaru sales in the USA. The creation of the Legacy was influenced by Subaru's desire to compete with successful Japanese carmakers Toyota, Nissan and Honda, and the Legacy was targeted against the Camry, Stanza, and Accord. The Legacy was considered mainstream in its appearance and a departure from previous vehicles, which had earned a reputation of being "quirky". It was perceived by some as Subaru's attempt to compete with new luxury brands Lexus, Infiniti and Acura, as Japanese vehicles were increasing in popularity, particularly in the USA. Subaru continued their new direction with the controversially styled Alcyone XT (1985), the GT six-cylinder SVX (1992), and the Impreza (1993).
From 1995 to 2000, Subaru ran a series of advertisements for the newly developed Subaru Outback which starred Paul Hogan. The advertisements were intended to highlight Subaru's all wheel drive, and depicted the Outback in a number of rugged Australian locations. The tagline "the world's first sport utility wagon" was successfully used by Subaru, though the AMC Eagle had tried much the same idea, with less success in the 1980s.
Before the Outback was introduced, Subaru sold a badge engineered Isuzu Trooper in Japan as the Subaru Bighorn.
Some of the advertising slogans Subaru has used in the past include, "Inexpensive, and built to stay that way", "The World's Favorite Four Wheel Drive" (in the U.K.), "We're building our reputation by building a better car", "The beauty of all-wheel-drive", "Think, Feel, Drive", and currently "Love. It's what makes a Subaru, a Subaru".[10]
As a result of this refocused advertising campaign, Subaru products began to attract a following among the young and educated, and as a lightweight, affordable, economical SUV alternative to the likes of the Ford Bronco and Jeep Wagoneer or the exclusive Volvo. Subaru was among the first automotive companies to market to gays and lesbians in the US.[11] Subaru has historically been popular in US regions such as the Pacific Northwest , the North American Rocky Mountains region, and especially in New England, with relatively high resale values and owner loyalty rates in those regions. According to Automotive Lease Guide, Subaru ranked second place in vehicles that have the highest overall predicted resale values among all industry and all luxury vehicles for MY 2009.[12] The awards are derived after carefully studying segment competition, historical vehicle performance and industry trends. According to a study done by J.D. Power and Associates, for the 2008 Customer Retention Study, Subaru ranked at 50.5%, which was above the national average of 48%.[13] Harman Kardon is currently the audio supplier for Subaru products in North America.[14]
Motorsports
Edit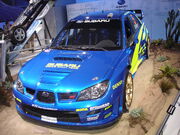 Subaru Rally Team Japan led by Noriyuki Koseki (founder of Subaru Tecnica International STI) ran Subaru Leone coupé, sedan DL, RX (SRX) and RX Turbo in the World Rally Championship between 1980 and 1989 a few rallies per season. Drivers for individual rallies included Ari Vatanen, Per Eklund, Shekhar Mehta, Mike Kirkland, Possum Bourne and Harald Demut. Mike Kirkland finished 6th overall and won the A Group at the 1986 Safari Rally. That year Subaru was one of the only manufactures combining 4WD and turbo. Subaru changed the rally model to Legacy RS for the 1990-1992 period and took part in the first complete season in the World Rally Championship with the same model in 1993.
Modified versions of the Impreza WRX and WRX STi have been competing successfully in rallying; drivers Colin McRae (1995), Richard Burns (2001) and Petter Solberg (2003) have won World Rally Championship drivers' titles with the Subaru World Rally Team, and Subaru took the manufacturers' title three years in a row from 1995 to 1997. Subaru's World Rally Championship cars are prepared and run by Prodrive, the highly successful British motorsport team. Several endurance records were set in the early and mid-nineties by the Subaru Legacy.
Subaru was briefly involved in Formula One circuit racing when it bought a controlling interest in the tiny Italian Coloni team for the 1990 season. The Coloni 3B's 12-cylinder engine was badged as a Subaru and shared the boxer layout with the company's own engines, but was an existing design built by Italian firm Motori Moderni. The cars were overweight and underpowered and the partnership broke down before the season finished.[15] With the rise of rally racing, and the Import scene in the US, the introduction of the highly anticipated Subaru Impreza WRX in 2001 was successful in bringing high performance, AWD compact cars into the sports car mainstream. Subaru supplies a factory-backed team for Rally America, and has won the driver's title in each of the series' five seasons.[16].
On the 16 December 2008, it was announced that Subaru would no longer be competing in the World Rally Championships,[17] due to the issues with the current global economic crisis, combined with the prospect of a car which still needed development for the 2009 season and a change in regulations for the 2010 season.
Starting in 2006, Subaru of America (SOA), as the official distributor of Subaru vehicles in the United States, participates in the Subaru Road Racing Team (SRRT) with a Subaru Legacy 2.5 GT Spec-B in the Street Tuner class.
The 2007 Frankfurt International Motor Show saw Subaru introduce a horizontally-opposed, water-cooled, common rail, turbodiesel, using a variable geometry turbocharger, the first of its type to be fitted to a passenger car. Volkswagen had previously experimented with this idea during the 1950s, and made 2 air-cooled boxer prototype diesel engines that were not turbocharged, and installed one engine in a Type 1 and another in a Type 2.[18]
The Subaru engine was rated at 110 kW (150 PS/148 hp) and 350 N·m (260 ft·lbf) with a displacement of 2.0 litres. In March 2008, Subaru offered the Legacy sedan and wagon and the Outback wagon with the 2.0 litre turbodiesel in the EU with a 5 speed manual transmission only.[19][20]
In September 2008, Subaru announced that the diesel Forester and diesel Impreza will be introduced at the 2008 Paris Motor Show, with Forester sales to begin October 2008 and diesel Impreza sales to start January 2009.[21] The Forester and Impreza will have a 6 speed manual transmission only, whereas the Legacy and Outback have 5 speed manual transmissions only.
United States Environmental Protection Agency fuel economy estimated is:
City Ranges

32.7 mpg-US (7.19 L/100 km/39.3 mpg-imp)
33.6 mpg-US (7.00 L/100 km/40.4 mpg-imp)
Highway Ranges

45.2 mpg-US (5.20 L/100 km/54.3 mpg-imp)
49.0 mpg-US (4.80 L/100 km/58.8 mpg-imp)[22]
The fuel economy ratings listed are comparable to the Smart ForTwo.
According to the Subaru Owners on-line newsletter dated March 2008, Subaru is "currently making modifications to the diesel so it meets the more stringent US standards. Subaru diesel models should be domestically available in two to three years."
New technology
Edit
Since the 2005 model year, Subaru has adopted the Controller–area network (CAN) bus technology for the USA and Canada markets. Starting in the 2007 model year, all Subaru vehicles use the CAN technology. Typically, two CAN-buses are used on vehicles: a high-speed CAN running at 500 Kbps for powertrain communication, and a low-speed CAN running at 125 Kbps for body control functions and instrument panels. A body-integrated unit (BIU) is used between these two networks.
Historic cars
Edit
Environmental record
Edit
Subaru claims to have implemented advanced policies which include recycling, reducing harmful emissions, educating their employees, and continuing their efforts have helped them in their environmental initiatives. The Subaru plant in Lafayette, Indiana (SIA) was the first auto assembly plant to achieve zero landfill status;[23] nothing from the manufacturing process goes into a landfill. The company has also developed energy efficient hybrid vehicles as well as a recycling plan for their "end-of-life" cars. Most of their modern products use aluminium throughout the vehicle, in the engine, transmission, suspension and elsewhere in each vehicle, that can be recycled when the vehicle is no longer servicable.
An excerpt from the Subaru website stated "In 2006, SIA was awarded the United States Environmental Protection Agency´s Gold Achievement Award as a top achiever in the agency's WasteWise program to reduce waste and improve recycling." The website also stated that "It also became the first U.S. automotive assembly plant to be designated a wildlife habitat."
Subaru currently offers a Partial Zero Emissions Vehicle (PZEV) certified Legacy, Outback, and Forester models which are available for sale anywhere in the U.S. Other car makers limit vehicles certified as PZEV in states that have adopted California emission standards. Subaru PZEV vehicles meet California's Super-Ultra-Low-Emission Vehicle exhaust emission standard.[23] All other models have been certified LEV2.
Electric vehicles
Edit
In June 2006, Fuji Heavy Industries, Inc. (FHI) launched its Subaru Stella Plug-in electric vehicle, which is a kei car equipped with a lithium-ion battery pack. The vehicle has a short range of 56 miles (90 km) but it actually costs more than the Mitsubishi iMiEV, at ¥4,725,000 ($48,200 US), including Japanese Government consumption taxes. It will qualify for a rebate from the Japanese Government of up to $14,100 US, bringing the price down to $34,100 US. The vehicle is much like the i-MiEV, with a 47-kilowatt motor and a quick-charge capability, but the two-door mini-car has a boxy shape. FHI plans to start delivery in late July and plans to sell 170 vehicles by March 2010.[24]
In Japan, Subaru is also currently testing two electric vehicles called the Subaru G4e and the Subaru R1e.
Subaru Hybrid Tourer Concept, is a four-seat vehicle with gull-wing doors that combines a 2-liter, turbocharged, direct-injection gasoline engine with a continuously variable transmission and two axle-mounted motors. A lithium-ion battery pack provides energy storage for the vehicle. [25]
Current models
Edit
North America/Europe/Oceania/Middle East/Asia/Japan Subaru models, permanent all wheel drive with boxer engine.
The following models are sold in Asia and Europe. In Japan, they are in the Kei car class, with either front or all wheel drive, and a straight engine:
An article posted by Autoblog on April 16, 2008 stated that due to the corporate investment by Toyota, all kei cars built by Subaru will be replaced by Daihatsu models beginning in 2010.[26]
Concept cars
Edit
December 4, 2007 saw an article claiming that Subaru was considering building a motorcycle, called the Subaru HS500, with a single cylinder 500 cc engine producing 50 hp (37 kW). Subaru HS500
Toyota-Subaru coupe
Edit
On April 10, 2008, Toyota approximately doubled its stake in FHI to 16.5%,[1] and announced that Toyota and Subaru are working on a 2-door coupe together, to be released around 2011.[27] The purchase was made legal on June 27, 2008.
According to an article posted by Autoblog on May 28, 2008, the coupe that Toyota and Subaru are working on together will be sold in Japan only as a Toyota, and internationally as a Subaru.[28][29] The Subaru version is initially being branded as an Impreza coupe, with the powertrain being described as RWD with the 2.0 liter boxer engine, and optional 2.5 turbo from the WRX STi and AWD.[30] Spy photos of a prototype testing mule were taken in the UK, heavily disguised using 4th generation Legacy bodywork on a shortened frame.[31] It has been suggested that the Toyota version could be a revival of the Toyota Levin/Trueno. According to an article posted by Carscoop.com, the Toyota coupe will be sold as the next generation Scion tC, to be introduced in 2011.[32] An article posted December 22, 2008 on Autoblog stated that the Toyota-Subaru coupe has been delayed until 2012.[33] According to an article posted by Autoblog February 18, 2009, the delay in production, according to Toyota CEO Akio Toyoda, is due to incorporating Toyota D-4S direct injection technology to the Subaru boxer engine. The current code name for the Toyota/Subaru project is "086A", a reference to the Toyota Levin & Trueno.[34]
Due to the recession of 2008, development of the coupe has been placed on hold, according to the Detroit Free Press article posted February 26, 2009.[35] An article posted by 4WheelsNews.com stated that a French site L'Automobile Magazine quoted Thierry Dombreval, VP of Sales and Marketing for Toyota France said that the Toyota-Subaru coupe was due to be released in 2010, with the Toyota version being called the Toyota Celica.[36]
An article posted by Autoblog on July 8 2009 stated that the coupe is expected to be introduced at the 2010 Tokyo Auto show.[37]
Autoblog released concept photos of the Toyota FT-86 Concept car on October 6, 2009, stating that a 2.0 liter boxer engine is being used. It is due to be unveiled at the Tokyo Motor Show in November 2009.[38]
On October 9 2009, the British car magazine Car released an article showing the same images that Autoblog used on their October 6 article, claiming that the FT-86 was the next Toyota Celica, also mentioning that the engine was a Subaru 2.0 and that the platform of the FT-86 was based on the Subaru Legacy.[39]
Main article: Toyota FT-86
The Toyota FT-86 Concept is a concept car manufactured jointly by Toyota and Subaru. It was revealed on October 6, 2009.[40] All that is known about the car so far is that it will be a Light Front engine Rear drive 4 passenger coupe, with a new 2 liter Subaru "C-45" Boxer engine from Fuji Heavy Industries.[41] The FT-86 rides on a 101.2-inch wheelbase, with length, width, and height measuring 163.8, 69.3, and 49.6 inches, respectively. A base price in the USD $20,000 range is expected when the car hits the market in late 2011.[42]
References
Edit
External links
Edit

Community content is available under
CC-BY-SA
unless otherwise noted.