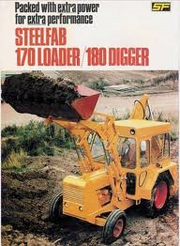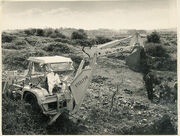 The firm of Steel Fabricators Ltd was based in Cardiff, Wales. Like other engineering firms they looked to diversify, and the building of excavators was one idea, as at the time there was a boom in post war house building. The company was wound up in 1998
A more detailed history needed, Can you help (see below)
The company was the UK licensee for the Horn-draulic loaders for tractors and the Shawnee Digger a detachable backhoe for tractors.
The company had patents for a quick hitch system in the UK and the USA - http://www.freepatentsonline.com/5141385.pdf The Steelfab Company also built Shawnee Poole Trailers Under licence from the Designs owner in the USA. A lot of these were coupled to Four-wheel drive County tractors.
(did Steelfab supply them complete or just build the trailers and the dealers / customer fit them together) ?
Model range
Edit
Preservation
Edit
A few examples of Steelfab excavators still in existence;
Owners Club
Edit
An owners group has been started by Julian, with over 50 members.[2]
Dear readers,
I am in the process of writing a book about the history of Steelfab (Cardiff) and would be most grateful for any information about the company or its products you may have. You can email me at juliancarder25@hotmail.com
Look forward to hearing from you
regards Julian Tel: 07989 589784
February 2009
I am trying to find the whereabouts of the Steelfab 170/180 posted by user:Wallabi60, can anyone help me?
References / sources
Edit
External links
Edit
Community content is available under
CC-BY-SA
unless otherwise noted.