A steam crane is a crane powered by a steam engine. It may be fixed or mobile and, if mobile, it may run on rail tracks, caterpillar tracks, road wheels, or be mounted on a barge. It usually has a vertical boiler placed at the back so that the weight of the boiler helps counterbalances the weight of the jib and load.
Railcranes
Main article:

railcranes
They were very common as railway breakdown cranes and several have been preserved on heritage railways in the United Kingdom. The last examples being built in the 1940's. The development of Hydraulics during the war lead to Hydaulicaly operated versions with greater capacity that were powered by diesel engines being developed. These modern cranes did not need a couple of hours to get up steam but could be started almost instantly. By the 1960s the railways in the UK had got rid of most of the Steam cranes in the fleet as modern diesl and electric trains needed larger capacity cranes to lift them in the case of an accident. Today mobile cranes are used driven by road to the site of most incidents rather than railcranes.
Steam Road locomotive cranes
From the mid 19th century Steam engine were built fitted with a crane jib and steam driven hoist for lifting heavy loads such as boilers and bridge beams. The early Heavy Haulage operators had examples in there fleets to assist with loading and then pull the load to the customers site and then unload and install it. These are commonly refered to as Crane engines.
A few examples survive and can be seen lifting logs for sawing and pulling heavy loads a shows such as the Great Dorset Steam Fair in England. In 2009 the Bedfordshire Steam and Country Fayre had a display of (nearly) all the surviving examples of this type of engine known in the UK, with 11 on display.
Manufacturers
See also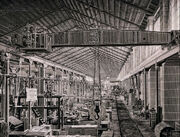 Crane (railroad)

Crane tank

Fairbairn steam crane
References
External links

| | |
| --- | --- |
| | This engineering article is a stub. You can help Tractor & Construction Plant Wiki by expanding it. |
| | |
| --- | --- |
| | This Steam related article is a stub. You can help Tractor & Construction Plant Wiki by expanding it. |