Jurassic World: Dominion Dominates Fandom Wikis - The Loop
Play Sound
The examples and perspective in this article deal primarily with USA and do not represent a worldwide view of the subject. Please improve this article and discuss the issue on the

talk page

. (March 2011)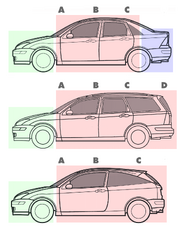 A station wagon or estate car is a body style variant of a sedan/saloon with its roof extended rearward[1] over a shared passenger/cargo volume with access at the back via a third or fifth door (the liftgate or tailgate), instead of a trunk lid. The body style transforms a standard three-box design into a two-box design — to include an A, B & C-pillar, as well as a D pillar. Station wagons feature flexibility to allow configurations that either favor passenger or cargo volume, e.g., fold-down rear seats.
The American Heritage Dictionary defines a station wagon as "an automobile with one or more rows of folding or removable seats behind the driver and no luggage compartment but an area behind the seats into which suitcases, parcels, etc., can be loaded through a tailgate." The dictionary also calls the term an "Americanism." [2]
When a model range includes multiple body styles such as sedan, hatchback and station wagon, the models typically share their platform, drivetrain and bodywork forward of the A-pillar. In 1969, Popular Mechanics said "station wagon-style follows that of the production sedan of which it is a counterpart, most are on the same wheelbase, offer the same transmission and engine options, and the same comfort and convenience options."[3]
Station wagons have evolved from their early use as specialized vehicles to carry people and luggage to and from a train station, and have experienced worldwide marketing.
Nomenclature
'Station wagon' or 'wagon' are the common nomenclature in United States, Australian, Canadian and New Zealand English, while estate car or simply estate is common in British English. An archaic term for station wagon is the Australian station sedan.[4]
Early U.S. models often had exposed wooden bodies (and were thus known as woodies).[5] Station Wagons had historically been called shooting-brakes, a British term. A few models are referred to as a break, using the French term (which is sometimes given in full as break de chasse — literally "hunting break").
Specific manufacturers, including Audi, BMW, and Citroën have marketed the body style as "Avant", "Touring", or "Break". Other manufacturers use the marketing term "Combi" or "Kombi."
Volkswagen's proprietary name for a station wagon is Variant, Opel sometimes uses the word Caravan (the current models are called Sports Tourer), BMW uses Touring, Wartburg used Tourist. Fiat often uses the term Weekend, Alfa Romeo uses Sportwagon and Mazda uses Estate. Some British makes under BMC used Traveller or Countryman for the type. Peugeot and Land Rover have sometimes used "station wagon" even in markets which use British English.
Distinction from hatchbacks
Both station wagons and hatchbacks typically share a two-box design configuration, with one shared, flexible, interior volume for passengers and cargo[6][7] — and a rear door for cargo access.[8] [9] Further distinctions are highly variable:
Pillars: Both configurations typically feature A, B & C-pillars, station wagons feature a D-pillar and hatchbacks may feature a D pillar.
Cargo Volume: Station wagons prioritize passenger and cargo volume — with windows aside the cargo volume. Of the two body styles, a station wagon roof (viewed in profile) more likely extends to the very rearmost of the vehicle, enclosing a full-height cargo volume[7] — a hatchback roof (especially a liftback roof) might more likely rake down steeply behind the C-Pillar, prioritizing style[1] over interior volume, with shorter rear overhang and with smaller windows (or no windows) aside the cargo volume.
Cargo floor contour: Favoring cargo capacity, a station wagon may prioritize a fold-flat floor, where a hatchback would more likely allow a cargo floor with pronounced contour (e.g. the new Mini or the sixth generation Ford Fiesta).
Seating: Station wagons may have two or three rows of seats (e.g., the Ford Taurus wagons) while hatchbacks may only have one or two[6] (e.g., the MGB-GT).
Rear suspension: A station wagon may include reconfigured rear suspension for additional load capacity [1] and to minimize intrusion in the cargo volume, (e.g., worldwide versions of the first generation Ford Focus).
Rear Door: Hatchbacks typically feature a top-hinged liftgate for cargo access, with variations ranging from a two-part liftgate/tailgates (e.g., the 1958 A40 Countryman) to a complex tailgate that can function either as a full tailgate or as a trunk lid (e.g., the 2008 Škoda Superb's TwinDoor). Station wagons have also enjoyed numerous tailgate configurations. Hatchbacks may be called Liftbacks when the opening area is very sloped and the door is lifted up to open.[6]
Automotive journalist Dan Neil, in a 2002 New York Times report described verticality of the rear cargo door as the prime distinction between a hatchback and a station wagon: "Where you break the roofline, at what angle, defines the spirit of the vehicle", he said. "You could have a 90-degree break in the back and have a station wagon."[10]
A model range may include multiple configurations, as with the 2005–2007 Ford Focus which offered sedan (ZX4), wagon (ZXW) and three and five-door hatchback (ZX3 and ZX5) models.
History
The first station wagons were a product of the age of train travel. They were originally called "depot hacks" because they worked around train depots as hacks (short for hackney carriage, an old name for taxis). They also came to be known as "carryalls" and "suburbans".
Prior to mid-1930s, manufacturers assembled the framing of passenger compartments of passenger vehicles in hardwood. In automobiles, the framing was sheathed in steel and coated with colored lacquer for protection. Eventually, all-steel bodies were adopted because for their strength, cost and durability.[11]
Early station wagons evolved from trucks and were viewed as commercials (along with vans and pickup trucks), not consumer automobiles — with the framing of the early station wagons left unsheathed because of the commercial nature of the vehicles. Early station wagons were fixed roof vehicles, but lacked the glass that would enclose the passenger compartment, and had only bench seats.[12] In lieu of glass, side curtains of canvas could be unrolled. More rigid curtains could be snapped in place to protect passengers from the elements outside.
In 1922 Essex introduced the first affordable enclosed automobile (sedan), which shifted the auto industry away from open vehicles towards meeting consumer demand for enclosed automobiles. Station wagons too, began to be enclosed, especially in higher price categories from upmarket automobile companies. Windows in these early enclosed models were either retractable or sliding. It was only in 1924 the first closed wagon appeared.
Initially, manufacture of the wagon's passenger compartments was outsourced to custom body builders because of the slower nature of the production of the all-wood bodies. Companies that were major producers of wood-bodied station wagons included Mitchell Bentley, Hercules, USB&F and Cantrell and other custom builders. The roofs of "woodie" wagons were usually made of stretched canvas that was treated with a water proofing dressing.
As time went by the car companies themselves began building their own station wagons. Star (a division of Durant Motors) is usually credited as being the first car company to offer a factory-built station wagon, beginning in 1923, yet in 1919, Stoughton Wagon Company (Stoughton, Wisconsin) began putting custom wagon bodies on Model T chassis;[12] by 1929 Ford was by far the biggest seller of station wagons. Since Ford owned its own hardwood forest and mills, it began supplying the components for a Model A wagon (although initially some final assembly would still take place away from the factory, by Briggs, in Detroit), with wood from the Mengel Company (Louisville).[12] The same year, J. T. Cantrell put woodie bodies on Chrysler vehicles (persisting until 1931).[12]
While commercial in its origins, by the mid-1930s, wood bodied station wagons, also known as "Woodies", began to take on a prestige aura. The vehicles were priced higher than regular cars, but were popular in affluent communities. By 1941, the Chrysler Town and Country was the most expensive car in the company's lineup.
Woodie wagons required constant maintenance; bodies were finished in varnishes that required recoating, bolts and screws required tightening as wood expanded and contracted through the seasons. In 1935, General Motors introduced a steel-bodied eight-seat Suburban wagon.[12]
Woodies enjoyed a renewed popularity with members of the surfing culture in the 1950s and 1960s. To this day there are several collectors' organizations in the United States.
All-steel wagons
Following World War II, automobile production resumed using prewar tooling. Advances in production techniques made all-steel station wagons practical when automobile manufacturers created new designs — eliminating the cost, noise and maintenance issues associated with wood.[13]
The first factory-built all-steel station wagon in North America was the 1946 Jeep Station Wagon, based on the Jeep produced by Willys-Overland during the war.[14][15] Willys offered a trim level evoking earlier wood bodywork, rendered instead in paint and trim work. In 1935, Chevrolet introduced the Chevy Suburban, with an all-steel station wagon body on a commercial chassis. In 1947, Crosley introduced an all-steel, car-based wagon.
In 1949, Plymouth introduced the first all-steel station wagon, the two-door Suburban, based on an automobile platform. In 1950 Plymouth discontinued the woodie station wagon, convertingd to all steel bodywork and to avoid conflict with the Chevrolet Suburban. After 1953, Buick discontinued production of the last North American wood bodywork. Morris of England continued to market its Morris Minor Traveller until the late 1960s.
As wood bodywork became less common, Ford introduced the Country Squire with simulated woodgrain paneling.[16] By 1955, only Ford and Mercury offered a woodie model,[17] accomplishing the simulation of wood with other materials, e.g., steel, plastics and DiNoc (a vinyl product).
Ford included the Country Squire trim level in a number of different model ranges up to 1991, and other manufacturers marketed wagons and minivans with simulated wood during the mid-1960s through the 1980s. Simulated wood appliqués became less common in the 1980s. With the introduction of the retro-styled Chrysler PT Cruiser wagon-like model, aftermarket firms began selling simulated woodgrain kits.
Station wagons experienced highest production levels in the United States during from the 1950s through the 1970s. The late 1950s through the mid-1960s was also the period of greatest variation in body styles, with pillared two and four-door models marketed alongside hardtop (no B-pillar) four door models (e.g., American Motors' Rambler Cross-Country wagons).[18] Rambler offered a four-door of this body style in 1956, followed by Mercury, Oldsmobile, and Buick in 1957; Chrysler entered the market in 1960. The pillarless designs could be expensive to produce, added wind noise, and created structural issues with body torque.[19] GM eliminated the hardtop wagon from its lineup in 1959, and AMC and Ford exited the field beginning with their 1960 and 1961 vehicles, leaving Chrysler and Dodge with the body style through the 1964 model year.
Full-size wagons
Traditionally, full-sized American station wagons were configured for 6 or 9 passengers. The basic arrangement for seating six was three passengers in the front and three passengers in the rear, all on bench-type seats; to accommodate nine, a third bench seat was installed in the rear cargo area, over the rear axle. Through 1956, all wagons had the third row facing forward, Chrysler's 1957 models had a roof too low to permit a forward-facing seat installed over the axle, so it was turned around and placed behind the axle. GM wagons would adopt the rear-facing third row with 1959 models, until 1971, then back in 1977.
In full-size Ford and Mercury wagons built after 1964, the configuration was two seats facing each other, placed behind the rear axle. According to Ford, each seat would accommodate two people, raising the total seating capacity to ten passengers; however, these seats were quite narrow in later models and could only accommodate one passenger, limiting the total capacity to eight passengers.
The 1964–72 Oldsmobile Vista Cruiser and 1964–69 Buick Sport Wagon featured raised rooflines beginning above the second-row seat and continuing all the way to the rear tailgate. Above the second seat were plexiglas skylights in which passengers could view the outside from overhead. On the three-seat models of these wagons, the third seat faced forward as did the first and second seats. Later, the 71-76 full-size "clamshell" wagons used a similar raised roof to provide adequate headroom for a forward-facing third row, but without the skylights.
Newer models are usually built on smaller platforms and accommodate five or six passengers (depending on whether bucket or bench seats are fitted in front). Full-size SUVs such as the Chevrolet Suburban and Ford Expedition have similar features to the aforementioned full-size station wagons; such as 9-passenger seating with bench seating in the front.
Two-door wagons
In 1951, the compact 100-inch (2,540 mm) wheelbase Nash Rambler line included a two-door station wagon design whose production continued through 1955. After the merger of Nash and Hudson, the new company, American Motors (AMC) reintroduced the two-door wagon in the "new" Rambler American line in 1959 with only a few modifications from the original version. This was a car targeting buyers looking for economy and load space, as well as a strategy of reintroducing an old design; a business decision that has not been successfully duplicated to this day.
The 1955–1957 Chevrolet Nomad, and sibling Pontiac Safari two-door station wagons were sold in small numbers but are sought after and prized by collectors. Mercury produced a unique two-door hardtop station wagon from 1957 to 1960, the Commuter. Chevrolet produced the 1964–1965 Chevelle 300 series two-door station wagons of which less than 5,000 were sold. They are among of the rarest of Chevrolet wagons produced.
In 1961 Volkswagen introduced the Type 3 (also known in various markets as the Variant and the Volkswagen 1500 (later the Volkswagen 1600)), available as a two-door sedan and as a two-door station wagon, which was commonly called the Squareback. VW's then-typical rear-engine layout was retained for the Type 3, but the engine profile was flattened, resulting in a small car with copious interior and trunk space. The model was offered through the 1973 model year.
The 1970s were a high point for two-door wagons in the U.S. as GM, Ford, and AMC fielded examples in their subcompact car lines. The Chevrolet Vega Kammback introduced in September 1970, was the first US-made four-passenger wagon, and the first two-door wagon from GM in six years. It shares its wheelbase and length with Vega coupe versions and was produced in the 1971–1977 model years. The Pontiac Astre Safari wagon is a Pontiac rebadged Vega that was introduced in the U.S for the 1975 model year. It offered a step up in luxury from the Vega with the SJ package. The Chevrolet Monza and Pontiac Sunbird Safari wagons replaced the Vega and Astre respectively. Retaining the Vega wagon body, they were produced for the 1978 and 1979 models years with Pontiac and Buick engines.
Ford Pinto and Mercury Bobcat 2-door wagons were produced between 1972–1980. American Motors also entered the market with a wagon version of the AMC Pacer, produced between 1977 and 1980. The last two-door wagon available in America, the Volkswagen Fox, was discontinued in 1990.
In the United Kingdom, estate car versions of small and middle sized models were more common. The estate ("Traveller") versions of the Morris 1000 ("Minor") and Mini, with external ash wood frames (structural on the 1000); had two vertically divided van-type rear doors in the style of older shooting-brakes (see "station wagons around the world", below). The Hillman Husky estate version of the Hillman Imp was unusual in being a rear-engined estate. …Other two-door station wagons in Europe included the Ford Escort, Morris 1100, Vauxhall Viva, Vauxhall Chevette, Fiat 127, and Saab 95.
Declining popularity in North America
This section may contain

original research

. Please improve it by

verifying

the claims made and adding

references

. Statements consisting of original research are allowed on Tractor Wiki, but the validity of entries on this page are being challenged !! More details of any issues with this article may be available on the

talk page

.
Note:- wikipedia does not allow OR so this template may be present in articles copied from wikipedia and should be removed if nolonger required following review of the content. (April 2008)
Since the 1970s, sales of station wagons in the United States and Canada dropped for several reasons.
The 1973 oil crisis was a turning point against the "traditional classic American station wagon — with its acres of fake woodgrain siding, sticky vinyl bench seats and lazy-revving V-8 engine", which have been described as "wallowing land arks".[20]
In 1984 the Chrysler Corporation introduced the first minivans derived from the K platform. While the K platform was also used for the Plymouth Reliant and Dodge Aries station wagon models, the minivan would soon eclipse them in popularity. Since minivans and SUVs are classified as light trucks under US CAFE standards, manufacturers had a strong incentive to market those vehicles over station wagons, which are classified as cars. Station wagons have remained popular in Europe[21] and other locations whose emissions and efficiency regulations don't distinguish between cars and light trucks [22]
The emergence and popularity of sport utility vehicles which closely approximate the traditional wagon bodystyle was a further blow. After struggling sales, the Chevrolet Caprice and the Buick Roadmaster, the last American full size wagons, were discontinued in 1996. The Dodge Magnum was marketed during the 2005-2008 model years.
Since then, smaller wagons have been sold in the U.S. as less expensive alternatives to SUVs and minivans. Domestic wagons also remained in the Ford, Mercury, and Saturn lines until 2004 when the bodies began a phase-out, replaced by car-based crossover SUVs and minivans designed to look like station wagons.
The last subcompact station wagon produced in the United States and Canada was the 1992 Toyota Corolla. Compact station wagons have been declining since the 2000s. Ford dropped the Ford Focus wagon for 2008, and Subaru replaced the Impreza wagon with a 5-door crossover SUV model. Volvo recently announced that they will withdraw there compact station wagon, the v50, from the U.S market by 2012 due to poor sales figures, however, In Europe the V50 remains popular.[1]
Raised wagon-type vehicles marketed as crossovers continue to be popular in North America, such as the Toyota Matrix/Pontiac Vibe which was introduced in 2003.
European luxury carmakers such as Audi, BMW, and Mercedes-Benz still offered wagons in their North American lineup, using the labels "Avant", "Touring", and "Estate" instead of wagon. However, these wagons had fewer trim and powertrain levels than their sedan counterparts,[20] for instance the wagon styles of high-performance trims such as the BMW M5, Audi RS6, Mecedes-Benz E63 AMG were never imported to North America. The Mercedes-Benz W204 C-Class wagon was not offered in the United States and Canada unlike the previous generation. The E61 BMW 5 Series Touring is expected to be dropped from BMW's North American lineup, due to slow sales in the United States with only 400 wagons sold in 2009.[23] Due to the popularity of SUVs in North America, these European manufacturers have been supplanting their wagons with car-based crossovers such as the BMW Sports Activity Series, the Audi Q5, and Mercedes-Benz M-Class, these offer a wider range of options and engines than their wagons.
However, the Cadillac CTS gave rise to its wagon counterpart, the 2010 CTS Sportwagon. Unlike European luxury wagons sold in North America, the CTS Sportwagon has almost as many trim levels as its sedan counterpart.[20]
Although Wagons have declined in North America, they offer several advantages. Wagons offer cargo space without compromising driving dynamics or radically increasing weight. The high fuel prices in Europe and Japan have led to nearly half of all production vehicles being wagons, and a similar result is expected for the United States. This trend is already being seen with an increase in wagons being sold in the United States. Cadillac's 2009 CTS Sport Wagon, Acura's 2011 TSX Sport Wagon, and Lexus' CT200h Hybrid wagon are all examples of this increased proliferation.[24]
Station wagons around the world
European manufacturers often built two-door station wagons in the post-war period for the compact class, and not four-door models, a practice that continued at Ford (amongst others) with its Escort Mark III, for example, well into the 1980s. Usually, by that time, manufacturers created four-door models. In Europe, Australia and New Zealand, these vehicles remain popular and in volume production, although minivans (known in Europe as MPVs — multi-purpose vehicles) and the like have had some impact. As in North America, early station wagons were aftermarket conversions and had their new bodywork built with a wooden frame, sometimes with wooden panels, sometimes steel. Station wagons were the originators of fold down seats to accommodate passengers or cargo
In the United Kingdom, station wagons are generally called estate cars or usually just estates. A very specific type, though very rare, is known as a shooting-brake. These are usually modified luxury coupés with an estate car-like back fitted. They generally retain two side doors. The purpose of them, historically, is obvious from the name; they were vehicles for the well-off shooter and hunter, giving space to carry shotguns and other equipment. They have rarely been made by the factory and are generally aftermarket conversions; some are still made. Until the early 1960s many of them were built with structural wooden rear frames, making them some of the most exclusive and luxurious "woodies" ever built. A smaller Estate car was the very popular Morris Minor Traveller Estate which copied the wooden side panel frames of larger designs. Most small cars produced in the UK from the 1950s until the 1980s had Estate versions, some of which were also sold as small delivery vans minus the rear windows (this was popular option at one time tue to less tax on the van version, which owners then fitter windows and a rear seat into them selves).
In the 1950s, the British companies Rover and Austin produced 4x4 vehicles (the Land Rover and the Gipsy respectively). Apart from the standard canvas-topped utility vehicles, both these 4x4s were available in estate car bodystyles that were sold as "Station Wagons". These bodystyles incorporated more comfortable seating and trim when compared with the standard editions (which were typically aimed at agricultural and military buyers) and together with options such as heaters these changes made the Station Wagon vehicles more attractive to private buyers. The name was alien in the UK, but was probably chosen because of the high number of these vehicles that went to export markets such as Africa and Australia, where the name was understood. Early advertising for the Land Rover version took the name literally, showing the vehicle collecting people and goods from a railway station. Land Rover still calls the passenger-carrying variations of its Defender model 'Station Wagons'.
In France almost all station wagon models are called the Break (note the different spelling from the English shooting brake). French breaks from Peugeot and Citroën in particular were available in seven- or eight-seater "family" versions long before MPVs became known in Europe.
The German Volkswagen Polo crossed type divisions by offering a two-door station wagon shape (not named as a wagon) as the standard, main model in its range in some markets in the 1980s — despite the existence of two-door sedan and hatchback ("coupé") variants.
Japanese manufacturers did not value station wagons highly until very recently. For many years, models sold as well-appointed station wagons in export markets were sold as utilitarian "van" models in the home market. This explains why station wagons were not updated for consecutive generations in a model's life in Japan: for instance, while a sedan might have a model life of four years, the wagon was expected to serve eight — the 1979 Toyota Corolla (built until 1987), and the 1987 Mazda Capella (built until 1996) are examples of this. The Nissan Avenir is an example of a model that began its life as a utility vehicle, and became a well equipped passenger car in the 1990s.Toyota no longer offers a wagon version of the Camry.
In Australia and New Zealand, the most popular station wagons are the large Ford Falcon and Holden Commodore models. These are usually built on a longer wheelbase compared to their sedan counterparts, though they share the same door skins, leading to a slightly unusual appearance with the rear door not reaching all the way to the rear wheel arch. Mitsubishi's Australian subsidiary designed wagon versions of its Magna and Verada for the local market, although it no longer offers a large wagon. Smaller wagons have declined in popularity, in comparison with Europe, although they have traditionally been more popular in New Zealand than in Australia. For example, the Ford Telstar was offered as a wagon in New Zealand, but not Australia, even though the mechanically identical Mazda 626 was sold in both countries.
Tailgate evolution
Many modern station wagons have an upward-swinging, full-width, full-height rear door supported on gas struts — often where the rear window can swing up independently. Historically, wagons have employed numerous designs:
Split gate: The earliest common style was an upward-swinging window combined with a downward swinging tailgate. Both were manually operated. This configuration generally prevailed from the earliest origins of the wagon bodystyle in the 1920s through the 1940s. It remained in use through 1960 on several models offered by Ford.
Retractable window: In the early 1950s, tailgates with hand-cranked roll-down rear windows began to appear. This was another innovation first seen on

Rambler

wagons.[18] Later in the decade, electric power was applied to the tailgate window – it could be operated from the driver's seat, as well as by the keyhole in the rear door. By the early 1960s, this arrangement was common on both full-size and compact wagons.
Side hinge: A side hinged tailgate that opened like a door was offered on three-seat wagons by American Motors to make it easier for the back row passengers to enter and exit their rear-facing seats. This was later supplanted by the dual-hinged tailgate.
Retractable roof: The Studebaker

Wagonaire

station wagon had a unique retractable rear roof section as well as a conventional rear tailgate which folded down. This allowed it to carry tall objects that would not fit otherwise. Water leaks,

body flex

and noise prevented the innovation from being adopted by other manufacturers. The concept was reintroduced in 2003 on GMC's mid-size Envoy XUV SUV.
Dual and tri-operating gates: Ford's full-size wagons for 1966 introduced a system marketed as "Magic Doorgate" — a conventional tailgate with retracting rear glass, where the tailgate could either fold down or pivot open on a side hinge — with the rear window retracted in either case. Competitors marketed their versions as a Drop and Swing or Dual Action Tailgate.[3] For 1969, Ford incorporated a design that allowing the rear glass to remain up or down when the door pivoted open on its side hinge — marketing the system, which had been engineered by

Donald N. Frey

[26] ) as the "Three-Way Magic Doorgate". Similar configurations became the standard on full-size and intermediate wagons from GM, Ford, and Chrysler. GM added a notch in the rear bumper that acted as a step plate; to fill the gap, a small portion of bumper was attached to the doorgate. When opened as a swinging door, this part of the bumper moved away, allowing the depression in the bumper to provide a "step" to ease entry; when the gate was opened by being lowered or raised to a closed position, the chrome section remained in place making the bumper "whole".
Clamshell: Full-size GM 1971-1976 wagons (Buick, Chevrolet, Oldsmobile, and Pontiac) featured a 'Clamshell' design where the rear power-operated glass slid up into the roof as the tailgate (manually or with power assist), dropped below the load floor. The power tailgate, the first in station wagon history, ultimately supplanted the manual tailgate, which required marked effort to lift from storage. Manual tailgate sales tapered off after the 1972 model year, and the Clamshell system — heavy and complex — remained un-adopted by any other manufacturer. Subsequently, GM reverted to the doorgate style for its full-size wagons.
Liftgate: As the 1970s progressed, the need for lighter weight to meet fuel economy standards led to a simplified, one-piece

liftgate

on several models, particularly smaller wagons, such as is commonly seen on SUVs today. The last generation of GM's full-size wagons returned to the upward-lifting rear window as had been used in the 1940s.
Swing-up window: In recent years, the

Citroën C5

wagon features an upward-lifting full-height full-width rear door, where the window on the rear door can be opened independently from the rear door itself. The window is also opened upwards and is held on gas struts. The

Renault Laguna

II estate chassis has a similar arrangement.
Fold-up license plate: Wagons including the

Volvo Amazon

wagon, early models of the Range-Rover and others had an upward folding hinged plate attached to the lower tailgate of the split rear door. When the tailgate was folded down, the plate hung down and remained readable.
See also
References
↑ 1.0 1.1 1.2 Hillier, Victor (2004). Hillier's Fundamentals of Motor Vehicle Technology. Nelson Thornes, 11. ISBN 9780748780822. Retrieved on

23 November 2010

. "Estate The estate body, also known as station wagons in some countries, has the roofline extended to the rear of the body to enlarge its internal capacity. Folding the rear seats down gives a large floor area for the carriage of luggage or goods. Stronger suspension springs are fitted at the rear to support the extra load. Hatchback: The hatchback is generally based on a saloon body but with the boot or trunk area blended into the centre section of the body. The hatchback is therefore halfway between a saloon and estate car. This type of body is very popular due to its versatility and style. Although some hatchbacks are in fact saloon bodies with the boot or trunk effectively removed (usually the smaller cars), many hatchbacks retain the full length of the saloon but the roofline extends down to the rear of the vehicle. As with the saloon bodies, a hatchback can have two or four passenger doors, however there is a tendency to refer to hatchbacks as three or five doors because the rear compartment lid (or tailgate) is also referred to as a door on the hatchback bodies. As with the estate, the rear seats fold down to give a flat floor for the transportation of luggage or other objects. When the tailgate is closed, the luggage compartment is usually covered with a parcel shelf."

 

↑ "Definition: Station Wagon". American Heritage Dictionary.
↑ 3.0 3.1 Hartford, Bill (February 1969), "Sizing up the 1969 Station Wagons", Popular Mechanics: 106, http://books.google.com/?id=I9gDAAAAMBAJ&pg=PA104&dq=%22station+wagon%22+%22body+style%22

. Retrieved on

.

 

↑ Auto Editors of Consumer Guide (11 September 2007). "1948-1950 Packard Eight Station Sedan". auto.howstuffworks.com. Retrieved on

23 November 2010

.
↑ Street Rodder, 7/94, p.90 caption.
↑ 6.0 6.1 6.2 Jazar, G. Nakhaie (2008). Vehicle Dynamics: Theory and Application. Springer-Verlag, 30, 1.8.3 Passenger Car Body Styles. ISBN 9780387742434. Retrieved on

23 November 2010

. "Hatchback: Hatchback cars are identified by a rear door including the back window, that opens to access a storage area that is not separated from the rest of the passenger compartment. A hatchback may have two or four doors and two or four seats. They are also called three-door or five door cars. A hatchback car is called a liftback when the opening area is very sloped and is lifted up to open. Station Wagon: A station wagon or wagon is a car with a full-height body all the way to the rear; the load carrying space created is accessed via a rear door or doors."

 

↑ 7.0 7.1 Erjavec, Jack (2004). Automotive Technology: a Systems Approach Chapter 4,. Cengage Learning, 55, Body Styles. ISBN 9781401848316. Retrieved on

23 November 2010

. "Liftback or Hatchback: The distinguishing feature of this vehicle is its luggage compartment, which is an extension of the passenger compartment. Access to the luggage compartment is gained through an upward opening hatch-type door. A car of this design can be a three or five door model, the third or fifth door is the rear hatch. Station Wagon: A station wagon is characterized by its roof which extends straight back, allowing a spacious interior luggage compartment in the rear. The rear door, which can be opened numerous ways depending on the model, provides access to the luggage compartment. Station wagons come in two and four-door models and have space for up to nine passengers."

 

↑ "Car Design Glossary - Part 2: One-Box (Monospace or Monovolume)". Car Design News. Retrieved on

23 November 2010

. "A three or five-door hatchback (no separate trunk compartment) is a 'two-box' car."
↑ Mike Mueller (2003). American Cars of the '50s. Crestline Imprints. ISBN 0760317127.

 

↑ Neil, Dan (28 April 2002). "The Hatchback Is Back (but Nobody Uses the H-Word)". Retrieved on

23 November 2010

.

 

↑ Coincidentally, this benefited

furniture

makers, who previously had been outbid for the best wood. Georgano, G. N. Cars: Early and Vintage, 1886–1930. (London: Grange-Universal, 1985)
↑ 12.0 12.1 12.2 12.3 12.4 Georgano, G. N. Cars: Early and Vintage, 1886–1930. (London: Grange-Universal, 1985)
↑ Vance, Bill (24 March 2001). "Motoring Memories: The history of the station wagon". Canadian Driver. Retrieved on

23 November 2010

.
↑ Cawthon, Bill (15 May 2002). "Jeep: From Station Wagon to Superstar". Retrieved on

23 November 2010

.
↑ Editors of Publications International (13 December 2007). "1945–1952 Jeep: Willys Postwar Jeep". auto.howstuffworks.com. Retrieved on

23 November 2010

.
↑ Auto Editors of Consumer Guide (9 October 2007). "1950-1959 Ford Country Squire". howstuffworks com. Retrieved on

6 August 2010

.
↑ "1955 Ford Country Squire Station Wagon". National Museum of American History. Retrieved on

6 August 2010

.
↑ 18.0 18.1 Collector Car Market Review (1999). "Postwar Station Wagons: Mom's Car Makes a Comeback". VMR International. Retrieved on

23 November 2010

.
↑ Schuon, Marshall (21 June 1992). "About Cars; Chewing Over the Art Of Automotive Design". Retrieved on

6 August 2010

.

 

↑ 20.0 20.1 20.2 Lorio, Joe (

2009-11-29

). "The Wagon of Cadillacs", The New York Times. Retrieved on

2010-05-24

.

 

↑ Heaps, Russ (

2003-11-07

). "Europe's station wagons flourish - The Washington Times". Highbeam.com. Retrieved on

2009-12-12

.
↑ An, Feng (December 2004). "Comparison of passenger vehicle economy and greenhouse gas emission standards around the world". Pew Center on Global Climate Change. Retrieved on

2010-08-07

.
↑ "BMW Might Kill 5 Series Wagon in Favor of GT Crossover". Edmunds.com (

2009-07-08

). Retrieved on

2009-09-27

.
↑

www.velocityresource.com

↑ "MG ZT-T: Fastest Wagon in the World". Autoweb.com.au (

2003-09-10

). Retrieved on

2010-08-07

.
↑ "The Thinker (Detroit Style)" (April 21, 1967). Retrieved on

2007-07-27

.

 
(1987) The Standard Catalog of American Cars 1946-1975. Krause Publications. ISBN 9780873410960.

 

Kimes, Beverly R. (1996). The Standard Catalog of American Cars 1805-1945. Krause Publications. ISBN 9780873414289.

 

Narus, Donald J. (1977). The Great American Woodies and Wagons. Crestline Publications. ISBN 9780912612133.

 

Brown, Arch (April 1997), "Natural History: The 'Woody' Station Wagon Story – Part I", Collectible Automobile 13(6): 26–41.

 
External links