This article is about the Spyker sports car marque founded in 1999. For details about the holding company, see
Swedish Automobile
. For details about the Spyker car and aircraft manufacturer in operation from 1880 to 1929, see
Spyker
.
Spyker Cars is a Dutch sports car marque.[13] The modern Spyker Cars only has the legal right to the brand name.[14] The company's motto is "Nulla tenaci invia est via", which is Latin for "For the tenacious, no road is impassable".[15] The marque's logo displays the piston engine of an airplane, a reference to the historic Spyker company which manufactured aircraft.[16] To save Spyker from bankruptcy, Swedish Automobile sold Spyker to American private equity and hedge fund North Street Capital, LP for €32 million.[17]
History
The reborn company was founded by Victor Muller and Maarten de Bruijn in 1999, and since 2000 Spyker has been building exclusive sports cars like the C8 Spyder and the C8 Laviolette (with its elegant glass roof). Spyker's history of producing aero engines is reflected in details in these new cars as well as in the logo.
The C8 Laviolette and C8 Spyder have a 4172 cc Audi V8 engine delivering 400 bhp (298 kW), acceleration 0–60 mph in 4.5 seconds and a top speed of 300 km/h (190 mph). On July 14, 2005, it was announced that the C8 was approved for sale on the United States market.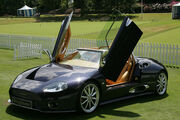 From 2002 until 2006 Spyker built the C8 Double 12 S, they were available from factory with 5 different levels of performance called "Stage I (400 h.p.), until "Stage V (620 h.p.)", depending the customers need for performance.
From 2003 until 2007 Spyker built the C8 Spyder T, with the Twin turbo developed in conjunction with Cosworth from England. These engines were capable of 525 h.p. and acceleration times of 4.0 seconds.
In 2005 the head designer and founder, Maarten de Bruijn, left the company.
In 2006 Spyker built the C12 La Turbie with an V12 engine capable of 500 horsepower and acceleration 0–60 mph in less than 4 seconds.
In September 2006, Spyker bought out the Midland F1 team. The team competed in the final 3 races of the 2006 season as Spyker MF1. In the 2007, the team competed as Spyker F1 using engines supplied by Ferrari. Driver Adrian Sutil was paired with Christijan Albers until the European Grand Prix where the latter was replaced by reserve driver Markus Winkelhock, the team then signed Sakon Yamamoto to fill in the slot for the rest of the year. The team itself had minimal success, suffering from multiple retirements (including double retirements in Malaysia, Canada and Brazil) before Sutil scored the teams first and only point in Japan. At the end of the season, the team was sold to a consortium named "Orange India" led by Vijay Mallya and was subsequently renamed as Force India.
In 2007 Spyker, in collaboration with Italian car-design firm Zagato, produced the C12 Zagato, based in the La Turbie, but with more appealing body work, and the Zagato trademark roof bubbles. This is perhaps the more exclusive Spyker car to date.
On May 27, 2004 Spyker Cars listed on the Euronext Amsterdam Stock Exchange at €15.50, falling to a low of €8.28 in April 2005. The stock rebounded sharply in early 2006 to over €22 per share. Early in 2007 the stock showed a sharp decline to levels beneath €13 because of financing issues. As a result, several stock issues were announced to big investors. Notably, all shares have been sold at higher prices than the market price at the moment of announcement.Ferrari.[18]
On November 13, 2005, Spyker Cars and Mubadala Development Company, a principal investment company wholly owned by the government of the United Arab Emirates, announced their strategic alliance with Mubadala, acquiring 17% of Spyker. Mubadala has a strong relationship with sports cars, also controlling 5% of
In November 2009 Spyker announced that it would be moving production from Zeewolde to Whitley, Coventry, where assembly would be done in partnership with CPP Manufacturing.[19][20] UK production began in February 2010.[21]
North Street Capital, LP
In September 2011 it was announced that Swedish Automobile would sell Spyker Cars, in a all cash offer to an American private equity and hedge fund North Street Capital, LP, for €32 million.[22] Founded by Alex Mascioli in Greenwich, Connecticut.[23] [24]
Models
In 2009 - 2010 Spyker sold the C8 Laviolette LM85, which is a special edition car with orange paint, black wheels, and many "ready-for-track" enhancements.[25] The interior is black with orange piping, and the customers of this car were permitted to stay with the Spyker crew in any of the 2009 LeMans races.[26]
In 2009 the Spyker C8 Aileron debuted at auto shows with the same power output as the C8 Spyder and C8 Laviolette, but with more modern technology, and manufactured in a more modern way.[27]
Current models
Spyker currently has two production ready cars they are (as of 2012 model year):[28] [29]
Spyker C8 Aileron

2009 - present

Spyker C8 Aileron Spyder

2010 - present
Spyker C8
Spyker's C8 is their only real production car, and comes in many variants (past, current and concept models shown):[30]
C8 Spyder SWB (Wide Body)
C8 Spyder T
C8 Laviolette
C8 Laviolette LM85
C8 Double 12S
C8 Double 12R
C8 Spyder GT2-R
C8 Laviolette GT2-R
C8 Aileron
C8 Aileron Spyder
Spyker D12/D8
In 2006 the Spyker D12 Peking-to-Paris high-performance SUV, was announced at the Geneva Motor Show.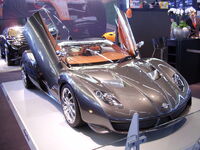 But the mass-production was delayed and the V12 engine from the concept car has been changed to a supercharged Cadillac V8 at around 550 BHP and its name was therefore changed to the D8.
Spyker hope that the assistance of Saab, which they now own, will help the D8 reach production.
Spyker C12
Spyker's most recent model, the C12 is a luxury sportscar, and has two variants:
Spyker C12 La Turbie

2006

Spyker C12 Zagato

2007
Spyker E8/E12
Spyker shareholders and CEO, Victor Muller have hinted at a Maserati Quattroporte, Porsche Panamera rival with a eight-cylinder (the E8) or a twelve-cylinder (the E12) engine but due to problems getting the D8 into production, the idea was ignored until recently when Muller has said he "believes now could be the time to resurrect the saloon."
References
External links

Companies:

Spyker Cars

(1999-present) •

Spyker F1

(2006-2007) •

Cars (2000-present)

C8

•

C12 Zagato

•

C12 La Turbie

•

D8

•

D12

•

E8

•

E12
Companies:
Current models:

Saab 9-3

 

·

Saab 9-3X

 

·

Saab 9-5

 

·

Spyker C8

 

·

Spyker C12 Zagato

 

·

Spyker D8

 

·

Spyker D12

 

·

Spyker E12