South East (Fujian) Motor Co., Ltd.,[1] trading as Soueast, is a Chinese automobile manufacturing company, and a joint venture between Japanese Mitsubishi Motors, Chinese Fujian Motor Industry Group, and Taiwanese[2] China Motor Corporation.[1]
Located in Fuzhou, Fujian Province, China,[3] it builds Chrysler models,[4] minibuses,[5] and Chinese-market versions of Mitsubishi sedan and MPV models[6] for the Chinese market.
Its cars are license-built versions of Mitsubishi and Chrysler designs some of which bear the Mitsubishi brand.[1] While Mitsubishi-branded models are among it product line,[6] own-brand vehicles are as well.[7]
As of early 2011 per year production capacity stood at near 180,000, but this was set to rise to 300,000 with the completion of current construction,[8] which may have been finished by early 2012. Production capacity figures may count both whole vehicles and engines.
Created in 1995[9] as a joint venture between China Motor Corporation and Fujian Motor Industry Group[1] Mitsubishi only later joined in 2006.[1]
In 2008 the company sold a lot of minibuses to Iran.[10] That same year saw Jackie Chan sign on as a Mitsubishi brand ambassador for China markets.[11]
Ownership
Edit
As of 2009 Mitsubishi and China Motor Corporation each held one-fourth ownership the remainder being controlled by their local partner.[12]
Joint venture
Edit
Itself a joint venture, Soueast has part ownership of another, Fujian Daimler-Chrysler, which makes minivans (MPVs).[13] As of June 2010 Soueast, with half of the ownership, is the majority owner.[13] Daimler AG owns 33.78% and Taiwanese Zhonghua owns 16.22%.[13]
Production bases
Edit
Soueast has at least one production base in Qingkou city, Minhou County, Fuzhou, Fujian province.[9] This location has probably been expanded three times[8] with the second phase possibly completed c. 2009, as that year saw a 150% increase in units produced.[14] As of early 2011, total yearly production capacity for all sites was forecast to soon reach 300,000 with the completion of the base's third phase.[8] February 2012 production was 37% higher than that of the previous year,[15] which may reflect this additional capacity coming online.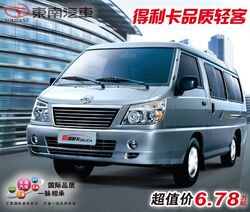 References
Edit
↑ 1.0 1.1 1.2 1.3 1.4 Mitsubishi Motors to invest in South East (Fujian) Motor Co., Ltd. of China Mitsubishi Official Site, April 12, 2006
↑ Affiliated Companies - China Motor Corporation Yulon Group Official Site
↑ Affiliated Companies - South East (Fujian) Motor Co., Ltd. Yulon Group Official Site
↑ Dodge Teaming Up with SouEast Motors chinacartimes.com, 05/31/2007
↑ Soueast Motor wins Iranian export deal chinadaily.com.cn, 2008-01-04]
↑ 6.0 6.1 Lagging far behind, Mitsubishi looks to new joint partnership chinadaily.com.cn, 2010-11-15
↑ Car owners share what fuels buying decisions chinadaily.com.cn, 2010-04-24
↑ 8.0 8.1 8.2 "CHINA'S SOUEST MOTORS TO BEGIN THIRD-PHASE PLANT AFTER FESTIVAL", Rhodes (Jan 25, 2011).

 

↑ 9.0 9.1 About Us - History South East Motor Official Site
↑ 1.6 Mitsubishi ASX flying into China soon chinacartimes.com, December 6, 2010
↑ Business in brief - Mar. 25 people.com.cn, March 25, 2008
↑ Activities by Region, Asia, 2009 Mitsubishi Official Site
↑ 13.0 13.1 13.2 BAIC planning to buy Fujian Daimler-Chrysler chinacartimes.com, 9 June 2010
↑ "Activities by Region: Asia, ASEAN and other regions". 2010. pp. 2 (18).

 

↑ "Mitsubishi Motors announces production, sales and export figures for February 2012", Mitsubishi Motors (March 29, 2012). Retrieved on June 28, 2012.

 
External links
Edit
Community content is available under
CC-BY-SA
unless otherwise noted.