Soueast

Simplified Chinese

东南(福建)汽车工业有限公司

Transcriptions

Mandarin

-

Hanyu Pinyin

Dōngnán (fújiàn) qìchē gōngyè yǒuxiàn gōngsī
South East (Fujian) Motor Co., Ltd.,[1] trading as Soueast, is a Chinese automobile manufacturing company, and a joint venture between Japanese Mitsubishi Motors, Chinese Fujian Motor Industry Group, and Taiwanese[2] China Motor Corporation.[1]
Located in Fuzhou, Fujian Province, China,[3] it builds Chrysler models,[4] minibuses,[5] and Chinese-market versions of Mitsubishi sedan and MPV models[6] for the Chinese market.
Its cars are license-built versions of Mitsubishi and Chrysler designs some of which bear the Mitsubishi brand.[1] While Mitsubishi-branded models are among it product line,[6] own-brand vehicles are as well.[7]
As of early 2011 per year production capacity stood at near 180,000, but this was set to rise to 300,000 with the completion of current construction,[8] which may have been finished by early 2012. Production capacity figures may count both whole vehicles and engines.
History
Created in 1995[9] as a joint venture between China Motor Corporation and Fujian Motor Industry Group[1] Mitsubishi only later joined in 2006.[1]
In 2008 the company sold a lot of minibuses to Iran.[10] That same year saw Jackie Chan sign on as a Mitsubishi brand ambassador for China markets.[11]
Ownership
As of 2009 Mitsubishi and China Motor Corporation each held one-fourth ownership the remainder being controlled by their local partner.[12]
Joint venture
Itself a joint venture, Soueast has part ownership of another, Fujian Daimler-Chrysler, which makes minivans (MPVs).[13] As of June 2010 Soueast, with half of the ownership, is the majority owner.[13] Daimler AG owns 33.78% and Taiwanese Zhonghua owns 16.22%.[13]
Production bases
Soueast has at least one production base in Qingkou city, Minhou County, Fuzhou, Fujian province.[9] This location has probably been expanded three times[8] with the second phase possibly completed c. 2009, as that year saw a 150% increase in units produced.[14] As of early 2011, total yearly production capacity for all sites was forecast to soon reach 300,000 with the completion of the base's third phase.[8] February 2012 production was 37% higher than that of the previous year,[15] which may reflect this additional capacity coming online.
Models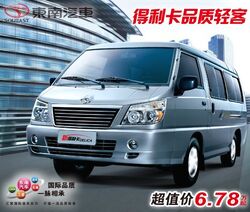 Mitsubishi Galant

Mitsubishi Jung Court

Mitsubishi Lancer

Soueast Delica minivan
Soueast Ling
Soueast Ling Yu

Soueast V3

Soueast V5
References
External links