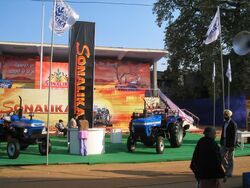 Sonalika International is a agricultural equipment, tractor, combine harvester and engine manufacturer based in New Delhi, India. Sonalika has manufactured and sold its products under the Sonalika, Sonalika International, Solis, Ceres and Renault Sonalika International.
Sonalika was founded in 1995 as International Tractors Limited, and is the flagship company of the Sonalika Group. They began manufacturing tractors designed by Central Mechanical Engineering Research Institute (CMERI). Renault bought a 20% interest in the company in 2000,[1] and began producing licensed Renault tractors under the Renault Sonalika International in a new joint venture. In Renault Sonalika International, Renault owned 60%, and Sonalika the remaining 40%. Renault was purchased by Claas in 2003, and sold 20% of its stake in Sonalika in 2005. Yanmar purchased 12% of the company that same year.[2][3] According to the Sonalika website, they are manufacturing Claas tractors in the 70-90 hp range.[4]
Ceres and Solis tractors were built based on Renault Ceres tractors, and exported to places like Europe and Australia.[5][6]
Sonalika has exported tractors throughout the world, including to Algeria, Australia, Bangladesh, Brazil, Canada, Croatia, Dubai, Ecuador, Ethiopia, France, Ghana, Kuwait, Libya, Madagascar, Malaysia, Morocco, Mozambique, Nigeria, Qatar, Russia, Saudi Arabia, Slovenia, South Africa, Senegal, Sri Lanka, Tanzania, Turkey, USA, Zambia, Zimbabwe, and other countries.[7]
In 2007, Sonalika announced interest in two smaller European tractor companies, looking to buy a majority interest, one being UTB Universal of Romania, and the other Forma, also of Romania.[8][9]
In 2009, co-branded Landini Solis tractors were launched in South Africa. In addition, an assembly plant was set up in Nigeria as a joint venture and the tractors marketed as TAK, and an agreement was signed for an assembly plant in Egypt.[10]
In 2010, Sonalika set up assembly line in Cameroon, which hastily assembled 750 tractors. With governmental problems, these tractors were abandoned as of 2011, and lay in various states of assembly and disrepair. Sonalika also started marketing a tractor built by VST Tillers in 2010.
In 2011, Sonalika began a joint venture with Apache of Argentina to produce tractors there under the Apache Solis brand. The early ones will only be assembled, but the goal is to have 60% domestic parts. Plans were also announced to set up assembly plants in Algeria and South Africa. Also in 2011, AHS Karinca began selling Sonalikas in Turkey, with plans to open a plant in Turkey to assemble tractors.
In 2012, an agreement was made with Montana Agriculture of Brazil to market Solis tractors under the Montana Solis brand. In addition, in 2012 the Blackstone Group purchased 12.5% of Sonalika, and assembly plants were opened in Brazil and Germany.
In 2014, the assembly plant in Turkey opened. The next year, 2015, an agreement to relaunch Belarus tractors in India was signed. They are to be manufactured in India by Sonalika, and Belarus (MTZ) will distribute Sonalika tractors through their dealer network outside of India. The same year, Sonalika tractors began to be assembled by Maxxibrasil Import and Export Ltda in Caxias do Sul, RS, Brazil, as Solis Brasil. In December 2015, Sonalika announced plans to introduce their tractors to the USA under the WorldTrac brand.
Related Companies
Edit
International Cars & Motors Ltd is another company within the Sonalika Group which has a technical agreement with MG Rover, of the UK. It manufactures the Rhino Rx multi-purpose vehicle (MUV), (same as SUV elsewhere).
Sonalika Agro Industries Corporation manufactures various agricultural equipment and combine harvesters.
Engines are manufactured under the Sonalika and ITL brands.

Built by Sonalika for other companies
Edit
References
Edit
External links
Edit
Early Makes - pre 1940s

1940s to 1980s

Modern post 1980s

Independents
North America

Europe

India & Pakistan

Middle East
(Turkey, Iran,
Iraq, Syria etc...)

Far East
(Australasia, China,
Japan, Korea, Thailand,
Vietnam etc...)

South America
(Argentina, Brazil,
Uruguay etc)

Africa

Asia
(Russia, Tajikstan,
Uzbekistan, Ukraine)

Specialist types of tractor

Notable People - associated with the tractor industry

Inventors
Community content is available under
CC-BY-SA
unless otherwise noted.