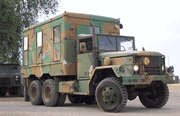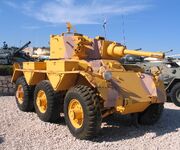 Six-wheel drive, 6WD or 6x6 is a drivetrain configuration of six wheels, all of which are driven simultaneously by the vehicle's engine. Unlike four-wheel drive drivetrains, the configuration is largely confined to off-road and military vehicles, particularly heavy-duty ones. Six-wheel drive vehicles may have two wheels at the front and four at the rear (with only the front pair steering), or three evenly spaced axles, where the front and middle pair may both steer (as in the Alvis Saladin). Drive may be limited to the rear two axles for on-road use.
T815, M35 2-1/2 ton cargo truck (aka "Deuce and a half") and the Pinzgauer High Mobility All-Terrain Vehicle are production examples of vehicles using this type of drive system.
The Alvis Stalwart is an amphibious 6x6 military truck built by Alvis that served with the British Army.
Six-wheeled conversions of four-wheel drive trucks are widely made. These may be six-wheel drive (such as the 6x6 version of the Australian Army's Perentie Land Rover Defender and the 6x6 Australia company's "Landcruiser Sherman"), but are commonly 6x4 (with only front and rear or front and middle axles driven), a technically simpler construction with stock components. Polaris Industries has produced a number of 6 wheel drive ATVs and UTVs for many years now, they are based on a standard Magnum, Sportsman or Ranger with an extra axle and a Cargo Box over the rear wheels. John Deere also produced a 6 wheel Gator model, but only the rear wheels have power. There are also a number of companies who produce 6x6 and 8x8 amphibious ATVs
Community content is available under
CC-BY-SA
unless otherwise noted.