Shaanxi Automobile Group
Type

Private

Founded
1968
Headquarters

Xi'an, Shaanxi, China

Jingwei industrial park,
Economic and Technological zone
Industry
Automotive
Products
trucks, buses
Employees
more than 13,000
Subsidiaries
Shaanxi Heavy Duty Automobile Co., Ltd.
Shaanxi Hande Axle Co., Ltd.
Xi'an Cummins Engine Co., Ltd. (50%)
Shaanxi Tonglia Special Vehicle Co., Ltd.
Shaanxi Automobile & Machinery Co., Ltd.
Website
http://www.sxqc.com/
http://www.shacmanmotor.com/
Shaanxi Automobile Group is one of the biggest truck manufacturers in China. It is based in Xi'an, Shaanxi province, China. It employs more than 13,000 employees.[1] It manufactures heavy duty truck, buses (chassis), medium-size heavy truck and heavy duty axles for trucks. It utilizes Magna Steyr and MAN SE technologies.[2] It's bus chassis business is organized under the Eurostar Bus brand.[3]

Shaanxi Automobile Group Co. Ltd entered into a joint venture with Rawal Industrial Equipment (Pvt) Ltd, Pakistan to manufacture trucks & prime movers locally.
Models
Heavy Duty Vehicles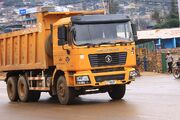 Shaanxi SX2150

X3000
M3000
F3000
F2000
Shaanxi DM564

Shaanxi F90

Shaanxi F300

Shaanxi D'Long F3000

Shaanxi F4000

Shaanxi M294

Shaanxi M354

Shaanxi NL464

Shaanxi NL469

Shaanxi NM456

Shaanxi NR406

Shaanxi R364

Shaanxi R366C

Shaanxi R4561C

Shaanxi R384

Shaanxi R404

Shaanxi O'Long S2000

Shaanxi SX5165GSSDN461

Shaanxi SX5165GSSDN462

Shaanxi SX2150

Shaanxi T346

Shaanxi T384

Shaanxi T384C
Light Commercial Vehicles
The light commercial vehicle products of Shaanxi Automobile Group are electric light commercial vehicles sold under the Shaanxi Tongjia brand.
Shaanxi Tongjia Dianniu 3F
Buses
Eurostar SX6100 bus

Eurostar SX6121

bus

Eurostar SX6121A

bus

Eurostar SX6121A1

bus

Eurostar SX6121FNG

bus

Eurostar SX6121NG

bus

Eurostar SX6127

bus

Eurostar SX6127W1

bus

Eurostar SX6137W1

bus
Eurostar SX6930A bus
References
External links