Scania OmniDekka

A

Brighton & Hove

Scania OmniDekka in

Royal Tunbridge Wells

---

Capacity
68–100 seated [1]
Specifications
Length
10.2–11.9 m
Width
2,535 mm [2]
Height
4.2–4.3 m
Options
Air conditioning, CCTV and electronic destination displays.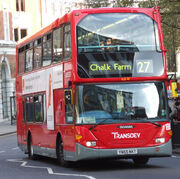 The Scania OmniDekka (introduced in 2003 as the East Lancs OmniDekka, sold as the Darwen OmniDekka between 2007 and 2008, and then sold as the Optare OmniDekka between 2009 and 2011) is a double-decker bus built for sale in the UK. The model is based on Scania N94UD (with newer examples based on Scania N230UD/N270UD) chassis, with a body by East Lancashire Coachbuilders, based on similar bodies mounted on Alexander Dennis, VDL and Volvo chassis but with a modified front, similar to the OmniCity which instantly makes the bus recognisable as a Scania product.
Scania came late to the low floor double decker bus market, having for many years offered only the single deck L94UB on a Wright body to UK operators. Despite this, the OmniDekka has sold well, especially with those who had previously operated Scania double deckers but had since ordered other products. Large operators include Go-Ahead Group companies Brighton and Hove, Metrobus as well as council owned Reading Buses, and Nottingham City Transport. High profile uses of the OmniDekka include use by First Group on service X53 in Devon and Dorset which previously operated a long distance service along the Jurassic Coast between Exeter and Bournemouth and by Stagecoach on Corby Star services in Corby, Northamptonshire which have helped Stagecoach battle against taxis in the area.
In 2007, the bodywork was replaced by the East Lancs Olympus (now known as the Optare Olympus), the new East Lancs body, and was available on the newer Euro IV Scania N-series chassis. But from 2008 - 2010, there were still new examples entering service with Nottingham City Transport, which placed further order for more "Optare OmniDekka" in 2011, and has now recieved the last ever ones. This is due to Optare's Blackburn plant closing and Optare not wanting to build them at Leeds.
See also
Competitors:
Other Scania buses sold in the UK:
References