Scania Bus is a division of Scania AB of Sweden. Scania AB is a public company that is majority owned by Volkswagon AG of Germany.
History
Main article: Scania
The company has been building buses from ? along side its truck lines.
Products
Scania's curent bus range is concentrated on bus chassis, intended for use in tourist coaches, as well as urban and intercity traffic.
Current
Buses
F-series

- with Euro 4-compliant engines
K-series - new bus and coach range with Euro 4/Euro 5 engines
N-series - new bus range with Euro 4/Euro 5 engines
OmniLink (CK-series) - rear-engined citybus
OmniCity (CN-series) - transverse engined citybus

OmniExpress

(LK-series) - intercity coach
The vast majority being fited with Scania's own engines. Scania's involvement with internal combustion engine production dates back to 1897, when engineer Gustav Erickson designed the engine for the company's first motor car. Over the subsequent years, Scania has grown to be one of the world's most experienced engine manufacturers, building engines not only for buses and trucks, but also for marine and general industrial applications, which are exported across the globe.[1]
Historical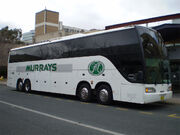 Buses
BF80

series

BF110

/

CF110

series

BR110

/

CR110

series

BF111

series

BR111

/

CR111

series (BR111DH was built as Metropolitan in UK)

BR112

/

CR112

series

BR85

/

CR85

series

BR145

/

CR145

series

BF86

series

BR86

series
BR116 series

F82

series

K82

series

S82

series

K92

series
F112 series
K112 series
N112 series

S112

series

F93

series

K93

series
F113 series
K113 series

L113

series
N113 series

S113

series
N94UA/UB/UD (in the UK, N94UB/N94UD was mainly sold as OmniTown / OmniDekka)

OmniLine

(IL94IB) - intercity bus
OmniLink (CL94UA/CL94UB) - rear inclined engined citybus
OmniCity (CN94UA/CN94UB) - transverse engined citybus
OmniCity (N94UD) - transverse engined double-deck citybus
Trucks / Special Vehicles
Diesel engines
Model designation (3-series)
The model designation breakdown is as follows:
Main type
F: chassis with engine located

longitudinally

in front of the front axle
S: chassis with engine located

longitudinally

in before of the front axle
K: chassis with engine located longitudinally behind the rear axle
L: chassis with engine located longitudinally behind the rear axle, inclined 60 degrees leftward
N: chassis with transverse engine located behind the rear axle
CN: complete bus on N-chassis
CK: complete bus on K-chassis
CL: complete bus on L-chassis
Engine series
9: DN9 or DS9 series engine
11: DS11 or DSC11 series engine
Development code
Chassis type
A: chassis for articulated bus
C: chassis for single-decker, two-axle bus
D: chassis for double-decker bus
N: F-chassis for heavy-duty execution
T: chassis for single-decker or double-decker bus with trailing axle
Steering wheel location
L: left hand drive
R: right hand drive
References/sources
Initially split from main Scania AB article from wikipedia
External links
| | |
| --- | --- |
| | Add any external links that directly relate to this articles subject and have more info or have related images. Other general external links can be added to the web Site Links list. |
Template:Scania group
current
Volkswagen Group
main companies
and subsidiaries

defunct Volkswagen
Group marques
Volkswagen, &
VW Group executives
(former and current)

Maj. Ivan Hirst (REME)

(former Managing Director) →

Heinrich Nordhoff

(former Managing Director) →

Dr Kurt Lotz

(former

CEO

) →

Dr Rudolf Leiding

(former CEO) →

Toni Schmücker

(former CEO) →

Dr Carl Hahn

(Chairman Emeritus) →

Ferdinand Piëch

(Chairman of the Supervisory Board) →

Dr Bernd Pischetsrieder

(former CEO) →

Prof Dr Martin Winterkorn

(current Chairman of the Board of Management)

see also

VW Group technologies

TDI

 •

SDI

 •

Pumpe Düse

 •

Digifant

 •

FSI

 •

BlueMotion

 •

DSG

 •

ETKA

 •

VAG-COM

founder: Deutsche Arbeitsfront • Autostadt • Ehra-Lessien

Annual revenue  

€

113.8 billion (2008) 

·

Employees 369,928 (2008) 

·

Stock symbol

FWB

: VOW3 

·

Website VolkswagenAG.com