Saviem (Société Anonyme de Véhicules Industriels et d'Equipements Mécaniques) was a French manufacturer of trucks and buses and a part of the Renault group. Its successors today are Renault Trucks in the truck business and Irisbus in the bus-building market. Parent company Renault Trucks is a subsidiary of Volvo Truck of Sweden.
The company Saviem was formed in 1955 by the merger of Renault's truck and bus producing operations with the manufacturers Somua and Latil. From 1957 on, Saviem-LRS appeared as brand name on the company's products (the acronym signifying the former brands Latil, Renault and Somua), which was later simplified to Saviem.
From 1967 to 1977, Saviem cooperated with MAN of Germany. Also, in 1975 Saviem together with DAF, Volvo and Magirus-Deutz (soon after to become a part of Iveco) became co-founder of the Club of Four cooperation to produce medium-sized trucks, (using shared components like cabs & drive trains to reduce design costs and get economy of scale in production).
As a result of French industrial policy, in 1975 state-owned Renault also acquired the truck and bus producer Berliet from the Michelin group. In 1978, Berliet and Saviem were merged to form Renault Véhicules Industriels (RVI). Again, the old brand names were retained for two more years while the model lineups gradually were assimilated, until in 1980 they were replaced by the name Renault and the Saviem brand disappeared.
For a period the Dodge name was used on some light Commercial vehicles built in the UK, but with a Renault diamond logo on them. (Renault owned the former Chrysler Europe operations in the UK & Spain. The company Saviem was reformed in 2006.
Model range
Edit
Goélette
Galion
Super Goélette 2 (SG2)
SAVIEM 4x4 SM8 TRM 4000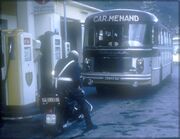 ZR 20, 1957
SC10
S45
S53
S105
E7 coach
UK preservation
Edit
The Saviem brand was not common in the UK, so few examples exist today.
References / sources
Edit
Based on a Wikipedia article.
External links
Edit
Community content is available under
CC-BY-SA
unless otherwise noted.