We're Getting Mutants in the MCU - The Loop
Play Sound
The company of Savage Bros from King's Lynn, England, founded cira 1850 by Fredrick Savage and ?, are best known for building Steam centre engines, a special version of a stationary steam engine for use in the 'centre' of fairground rides. Very few are still in use to as most were replaced by electric motors as electric generators on ex army lorries became popular in place of the Showmans engines fairground engines for hauling the fairground rides about.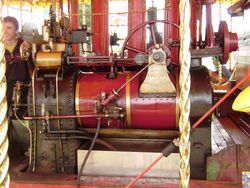 The company also built a small number of Traction engines.
Preservation
A number of the engines built by Savage survive in Fairground Rides with some of these center engines providing power. Others are in steam museums just as static exhibits. Seventy One engines are listed in the Traction Engine Register 2008 list for the UK with 3 having been exported.[1] One example of a Savage Traction Engine exists. There were also 4 new build engines by Belmec International built to Savage designs in the 1970s, with two of the being Traction engines.[2]
Some of the surviving Savage engines:
Preserved machines built by exz

| Engine No. | Name | Build Date | Type | Weight | Power nhp | Reg No. | Owner | Image | Other info |
| --- | --- | --- | --- | --- | --- | --- | --- | --- | --- |
| maker no. | | | | | | | | | Featured in |
| no. | | | | | | | | | |
| no. | | | | | | | | | |
| no. | | | | | | | | | |
| no. | | | | | | | | | |
| no. | | | | | | | | | |
| no. | | | | | | | | | |
| no. | | | | | | | | | |
| no. | | | | | | | | | |
| no. | | | | | | | | | |
| no. | | | | | | | | | |
| Engine no. ? | | | | | | | | | |
| Make and no | Name | date built | type | weight | power | Reg no. | Owner | Photo | Misc info |
Machine types Key: SW = Steam Wagon, PE = Ploughing Engine, RR = Road Roller, SM = Showmans, TE = Traction Engine
See also
References / sources
External links
Savage Bros engines in Preservation

Savage Bros 'engine' index by serial number(for enginess with pages on Tractor Wiki (or pages due))

No.s 0 > 399

list here

No.s 400 > 599

no. 418

(OE) -

no. 421

(CE) -

no. 474

(TE)

No.s 600 > 699
No.s 700 > 799
No.s 800 > 999

no.867

(SYE) -

no. 869

(CE) -

no. 870

(OE)

New Build (Belmec)

Key: CE = Centre engine, OE = Organ engine, SYE = Steam yacht engine, TE = Traction engine

Category:Savage brothers engines in preservation