Satoh Bull S-630
Model history
Model introduced
1977
Model discontinued
1984
Model status
Discontinued
Preceded by
Satoh Mitsubishi Beaver S-370
Satoh Mitsubishi Beaver S-370D
Engine Specification
Engine make
Mitsubishi
Fuel type
Diesel
Power hp
22
Power kW
11
Displacement cu in /(litre)
0.7L
No. of Cylinders
2
Cooling system
Water
Transmission Details
Transmission type
Unknown
Forward
9
Reverse
3
Drive
2WD
MFWD
General Data
Linkage Category
Cat I
Lift capacity (lb/kg)
1,274 lbs
P.T.O rpm
540/1000
Tractor Dimensions
Weight (nominal) lb/kg
1,035.3 to 1,180.6 lbs
Wheelbase
48.2 (2WD)
49.8 in (MFWD)
Other info
Factories
Japan
Plow rating

Unknown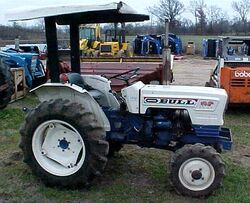 The Satoh Bull S-630 tractor was built in Japan by Satoh. Models in the 1970s (s630g) may have had the Mazda engine. Mitsibishi acquired Satoh in late 1970s and began using 22 hp mitsubishi engines. These models are the s630 (2wd) and s630d (4wd) It features a 15 hp (11 kW) Mazda engine.[1]
Model history
Edit
For brand history, see Satoh.
References
Edit
External links
Edit
Early Makes - pre 1940s

1940s to 1980s

Modern post 1980s

Independents
North America

Europe

India & Pakistan

Middle East
(Turkey, Iran,
Iraq, Syria etc...)

Far East
(Australasia, China,
Japan, Korea, Thailand,
Vietnam etc...)

South America
(Argentina, Brazil,
Uruguay etc)

Africa

Asia
(Russia, Tajikstan,
Uzbekistan, Ukraine)

Specialist types of tractor

Notable People - associated with the tractor industry

Inventors
Community content is available under
CC-BY-SA
unless otherwise noted.